After the chaotic behemoth that was Pyro On The Pitch #3, we're not going quite as lengthy or intense this time. But our highlighted episode was enough to get a game stopped for a brief period.
The scene is a sold out Parken Stadium, Copenhagen, with Denmark welcoming England for a Euro qualifier in September 1982. The English of course carried the fearful reputation of Europe's premier hooligans at the time and serious incidents involving them in that decade already included Euro '80 against Belgium in Turin and a World Cup qualifier away to Switzerland in 1981: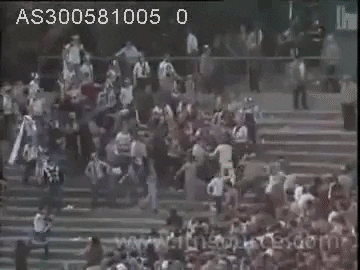 The Danes though, for their part, regularly created intimidating and loud atmospheres in the Parken, with an especially tense vibe for an evening game against a team like England. It nearly goes without saying that an afternoon of trouble in the city had preceded the match, adding to the tension. As the game gets underway, close up shots displayed how tightly the 44,300 supporters were packed into the ground:
With the first goal putting England 1-0 in the 8th minute, we can just about see a group of English supporters celebrating wildly, which surely will have ruffled a few feathers in the otherwise Danish terrace: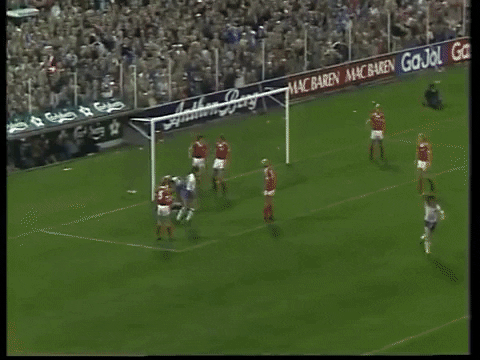 It would later be from the Danish supporters in the same terrace that our main incident would stem. Eight minutes into the second half, Dutch referee Charles Corver denies Denmark a penalty after England goalkeeper Peter Shilton has seemingly taken down Preben Elkjær inside the box. The injustice of this is too just too much for some, who perhaps anticipating such a shambolic refereeing decision (sort it out UEFA!) had cunningly smuggled some pyro into the ground to be used in protest. After all, the aggrieved supporters could hardly issue the referee a postcard of complaint, which might have only arrived weeks later at which point nobody would have given a fuck.
During a replay, a white smoke bomb lands on the pitch inside the goal and attention is quickly drawn to it as the smoke billows in a rather satisfactory manor. English commentator Martin Tyler expertly describes the scene: "And now, the reaction from the crowd in terms of fire crackers and smoke bombs being thrown behind Peter Shilton's goal":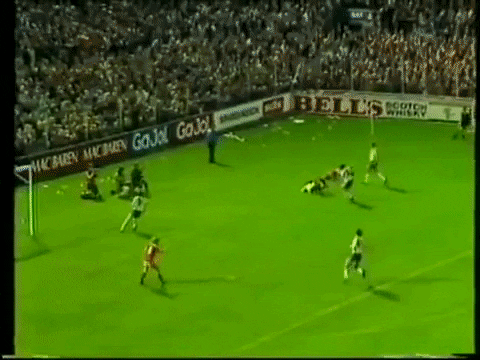 The game continues briefly before the referee susses out the situation and holds up the game. Martin (can we call you Martin, Mr Tyler?) compares the spectacle to that of the aforementioned Euro '80 game against Belgium, when Italian police had let off tear gas in an attempt to subdue English hooligans; just one of many post-apocalyptic scenes involving football in this era. Meanwhile, a group of confused primates assemble near the smoke: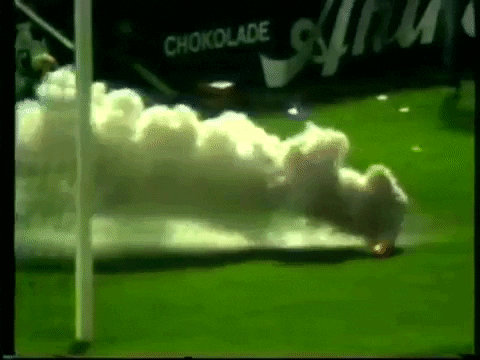 The powerful, double barreled, industrial grade smoke bomb (clearly a tremendous model) continues to erupt without sign of slowing down, leaving the authorities helpless but to allow nature to run it's course. A nice camera shot from behind the ground showing the smoke rising should be appreciated: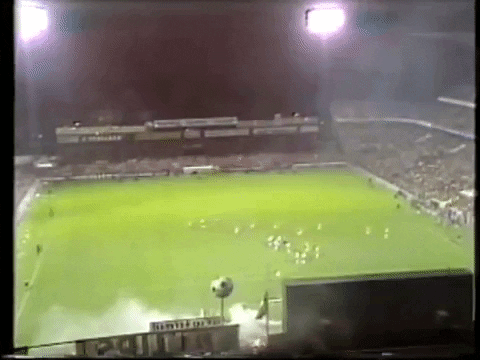 A gust of wind causes much of the smoke to carry over the crowd, and soon it disperses altogether: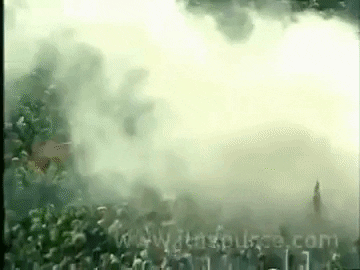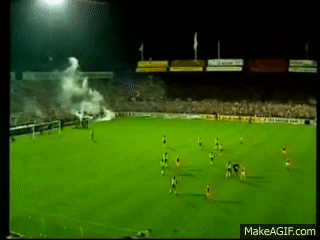 The game was restarted, and later we see there was at least one pitch invasion after England go 2-1 up. The inclusion of a viking hat was a disappointing note to the otherwise well dressed young man's attire: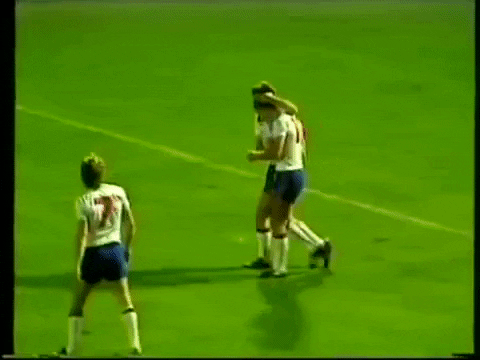 A late Danish goal leads to a 2-2 draw in the game and this may have contributed to the "fun" which would immediately follow. Sensible folk will have swiftly fled the scene as fighting broke out between Danes and English; running battles and an orgy of violence would consume the terraces: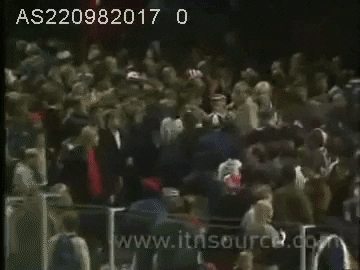 Surprisingly, the English supporters retreat, displaying the fortitude of the Danish supporters. However, the experienced English are quick to regroup and attack once more with a "broadside of bottles" as a news reporter put it: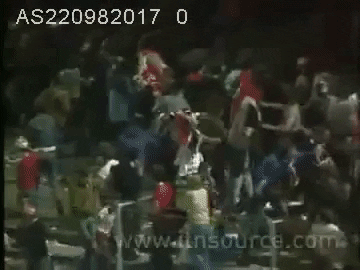 The English news reporter ensures to mention that the reaction of the Danish supporters is "no less violent" than the English, which makes one wonder if he expected them to be lenient on the English for some reason, or perhaps not fight back at all. Of course the adrenaline released for many involved on both sides would have created an intense natural high which will have been no doubt recalled with fondness for years to come: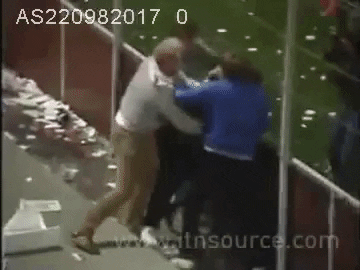 Eventually some police came in, some arrests were made, people left and the world went on turning:
Aftermath:
The match had been the first game played in qualifying and over a year later the group would be book-ended by more violence involving England and linked to the Danes. The final game for England was away to poor Luxembourg, who must have been filled with dread of this visit since the draw was made. The justified anticipation of trouble was displayed in the ground, as evident by the police's pre-prepared banner: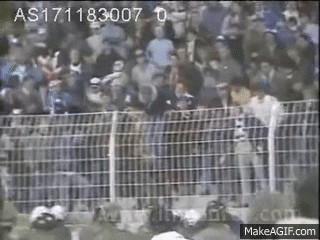 Despite a 4-0 win for England, a Danish victory in Greece at the same time was enough to see them pip the English for top spot in the group and the only qualifying position. In a predictable situation, the unfortunate and innocent Luxembourgers would be helpless but to feel the wrath of the English horde that night, a far superior force than any security agency in the Duchy: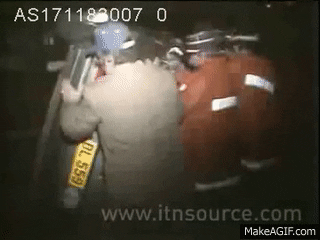 Youtube Link 1, Switzerland vs England, 1981
Youtube Link 2, Denmark vs England, 1982
Youtube Link 3, Denmark vs England, 1982
Youtube Link 4, Denmark vs England 1982
Youtube Link 5, Luxembourg vs England, 1983
*****