After some extremely long winded posts (we like to go in depth where the footage allows), we are returning to our roots for this Pyro On The Pitch, with no story other than some good old pyro on the actual pitch.
We don't have much to go on here except that Spain were hosting Romania for a friendly in Cáceres at the now demolished Estadio Príncipe Felipe, the first and only time the stadium was used for an international match. Unfortunately, we don't see any actual tossing on camera (tossing of the pyro that is). But conveniently for this series, some Spanish supporters had indeed thrown some over the high netting just as Romania were about to score their first goal en route to an impressive 2-0 win. All the players casually disregard the flare laying in the box as if it's the most natural thing in the world, proving that football was 157,958 times better back then.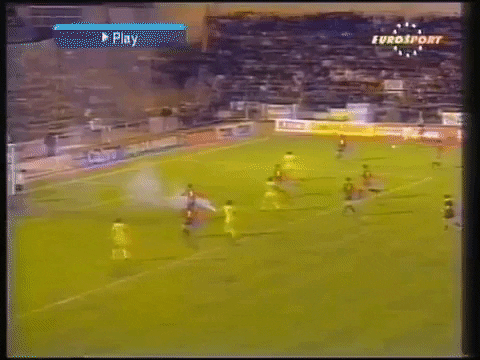 There appears to be another flare in the crowd behind the goal as the goal is scored but it's movements and the quality of footage are more reminiscent of a dubious UFO sighting in New Mexico. But these weren't quality model pyro (which to be fair almost makes them more classic and heroic) meaning that they were not very powerful or visible, which might have been worrying for anyone who purchased them for their originally intended use. The replay of the goal shows that there is actually another flare just at the goal net.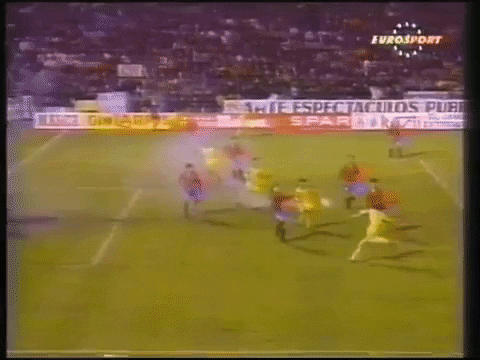 Perhaps there was some sort of tangible motivation for the throwing of these flares, but more likely it was down to pure divilment (aka mild mischievousness). If it was intended to throw off the opposition it clearly did not work, in fact quite the opposite, and this failure may be the reason that the ground was never to see international football again.