After some rather quaint and joyous pitch invasions in People On The Pitch #2, we are going in an even more innocent and novel direction here as for the first time on this site we are bending the rules to feature a sport which is not association football. Sorry for this, but it does a good job of highlighting the state of supporter culture in general in France heading towards the 1980's, which was undoubtedly spearheaded by the football scene.
Some great footage exists of the '79 French rugby union final, and it's proceeding festivities. Founded in 1907, eventual champions RC Narbonne had only won the trophy once before, in 1936, but had recently been knocking on the heavy oak door of success again as defeated finalists in 1974. Their opponents, Stade Bagnérais, will probably cease to be mentioned from this point on, so apologies to any of their supporters who may be reading but we're already pushing it by including rugby at all so be grateful for even receiving a mention.
Narbonne is in the Occitanie region of France and a large contingent of their orange and black clad supporters (reminiscent of my old primary school's sports colours) had traveled up the length of the country to Paris from their Mediterranean base. The Champs-Élysées was a natural gathering point and, with the Arc de Triomphe standing prophetically in the background, some supporters are in bloody fine spirits: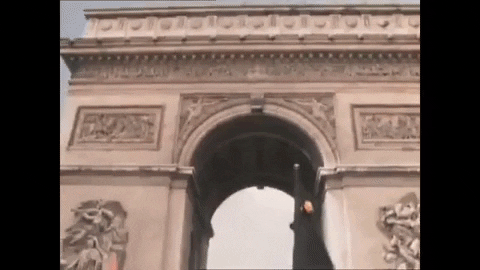 Amidst much flag waving and general boisterousness one of the novel objects brought to support the team is a creepy baby doll, and one man has apparently gone to the effort of constructing and transporting a painting easel in the club colours: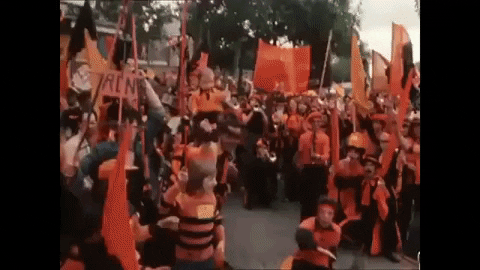 Upon closer inspection, it appears as if the device has wheels and is possibly a bike or wheelbarrow, although the up-right "RCN" suggests that held in it's intended position for use:
Some pyro in the form of a flare is released, it's flames presumably emulating the supporters intense burning desire for victory here. As we saw way back in the bonus section of Pyro On The Pitch #2, French football was already familiar with pyro by this era and it had clearly even been adopted by supporters of clubs in other codes: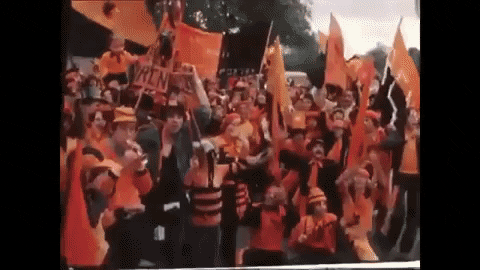 Well, we said Stade Bagnérais weren't going to get another mention, but this heroic chap has melted our hearts, proudly risking his life by waving his team's white and black isolated in the middle of a Narbonne ocean: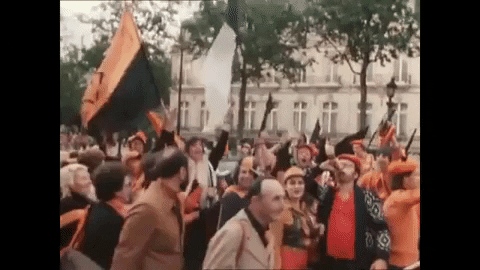 The next important thing to know is that some people from a running club were out running that day. Classic Paris: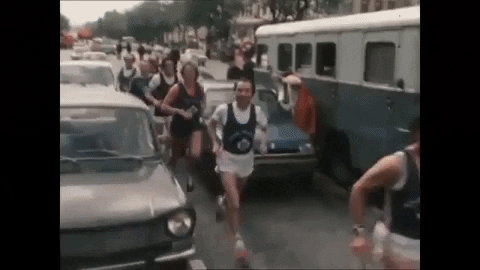 Their sweet Adidas singlets with stripes running down the sides are actually well worth a closer look. And that dude just seems like a cool guy, we genuinely hope he's doing well these days wherever he is:
Next up, in what is clearly a display of flagrant public corruption, some police officers casually receive a bribe in the form of alcoholic beverages for God only knows why:
Back to the supporters, a corteo forms and it's off to Parc des Princes: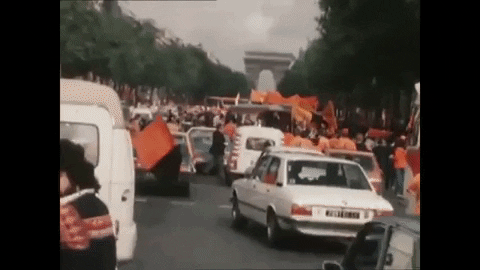 Now to inside the stadium, and among what appears to be mostly Narbonne supporters, we can see from a Stade Bagnérais flag here or there meaning some of them have indeed survived the Narbonne firm. With Bagnères-de-Bigorre's population of only around 8,000 compared to over 50,000 in Nabonne, it is natural that they are vastly outnumbered. Hopefully our friend from earlier is among them: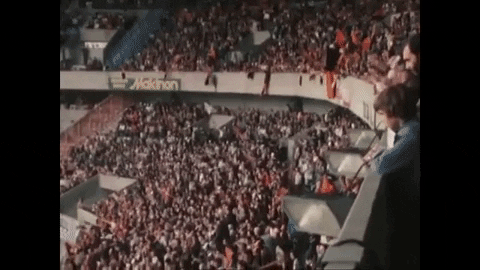 Unfortunately for him, his team do not manage a single point on their big day in the city. Meanwhile, the Nabonne faithful savor the occasion as their side knock 10 in on the way to victory: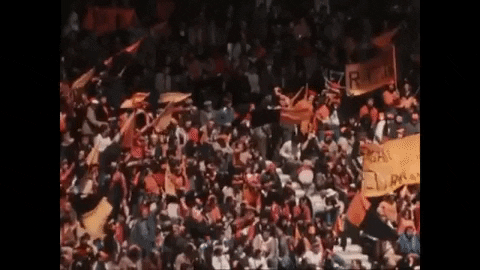 And yes, the final whistle, they've done it! The gods of victory have smiled on the Narbonnese this day and in a moment of spontaneous group ecstasy, many of their fans cannot help but to storm the playing field. Complete with flags and banners, it makes for an impressive visual: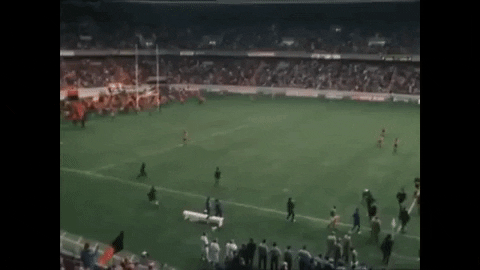 The heroes of the day are swamped and suffocated beneath a loving swarm of orange and black: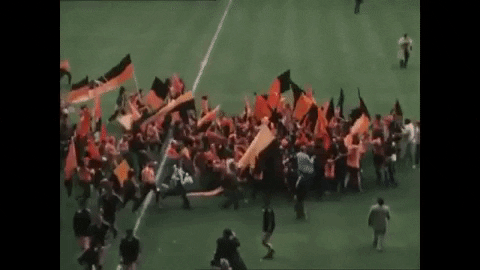 To top off the afternoon, the "trophy" (which is mostly a wooden board, but a handsome, presumably sacred wood) is presented and paraded around with every fan trying to get at least one scintillating touch:
And soon after, large mobs begin to quietly and politely leave the field:
And there we have it, people on the pitch at a rugby match. The end? Yes, it is most likely we will never feature rugby again. And we definitely will never feature Stade Bagnérais again, although they/he have undoubtedly earned a place in the Pyro On The Pitch Hall of Heroes if ever such an institution should exist.