Over time, World Cup qualification in South America has been consolidated into a pretty cool and unique system that sees all countries play each other twice in a league format. The top four sides earn qualification and the fifth advances to an inter-continental play-off. Before this, for the '94 campaign when the World Cup had less teams, it had been two groups of four and five teams with three automatic qualification spots along with the play-off for the next best side.
But before THAT, for 1990, it had been three groups of three with only two guaranteed qualifying places and the play-off for the worst group winner. It was this system that saw Brazil face Chile in the last game of qualification in Group 3 on 3rd September, 1989. With the sides even on points, a spot in the following year's World Cup was on the line.
Background:
The previous meeting in the group between the two sides had taken place less than a month earlier in Santiago and had been marred by a controversial Chilean equaliser in the 81st minute. After the Brazilian goalkeeper apparently holds on to the ball for too long, an indirect free kick is awarded inside the box and Chile quickly take advantage of the confusion to score: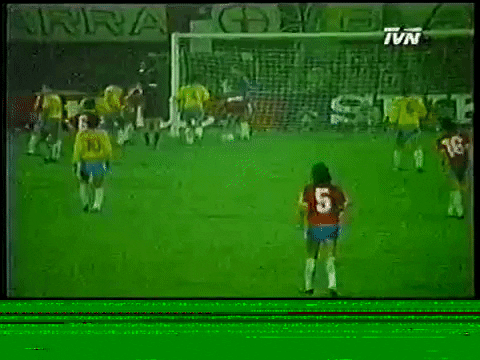 In a classic, old school South American scene, pandemonium reigns on the touchline with a heard of generals (we're just going to say they were all generals) and of course journalists surrounding an incensed Brazilian management team, and we think there's a FIFA official in there somewhere: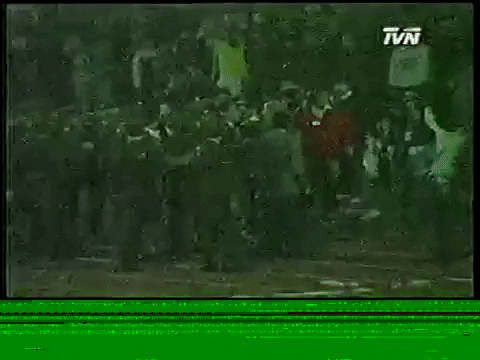 The last competitive game between the two nations before that was also an embarrassment for Brazil, with a 4-0 Chilean victory in the 1987 Copa America:
The Match:
So all this made for an extra spicy occasion for that crucial last game of Group 3 in '89, as a nauseating 141,072 spectators filled (well, not even filled) the world famous Estádio do Maracanã:
As was more common in those days, supporters of local sides proudly display their clubs' colours rather than Brazilians flags in a move that would absolutely baffle some modern football fans:
Due to superior goal difference, a draw would do Brazil to go through and they increase the likelihood of this by going 1-0 up on the 49th minute to much jubilation: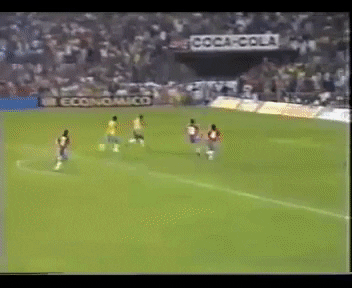 With time running out for Chile, a commotion can suddenly be heard from the crowd in the 67th minute as the ball is being played around the Chilean half. The camera cuts and we see that Chilean goalkeeper Roberto Rojas is writhing on the ground clutching his face with smoke billowing around him like a literal smoking gun. It seems apparent that some pyro has indeed been deliberately thrown on the Maracanã pitch: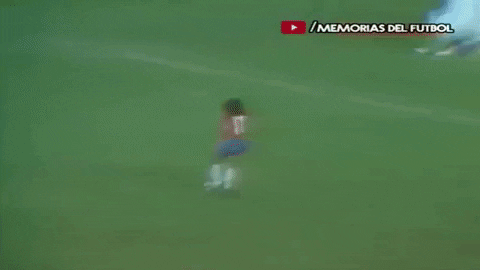 Roajas teammates surround him in concern and gesture in dismay at no one in particular:
As the Chilean physio tends to the injured party, one of the other players performs a staple of the classic, angry athlete with an "up yours" gesture towards the offending supporter, or maybe at Brazil in general:
An action replay (in this case a supporter action) shows the offending flare, whitish green in colour, fizzing away. Unfortunately they weren't quick enough to catch the actual moment of impact, but this is good enough for us: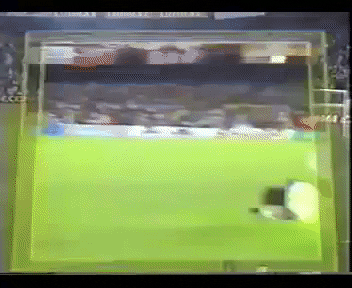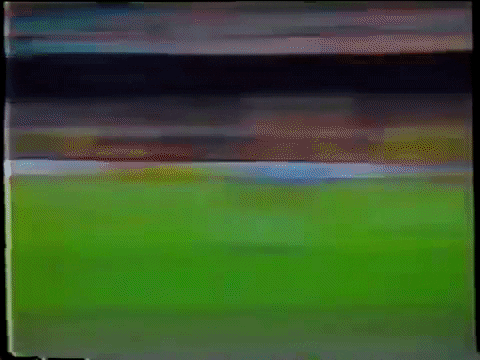 After some moments of deliberation, the referee makes the decision to abandon the match as Rojas is carried off with a bloody face. As this was in the days before stretchers were invented, his team mates carry him in a huddled mass as if he was a martyred comrade in a depressing Middle Eastern conflict:
Naturally the crowd are not at all happy and quickly become pensive, as the implication is that the game will now be awarded to Chile, meaning qualification for them and an unthinkable elimination for Brazil. The Chilean team disappear down the tunnel (which is actually more like a big hole at the side of the pitch) surrounded by the press, apparently on their way to the World Cup in Italy:
But something clearly wasn't right. Any logical thinking person will have wondered why an attack would have occurred by a Brazilian, knowing it may well disrupt the match and Brazil's qualification hopes, when Chile would have needed two unlikely goals at the time to knock Brazil out. And lo and behold, shock horror, after an investigation it turns out the whole thing was a ruse. Through video and photo evidence from other angles, it was revealed that the flare clearly never actually hit Rojas, who feigned injury and cut himself with a razorblade hidden under his glove in a move straight out of a worked professional wrestling match:
A treacherous Brazilian Playboy model named Rosemary had been had been hired by Chilean manager Orlando Aravena and team doctor Daniel Rodriguez to participate in the cunning scheme. How she was acquisitioned is not known, but she was perhaps chosen on the basis of her excellent aiming skills, as despite not exactly hitting her target it was one hell of a shot (maybe there was some sort of trial under the guise a free public flare launching exhibition, used as a recruiting scheme by Chileans who had infiltrated Brazilian society). A news reporter later recreated how the flare was shot from around the same spot in the stands, displaying the difficulty in accuracy: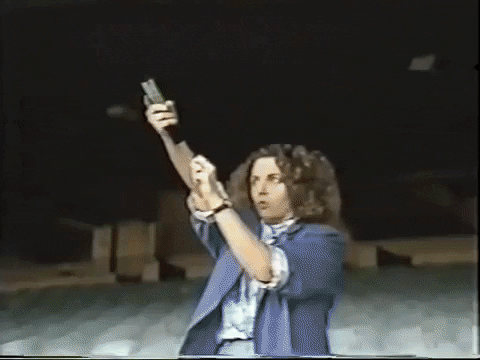 With the brazen plan having backfired embarrassingly, the game was forfeited as a 2-0 victory to Brazil while Chile were punished with expulsion from the next World Cup qualifying campaign, along with lifetime bans for Rojas, Aravena, and Rodriguez. But the incident shows that by the late 1980's, the social phenomenon of football crowd trouble was so fully woven into the fabric of society where the game was popular, that it would inevitably be subverted and used as a tool by some within football themselves. Corruption like this is of course usually the result of a hideous lust for profit, which would have been plentiful if the desired goal of World Cup Qualification had been achieved.
Youtube Link 1
Youtube Link 2
Youtube Link 3
Youtube Link 4
Youtube Link 5
Youtube Link 6