After two fairly innocent editions of People On The Pitch (a genteel, all-British affair from 1966 and a French rugby union final from 1979 for crying out loud) we thought it was time to turn sharply back around to a more sinister sort of slant. And where better place to turn than Windsor Park, Belfast in 1983.
While the serious issues of ethno-political tensions and conflict dominated the region, it is perhaps comforting to note that members of the same community also still had time to come together in violence, divided only by what football team they supported. This was particularly evident at the 1983 Irish Cup Final.
Background:
For the uninformed, the "Irish" part of "Irish Cup", along with "Irish League" and "Irish Football Association", refers to Northern Ireland. This is because these institutions were founded when the whole of Ireland was still under British rule. Four-fifths of the country broke away from the UK in 1922 to form what would eventually become known as the Republic of Ireland and they would create their own "Football Association of Ireland", "League of Ireland" and "FAI Cup".
In the North, which was dominated by those loyal to Britain (mostly of British roots), there continued to be "Irish" stuff, but it was more like "(British) Ireland". A sizeable minority of the population in Northern Ireland however were still Irish nationalists who desired a united Ireland. In a sporting context, these folks would have been more likely to have followed the traditional Irish sports of Gaelic football or hurling. And in fact, the infamous, old "rule 27" of the Gaelic Athletic Association stated that members were forbidden from playing or watching "foreign" sports such as association football.
Despite this, there existed football clubs with strong nationalist traditions, such as the lower-league Donegal Celtic, Derry City (who would eventually be forced out of Irish League due to sectarian reasons and join the League of Ireland in 1985) and Cliftonville, who still compete in what is now known as the Northern Ireland Football League Premiership.

Cliftonville supporters in 2016.
Two clubs from a very much British tradition though are Belfast's Glentoran and Linfield, the top two clubs from Northern Ireland, who were to meet each other in the "Irish Cup Final" of 1983. Both side's supporters have seen trouble against "Irish-identifying" clubs from both sides of the border throughout the years, but games against each other provide the opportunity to imagine a wonderful, Protestant utopia where Northern Ireland was free of the ethnic Irish and the sons of Britannia could just go back to beating the tea out of each other instead.
Indeed there had already been reports of trouble between the two at a game earlier in the season, and a fan had gotten on the pitch at a Northern Ireland vs Albania game a few days before the cup final, also at Linfield's Windsor Park where the final was to be played.
Most information on our featured incidents comes from a news report the following night, hosted by a Northern Irish newsman (apologies sir for not knowing your name) with guests, and some of their comments are very interesting, but we will come back to that shortly.
The Match:
We learn from the report that the first spark of trouble at the cup final was just after half time, when Glentoran's goalkeeper was subject to a hail of coins, bottles and other projectiles from Linfield's "spion kop" end.
But it's two minutes after the game ends (a 1-1 draw demanding a replay in Gelntoran's ground the following week) that business really picks up, as "groups of youths" (at least they weren't gangs) invade the field from the Linfield end and rush towards their counterparts: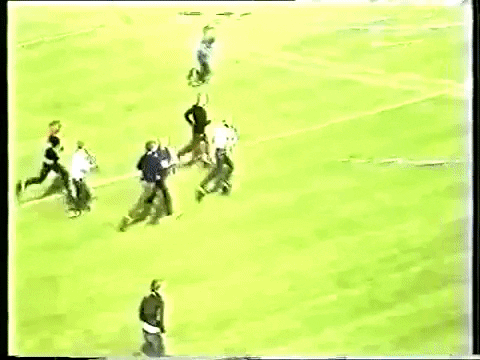 Anything available to hand is of course thrown (quite possibly objects already launched from their rivals), but the Glentoran fans mobilise quickly and themselves have little issue getting over, or through, the pitchside fence. Engagements of combat are shortly thereafter the order of the day: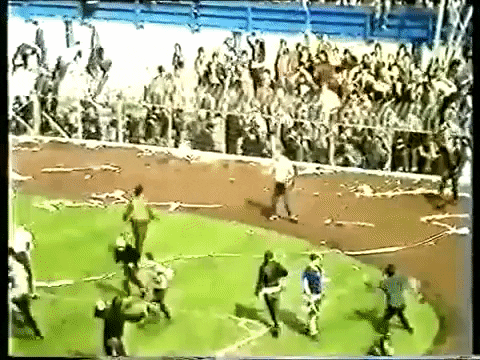 Below we see a "Glenman" (in white top) attempt a good, old kick up the arse, but it's a swing and a miss. However, his colleague swiftly rectifies matters with an unorthodox punt to the inner thigh of the same Linfield target. Sure whatever works, and yes, it is effective as the "kickee" goes down to be feasted on by the vultures: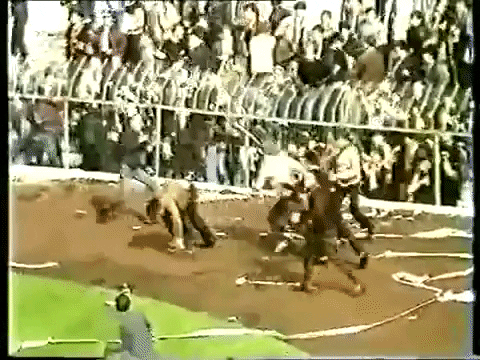 The kicking continues for some time. But what's also important to note here is the appearance of several pairs of black and white Adidas trainers, suggesting that casual culture had arrived in Belfast by this point, although supporter scarves still seem more prevalent than in England: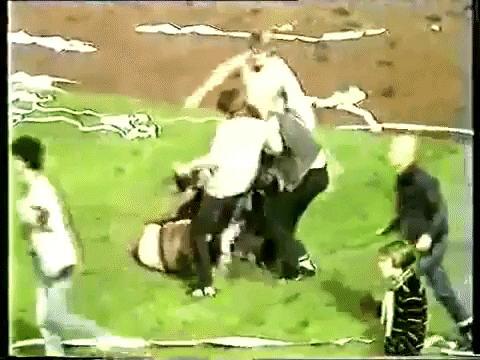 A flagpole is also utilised to great effect as a weapon (although it couln't hurt THAT much), before a Glentoran fan who is wearing a scarf and hat in club colours (it's May…), adorned in what may be an unintentional rasta flag, and moving so slowly to suggest mental anomalies if not sloshed drunk (every club has this fan), gets in a few cowardly kicks for good measure:
Aside from the aforementioned obvious casual influence on the style, the main fashion of the time was of course the skinhead-bootboy look and there are several instances on show from both sides:
But a Linfield skinhead is on the receiving end of what can only be described as an excellent double-team attack. The Glentoran supporter in white top and jeans travels an insane distance with a chair raised above his head, apparently in vein, until his colleague performs a rugby tackle (albeit maybe a foul in rugby, not sure) on the Linfield fan in suspenders who had been running for his life. At this point, the chair-man can strike in a WWF-like attack as if he always knew this was going to happen: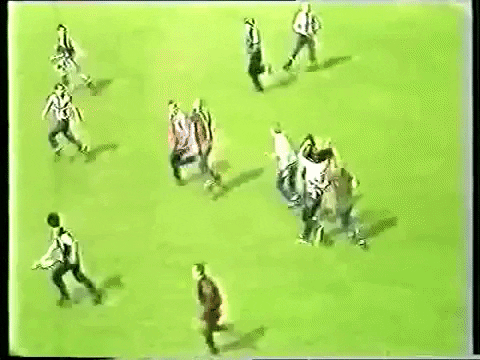 Again a Linfield fan is left helpless to a mass attack, but as the original protagonists in this affair they can't really complain and they know this. Menacing reinforcements arrive to save the day, one carrying a 2×4; perhaps the original inspiration for Haksaw Jim Duggan's WWF character several years later to continue the wrestling theme (or the British Bulldog, considering his fetching, sleeveless, Union Jack muscle top):
Humorously, among the many bootboys, the slow Glentoran fan nonchalantly walks into frame again creating a scene like an oblivious time traveler from 1973 has been transported to a futuristic, dystopian wargame, which is basically what it is: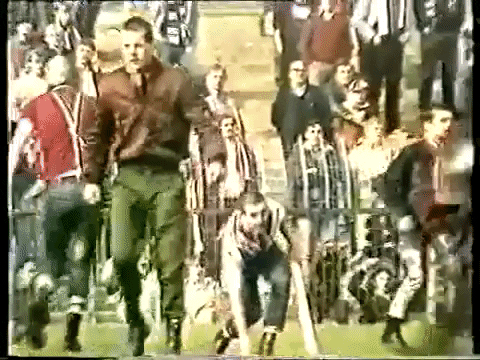 Below we see that a Linfield man, in a suit no less, has the cornerflag idea (perhaps cornerflags are commonly used in such instances throughout Europe, please send examples), but, before he can use it to inflict pain and suffering on his fellow Ulstermen, the police are on the scene to start rounding people up and give them a good tongue lashing (not in that way you filthy animal):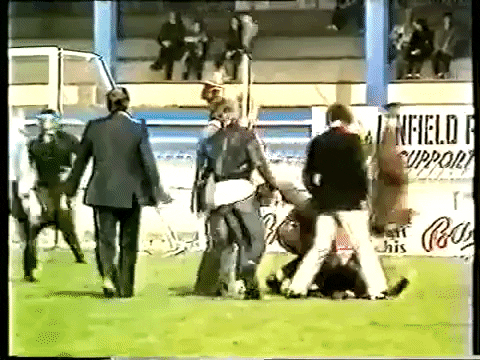 Finally things settle down, leaving several bodies strewn across the pitch:
Ok, maybe just the one body, but he is certainly strewn. Lastly, the police arrest some people who aren't necessarily skinheads, but definitely some very 1980's Northern Irish men as the pitch is finally cleared:
Back to the studio and our host makes the mandatory "they were not football supporters" statement despite later referring to them as "the fans", before moving on to the head of the IFA Billy Drennan, who sheepishly explains that his organisation cannot make any comments because the game only finished at 5 o'clock the previous day. Perhaps this implies that he cannot condemn the violence just yet in case it is decided that it was a justifiable action, Billy boys will be Billy boys and all that.
The host next asks about the obviously inadequate fencing at Windsor Park, to which Billy responds after a pause:
"Well….You say it's inadequate, the fencing at Windsor Park is there as a deterrent for people to come on the playing pitch. But the people get over the fence at Wembley, they get over the fence at Old Trafford…"
Basically admitting that the fence is there for show and can't actually stop anyone getting over and there's nothing in the world that can possibly be done about this so fuck it. Billy goes on to lament the fact that the game had been built up as a big occasion between Northern Ireland's top two only to be marred by the trouble, and that:
"..these two clubs, they both have the same affiliations mainly, and yet a small section of each of these spectators from both clubs had to have a confrontation after the match was finished."
So now the issue for Billy is that both club's supporters stem from largely Loyalist backgrounds. Obviously it wouldn't be so upsetting if one side came from the opposite side of the societal divide. He goes on:
"If that confrontation hadn't happened at Windsor Park, it would have probably happened down the road or down the street on their way home."
Billy actually does make sense, as if it's going to happen (and it is), may as well let it happen on the pitch. Those who want to be involved can easily get over the "deterrent fence", and those who don't can safely watch from the comfort of the stands. But if only it was those damn Taigs who were getting the beating, isn't that right Billy?
Lastly on Billy, when pressed about what can be done to prevent this in the future he basically throws up his hands and asks "What would YOU suggest?", in a defeated manor. The hosts suggestion of "a higher fence" leaves Billy in silent bafflement:
We now turn to the stern Chief Superintendent of the then Northern Irish police, the "Royal Ulster Constabulary", Ivan Sterritt. He states that it took his men three minutes to get to the scene after the fracas had begun and in fact praises this response time. Anyone who has been in a fight will know that three minutes is an extremely long time in that environment, but as Ivan states, the police could not have foreseen this event occurring. This displays the innocence of the time even in the midst of an explosive society.
The host in fact asks if it is policy to allow the hooligans to fight it out among themselves on the pitch away from the the general public, but Ivan of course denies this and on the subject of security arrangements for the replay in Glentoran's Oval ground, with the hint of a smug grin states:
"Next Saturday's replay will not be at Windsor Park and will not be my responsibility…"
Extra:
Before we leave the topic, it is slightly interesting to note the national designation of some of Northern Ireland's clubs on Wikipedia and see how they align to their perceived political leaning. And of course, from football clubs to Wikipedia, nearly everything is political.
Starting with Linfield, the club is not listed as being Northern Irish, but based in Northern Ireland:
Looking at another Belfast club with strong British unionist links, Cursaders, "Northern Irish" is in fact used:
Some variation of the above two is used for all members of the NIFL with two exceptions. First, unsurprisingly Clifonville are deliberately classed as an Irish club, not Northern Irish:
But what is slightly surprising is that Glentoran are the other exception, steering clear of the issue altogether:
Lastly, we look at a club mentioned earlier, Derry City. Derry are the one team from across the border to play in the League of the Republic and their ground is quite close to the infamous Bogside, an area synonymous with Irish nationalism. Despite this, and actually having their team name listed in Irish as well as English, they are surprisingly described as a Northern Ireland based club. Particularly odd considering Cliftonville's Irishness and Glentoran's ambiguity: