Welcome to episode 6 of the series now known colloquially as APMFVGFH (Pyro On The Pitch is not hashtag friendly). Today we shall be casting an eye back to 1993 and the Acclaim title Champions World Class Soccer for the Sega Genesis (released on Super Nintendo the following year).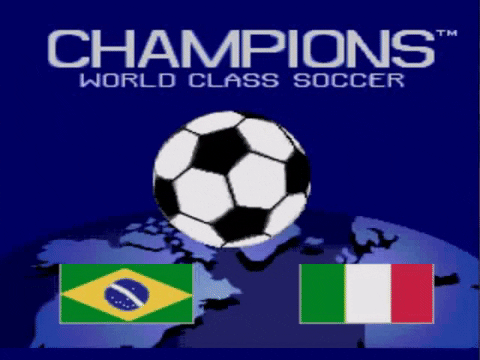 After giving a quick, respectful nod to the nice intro screen above, we are immediately turning our attention to the team select screen. Here I want to exclaim "The colours! The lush, beautiful colours!" for that's what is in my heart. I love screens like this with a collage of national team flags and general blocky, chunky goodness:
Now several things may have jumped out to the eagle eyed among us, such as the marvelously lavish coat of arms on the Austrian flag. But first we will start with the fact that the two Ireland kits seem to be reversed, as you would imagine the home green shirt would be on the left. Going to Sweden we can indeed see that their yellow and blue home kit is on the left, meaning that white must be Ireland's nominated home shirt:
France are in a similar position to Ireland with their traditional home shirts of blue reversed with the white usually used for aways, but red shorts have been allocated to both:
Things only become more confusing when some other big guns of European football are consulted. At least with Ireland, the kits are technically correct in terms of colours, just designated wrong. This is not the case for the likes of Germany and Spain, who's traditional white/black/white and red/blue/black are both replaced with yellow/red/yellow (inversed for the aways). The only difference is that the stripes on the shoulders of the German shirt are black, while they are red on the Spanish equivalent:
Clutching at straws here, but again at least the Spanish away shirt resembles the real life home one, and Germany have used red shirts for both home and away in the past. But the situation over at Italy is inexcusable as they have been given a white and red home kit, and even more jarringly, green and white for the away kit:
Despite the fact that green, white and red are the colours of the Italian flag (and honestly anyone who didn't already know that can get out right now) this does not sit well with us. For some reason green on an Italy kit is even worse than yellow on Germany and Spain. But it's becoming clear that the game was designed for folks who weren't too well up on European kit traditions and indeed probably would have been confused as to why Italy would be wearing blue, or why Germany would be wearing white when their national colours are black, red and yellow. However, this doesn't explain why Spain should have their primary flag colour of red relegated to their away shirt, and the same goes for the green that is most associated with Ireland.
The developers probably did not imagine such a harsh critique of their creative liberties 25 years after the game came out and you would think nothing more needs be said on the matter, yet on we go. By the above logic regarding uneducated gamers, it is to be expected that Australia don't have their usual sporting yellow and green. The white and red theme used instead is in a way an even worse offense than Italy, for at least there the combined colourways are reminiscent of the Italian flag. But I think it's safe to say that nobody would ever associate white and red, or red and white, with an Australian team:
One of the more humerous cases is that of Russia, where the only difference in their home and away kits is the shade of blue on the shirt and socks. Utterly useless in the event of a clash:
But most curious is the situation with the UK countries. You may have noticed earlier that the main thing of note regarding the flags, besides Austria's marvelously lavish coat of arms, is the lightened, reversed Scotland flag that now resembles some sort conceptual, diagonal Finnish design (similar to how Italian TV redesigned the Welsh flag in real life 1994). Even stranger is their kit selection of white and orange for the home, while orange and black for the away is actually true enough to something Scotland would wear:
As you can see from the flags, a "close enough" flag for Wales is present indicating their inclusion, but no England or Northern Ireland. Instead there is a Union Jack, which at first you assume is being mistakenly used for just England. But when selected, although the kits do suggest England, we can see from the "GBR" abbreviation that this is Great Britain herself:
There is only one answer to what is happening here and for this we must once again delve into an alternative timeline. Clearly, the United Kingdom has broken up and the monarchy fallen. Wales is a fully independent state, while civil war in Scotland has caused a partition of the country. Half has become a new independent Scotland, as represented by the flag and team above, while the other half has been amalgamated with England and Northern Ireland into the new Orwellian rump state of Great Britain.
Moving on (don't worry, we're nearly finished) from the team select we briefly get a really nice, atmospheric, black and white image of a packed stadium, which has been underlaying the team select screen the whole time:
After this we get an extremely handsome and charming French man giving us the run down on today's featured encounter between Bolivia and Israel, a main event anywhere in the world. I will do my best translation attempt below:
"Welcome to the first match of the preliminaries. Fresh from their recent dance tour, the Bolivians face the Israelites. The participation of the Bolivians…"
There our text cuts off but I'm going to assume that the rest of that sentence ran something like "…had been in doubt due to several serious dancing injuries."
Finally, we shall take one look at the actual match itself, and like some of the above mentioned teams we can see that Bolivia are also in an unfamiliar white and red strip. On the off chance you were wondering, this proves that the kits on the left in the team select screen were the home ones as this was the case for Bolivia (not pictured). We have chosen two images to display the cool clock system used for timing the match, as well images close to the sideline to show the most important thing: the virtual crowd: