We first came across Anderlecht back in People On The Pitch #1, with the infamous visit of Aston Villa to the then Emile Versé Stadium in 1982. Like with their Dutch, German and French neighbours, supporter mischief had no doubt been progressively observed through traveling British support at games such as this.
In a culture like Belgium's, where not all was as innocent as it would seem, this influence would converge with growing youth cultures and continental Europe's own unique supporter style to manifest in intimidating atmospheres that, on their night, could stand equal with their international equivalents, especially on big European occasions.
Background:
Just over a year after the Villa game referenced above (a European Cup semi-final defeat on aggregate), Anderlecht cemented their place as one of Europe's top clubs by beating Benfica in the 1983 UEFA Cup final, graduating from Cup Winner's Cup wins in 76 and 78. We shall take this moment to lament the loss of the Cup Winners Cup, which was a great competition and can also be celebrated for having the word "cup" in it's name twice (and also shares an acronym with another great institution of our time). On the other hand, it would obviously be ruined by now anyway so maybe it's better off left in our memories.

Anderlecht supporters celebrate at the conclusion of the 1983 UEFA Cup Final.
En route to a second successive UEFA Cup final the following season, a third round fixture against RC Lens in November 1983 would prove that English teams needed not to be involved for trouble to spark at European games. First, in an incident which must again be covered if we ever follow through on a "Projectiles on the Pitch" series, a rock apparently thrown from the home Lens supporters caused a back-passed ball to bauble past Anderlecht goalkeeper Jacques Munaro and into the net:
This had come in the 89th minute, only two minutes after the Belgians themselves had scored to take the lead, and naturally chaotic scenes followed with Munaro clutching the offending rock and several beer cans also thrown from the terraces. After the final whistle the Anderlecht support retaliated, launching projectiles of their own at a home section resulting in riot police moving in:
As with Villa in Belgium in 1982, Anderlecht knew what it was like to be antagonists faced with local constabulary on foreign soil. They were eventually defeated in the 1984 final by Tottenham Hotspur, where in the home leg at least one supporter had to be stretchered away. For the sake of narrative, we are going to assume this was a result of malicious actions:
This would prove the end of Anderlecht's golden age on the pitch, as to date they have not reached another final in European competition. But supporter culture in Belgium was still on the rise, as would be evident in our featured match.
Meanwhile, for their part, supporters of Real Madrid were also already known to be no angels. The foundation of Ultras Sur had come in 1980 and disturbances at games such as against Athletic Bilbao on 26 November 1983, (which we will revisit at a later date) resulted in police intervention at the Bernabeu:
The Game:
If this was an actual football website, we'd probably say something about how Anderlecht were unlucky to come up against eventual winners Real Madrid in the third round of the 84/85 UEFA Cup, perhaps prematurely preventing the expected progress of the previous few seasons. But we wouldn't know about that. What is true is that the visit of the Spanish giants a year and 5 days after the toxic game in Lens, provided the perfect scene for a hot atmosphere (perhaps hot like a pyronical device) in what would be a famous European night for the Belgian giants.
By this time, the Emile Versé had been revamped and renamed as the Constant Vandan Stock Stadium, which would be more heroic if it wasn't named after the reigning club chairman of the time, although we're just going to assume he was a lovely man. Whatever the name, 41,000 were packed into the beautifully classic, compact ground on 28 November 1984, eager to witness the first leg battle of what may well have been Europe's top two white and purple clad sides.
The home team went 1-0 up on the 65th minute through Vandenbergh, cueing great noise from the Constant Vandan Stock Stadium faithful. A mere minute later, Czerniatynski (yes, the names are irrelevant, but they're good names) doubled the Belgian's lead with a nice header, causing a jubilant, ecstatic orgy of denim in the terrace behind the goal to which he ran, with at least one supporter making it out of the enclosure:
With a big victory now in their sights, the density of the passionate home support could be seen even at the halfway line of the pitch. Flags flew from within an uncomfortably tight mass of bodies as police kept a watchful eye: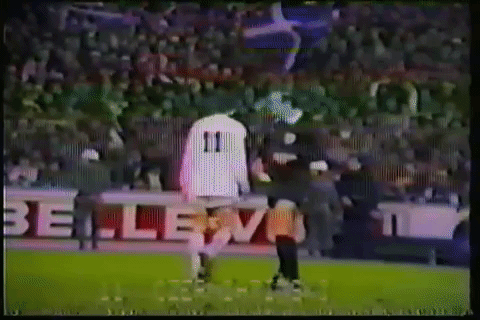 In the 85th minute, a penalty converted by Vercauteren made it 3-0 to Anderlecht, putting them in an excellent position going into the away leg in Madrid a fortnight later (we mean, we would say that if this was a football site). One Real players responds in extreme petulance by slamming the football against the ground:
With the win on the night now all but secured, it would be only fitting that pyro should make it's way on to the pitch, perhaps as a beacon representing the historical magnitude of the game. And this is exactly what happened as a flare swiftly appeared in the Anderlecht box, with a "smoking gun" effect from the section of support parallel to the box seeming to suggest the origin:
Contrary to being phased (of course, since he was an 80's footballer), an Anderlecht player nearly appeared to halfheartedly perform some soccer skills on the the flaming phallus before it naturally reached the end of it's life and burned out, content in death having fulfilled it's ultimate destiny:
But as the flare burned out, so too would Anderlecht's European hopes that season, as they ended up losing the tie after a dismal 6-1 defeat in the return leg. At least that's the kind of crappy metaphor we would probably use if this was an actual football website. Instead, their inclusion here has earned them a sort of intangible, metaphysical, hyper-dimensional honour, greater than could ever hope to be achieved through sport.
***
YouTube Links:
RC Lens vs Anderlecht, 1983
Real Madrid vs Athletic Bilbao, 1983
Anderlecht vs Real Madrid, 1984
Anderlecht vs Real Madrid, 1984 B
*****