Last time on the Football Special Report we looked at a heated clash in Derry from 1994 and some preceding League of Ireland supporter history. We now take a quick hop through time and space across to their celtic (pronounced "keltic") cousins in the Scotland of 1992, for the quite appropriately named Celtic (pronounced "seltick") of Glasgow and their hosts Falkirk (proncouned "falkirk") of Falkirk.

Background:
There are several things of note about today's featured match that collectively exemplify association football in the era. Besides kit fashion and ground configuration, this included the reality of potential crowd trouble at basically any given game, even if a general downturn had occurred down in England at the end of the 80s.
But Scotland of course had their own fan culture scene, in which besides the obvious Old Firm and everything that went with it, Aberdeen can claim status as among the godfathers of the casual movement. There is also the anomaly of Dundee and Dundee United Sharing a firm, the excellently named Love Street Division of St. Mirren, and Aberdeen again being able to claim the earliest UK ultras group in the Red Ultras.

A display from Aberdeen's Red Ultras from a 2006 game vs Rangers.
Crowd trouble and supporter mischief were already marked issues at Scottish league games by the early 1970s, and this was particularly evident on a day in 1973 when the managers of the two big Glasgow clubs felt compelled to get involved. A newspaper reported that Celtic manager Jock Stein had entered his away fans enclosure at Sterling Albion to lambast young supporters who had been waving an Irish tri-colour and singing Irish rebel songs. At the same time back in Glasgow, Rangers manager Willie Waddell had addressed the Ibrox stadium before their game, including the following as reported by the newspaper:
"It is to the tykes, hooligans, touts and drunkards that I now pin point my message. This is no appeal to their better selves – this is a declaration of war. So you are warned – do not bring alcohol. Do not throw cans. Do not use obscene language. Do not sing provocative songs."
The innocence of it. On the same day, there had also been trouble at Dumbarton FC's fixture against Hearts, when visiting supporters were changing ends at half time. Several arrests were made to cheers from the "normal" fans.
At a national level, those down south would quiver in fear at the regular visits of Scottish hordes for British Home Championship games and club encounters alike, with a reputation for drunk and disorderly behaviour. Statistically, alcoholism was five times more likely for a Scot than an Englishman as of 1967, and the stereotype was not helped by the likes of a Newcastle vs Rangers Fairs Cup semi-final in 1969 that had to be held up for 20 minutes due to rioting Rangers fans, and a friendly between Aston Villa and Rangers in 1976 that was called off for the same reason (games themselves both worthy of an article, but unfortunately footage does not seem to exist of either).
One of the most famous mass pitch invasions of all time occurred the following year at Wembley, after Scotland secured the Home Championship with a 2-1 victory over England in June 1977. During the celebrations – the highlight of which revolved around the destruction of the Wembley goalposts – commentator John Motson remarked how there had been a pitch invasion of the same sort from the Scots ten years earlier, and while fences were popping up at grounds around the country due to the general increase in crowd trouble, Wembley had yet to install their ones so the visiting supporters were free to encroach again here. He also mentions how these scenes of chaotic jubilation are "so typically Scottish".

The goals come down as Scotland celebrate the 1977 British Home Nations championship victory in Wembley.
A few months later and the Tartan Army would be on English soil again, this time for a crucial World Cup qualifier away to Wales that was actually played at Liverpool's Anfield Stadium. Wales had seen crowd trouble of their own when Yugoslavia were the opponents in Cardiff's Ninian Park in 1976, and as a result the potentially volatile visit of the Scots was moved out of the usual national team home ground. The Welsh FA chose revenue over home-advantage by selecting to play the game across the border at the larger Anfield in order to sell more tickets, rather than Wrexham's smaller Racecourse Ground.
Unlike Wembley, Anfield was in fact equipped with fences, which was a good thing for those intending to maintain order on the pitch, but in the terraces it was a different matter. The many thousands who had made their way down south for the game erupted into an epic sea of ecstatic chaos on the huge terrace behind the goal for Scotland's two strikes late in the game, which secured World Cup qualification. Doubtlessly this would have spilled onto the pitch if not for the fences (as we have seen before at the same fixture 11 years earlier in People On The Pitch #2) and the amazing pandemonium demonstrated that a football match was certainly not a "family environment" at this time.

Scotland fans erupt as their side go 1-0 up "away" to Wales at Anfield in October 1977.
But it would be three years later back in Glasgow that Scottish football mayhem would reach it's nadir, with the 1980 cup final riot between Celtic and Rangers fans. The conflict in Northern Ireland – to which the two clubs were inexorably linked due to their historical community affiliations – was at its height, doubtlessly spurring on the already existing tensions between the two huge rivals. After a Celtic victory, things would boil over on that hot May day in Hampden Park, but as we definitely will be covering this game in full later, we won't say more until then. (2022 Edit: Check out our Holy Wars #5 on the Old Firm for footage of this game)

Scenes from 1980 Scottish Cup final riot between Celtic and Rangers supporters.
Throughout the following decade, more organised hooligan elements would spring up at Scottish clubs as they were doing throughout Britain, but good, old spontaneous break-outs of trouble were still always a possibility. Celtic were again involved in another infamous incident at a UEFA Cup game in the mid-'80s that resulted in their following European fixture being played behind closed doors (again, we will come back to this later).

An empty Celtic Park as Celtic are forced to play Atlético Madrid behind closed doors in the 85/86 Cup Winners Cup.
That bring us up the dawn of the '90s, and Celtic's visit to Falkirk FC during the 1992-93 season. Falkirk being a smaller team (although notably their foundation date of 1876 predates Celtic's by 12 years) were not as well known for violence, and today Wikipedia lists their two modern firms as the "Falkirk Fear" and "Falkirk Yoof". But while we're not going to see any mass chaos at Falkirk here, we will see how even a single individual can sometimes be enough to stop a match in its tracks.
The Match:
The first thing to highlight, as we often like to do, is the kits. Celtic's Packie Bonner ("Packie" being a colloquial Irish shortening of Patrick) can be seen in a classic early '90s Umbro goalkeeper strip in delicious yellow and dark green-tones that just hits the spot:
Visible in the above shot is also the fact that supporters in wheelchairs were positioned right beside the grass of the pitch, behind and to the sides of the goal. This seems heart-warming, but then again also indicates a lack of actual facilitates for such fans, as well as the proximity to goal creating a potentially uncomfortable situation if a particularly ferocious shot were to miss the target but connect with a vulnerable fanatic's face.
But anyway, continuing with the visitor's attire, this was when Celtic were still maintaining the integrity of their sacred green and white hoops by uniquely not allowing numbers on the back of their shirts. Instead, the player's number appeared on the front and back of their shorts. And despite having them since 84-85 season, Celtic were also devoid of a shirt sponsor for some reason in 92-93 (in the otherwise same kit as 91-92), delightfully making this strip feel even more minimal and retro for the era (retro-within-retro so to speak, and we're sure someone knows the reason for the lack of sponsor, do get in touch if so!):
The hosts meanwhile were wearing an interesting Hummel kit, the make of which was not immediately obvious, although their recognisable arrows did feature on the sleeves and shorts. It seems Hummel were enthusiastically indulging as much as anyone in the increasingly outlandish nature of early-mid 90s kits, leaving their sleek, stylish and iconic 80s catalogue behind. It is perhaps no surprise then that the 90s would not be a kind decade for them, but never the less the navy/white/red configuration of the Falkirk kit is a winner (and anyway, we like outlandish kits, and Hummel):
So that's our early 90s gear covered. As far as the ground itself – that being Falkirk's old Brockville Park – the home fan's main standing element were located on the small terrace behind the goal of the left, and a portion of the stand under the camera where police kept a watchful eye:
The sizeable visiting support occupied the terrace at the other end of the ground, and were also packed right around into the other end of the camera-side stand:
It would be at the away end that the first drama of the game would occur, when in the 27th minute Celtic defender Tony Mowbray used his hand to prevent the ball going into an empty net while Bonner was in no-man's-land. The future manager of Celtic among other clubs, Mowbray was promptly sent-off and the resulting spot-kick was converted much to the glee of the home support: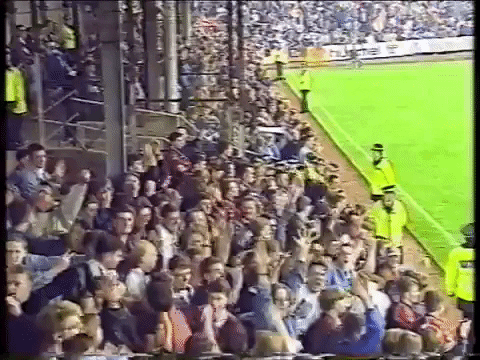 But it was extremely short lived joy, as only a minute later Celtic broke through the Falkirk defence and goalkeeper Gordon McDougall brought down attacker Andy Peyton in the box for another penalty. From this stemmed our main issue of the day, as while a Falkirk player tried to argue in vein with referee Martin Clark, a small missile (perhaps a coin) was launched from the home end and connected with poor Clark right on the head: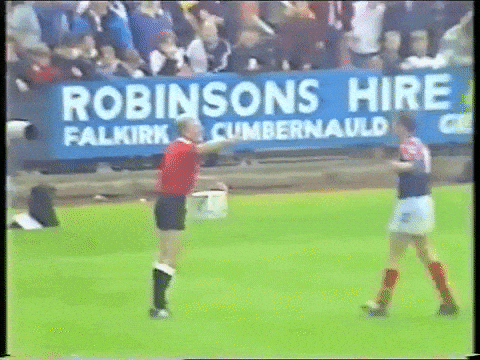 As you can see, the player didn't even seem to notice that anything was wrong at first, even as the ref was doubled over in pain, and acted like an awkward child around a parent who has just injured themselves doing DIY. Finally some linesmen and a slightly more concerned Celtic player come over and signal that assistance is needed for the distressed Clark.
The game was held up for a few minutes while medical treatment was given, and the veteran ref – who doubtlessly had already experienced his fair share of football "rowdies" – was eventually able to continue. But as we mentioned earlier, here was an example of a "random" lower-key match (albeit massive for Falkirk due the visit of one of the country's biggest clubs) that had to be delayed due to the crowd; or in this case, a single member of the crowd.
Celtic's penalty was converted successfully, and as a result we can see through the fan reaction that were was a decent percentage of those behind the goal who were in fact away fans: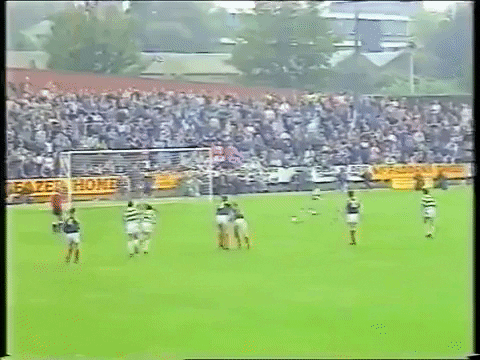 Early in the second half, goals form both sides made it 2-2, before a frantic few minutes had the score at 4-3 going in to the last twenty minutes of the game (including an assist by a Falkirk player who had just lost his boot). After a sending off for the home side and another goal for Celtic to make things even once again (in both number of players and scoreline), a last minute goal from captain John Collins made it 5-4 to the Glasgow outfit, sparking an epic eruption from the away terrace: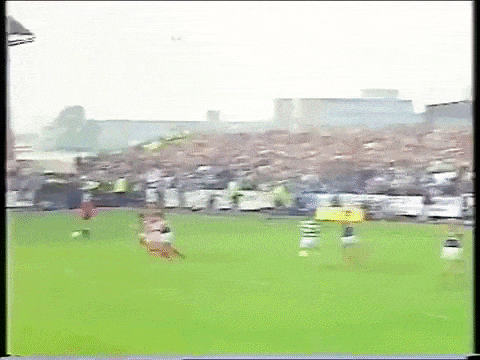 As the players celebrated, we see that plenty of Celtic fans were also lactated in the main stand opposite the camera, meaning their huge travelling support were inhabiting at least parts of all four sides of the ground. The final whistle blew shortly afterwards to end the crazy game, which had seen it all:
Through a trouble lens, there was not outright chaos as in days gone by (although clearly a good atmosphere), but like with the Football Special Report #2 in Ireland, it was obvious that football in the early 90s didn't need organised gangs or per-ordained violence for incidents to still occur.
***
YouTube Links:
England vs Scotland, 1977
Wales vs Scotland, 1977
Celtic vs Atlético Madrid, 1985
Falkirk vs Scotland, 1992
*****