Over on our social media accounts (Facebook and Twitter, we don't have an Instagram as of now but it's owned by Facebook anyway so get off your high-horse) our Gif of the Day series (gifs not guaranteed every day) has been a popular feature, offering up a regular retro dose of aesthetic football pleasure to your timeline. The milestone of Gif#100 has just been passed, but posting them on those site is effectively throwing them into a blackhole after about day (and who knows how long Facebook and Twitter will last either, while we plan on surviving the global revolution/cataclysm), so we realised it is needed to archive them ourselves with the Gif of the Day Superpost.
So as not to totally slow things down, the Superpost will be broken into blocks of 25 and continually updated with new posts as we progress more with the series.
Edit: Click here for parts 2, 3 or 4.

May – September 2018
Gif of the Day #1: Rotating mini scoreboard behind goal at Finland vs England, 03/06/1982: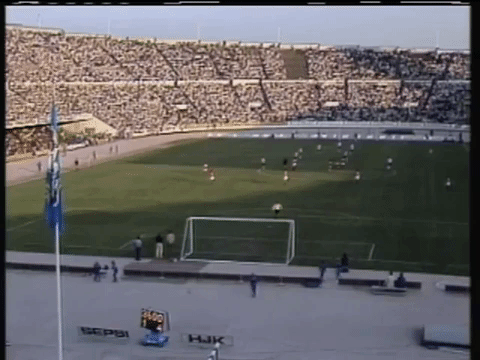 Gif of the day #2: Eintracht Braunschweig away to Vfl Osnabrück, 02/05/1998, from Pyro On The Pitch #8: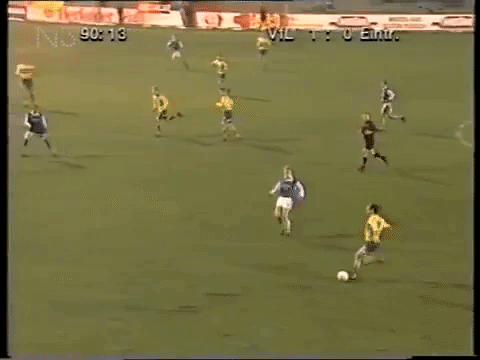 Gif of the Day #3: Take a minute to relax with this beautiful Champions World Class Soccer intro screen (Sega Genesis 1993), taken from APMFVGFH#6: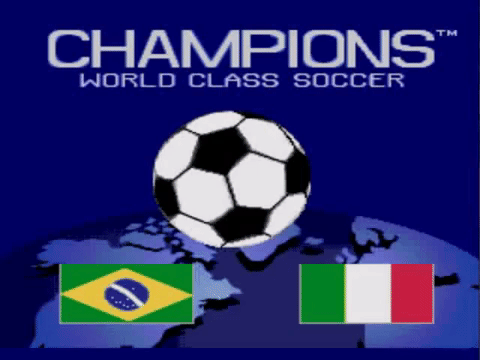 Gif of the Day #4: Italian pyro vs Brazil, World Cup 2nd round, 05/07/1982: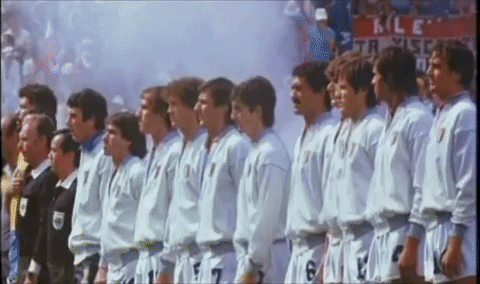 Gif of the Day #5: Supporters at half-time with make-shift pyro, Universitatea Craiova vs Dacia Unirea Brăila, Romanian Cup Final, 26/06/1993: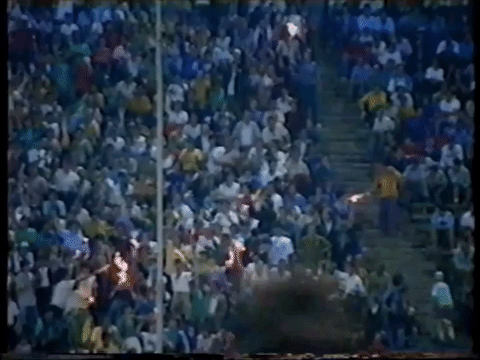 Gif of the Day #6: Terrace avalanche at Ajax vs Malmö, Cup Winners Cup 1987: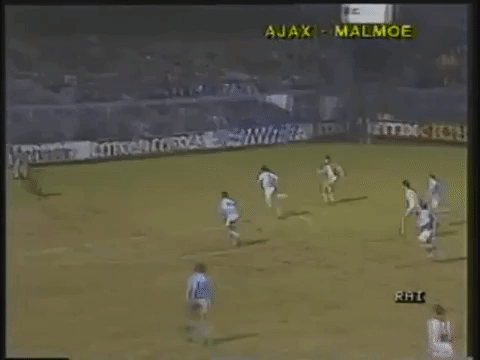 Gif of the Day #7: The amazing naked pitch invader from Tecmo's "European Championship 1992", complete with incompetent policeman. From APMFVGFH#7: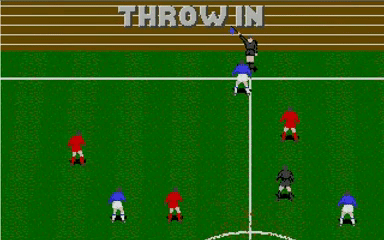 Gif of the Day #8: Estonia score their one and only goal of World Cup '94 qualification during a 3-1 defeat away to Scotland, 02/06/1993. From Politics On The Pitch #1: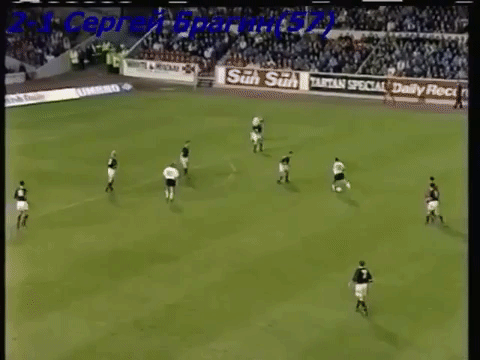 Gif of the Day #9: Unidentified flying objects at the end of Netherlands vs France, Euro '82 qualifier, 25/03/1981: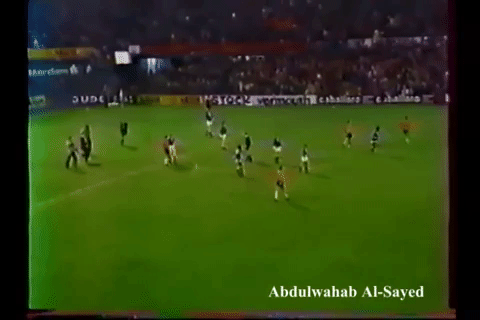 Gif of the Day #10: Fence climbing youth celebrate a 1-0 win. Vitesse vs Parma, UEFA Cup, 13/09/1994, from Supporter Snap Back #1: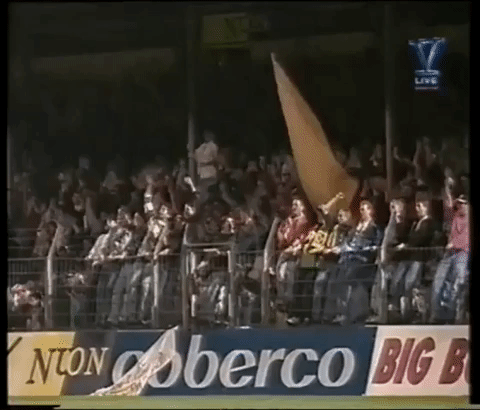 Gif of the Day #11: Brazil fans, World Cup 1982: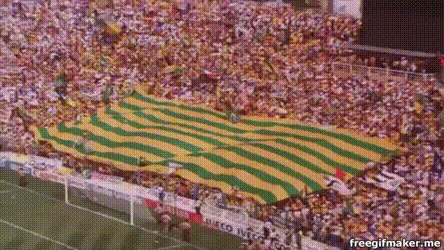 Gif of the Day #12: Everton fans upon full-time of a 1984 FA Cup semi-final against Southampton, taken from People On The Pitch #7: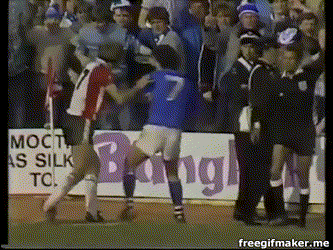 Gif of the Day #13: Yugoslavia celebrate the third goal of a 3-1 win at home to Scotland, World Cup qualifier, 06/09/1989: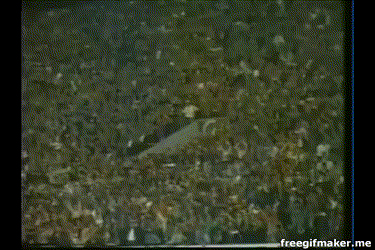 Gif of the Day #14: Classic Cryuff goal, Ajax vs Den Haag, 1982, with bonus handshake celebration (and this just happened to be #14 by happy coincidence):

Gif of the Day #15: Diego Simeone successfully throws off a Soviet penalty take during a friendly tournament game in Old Trafford, Argentina vs USSR, 23/05/1991: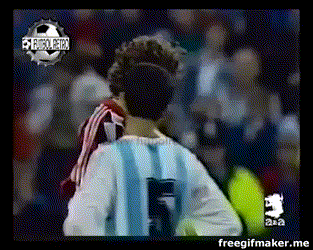 Gif of the Day #16: Terrace chaos as Scotland go 1-0 up in a World Cup qualifier away to Wales in Anfield, 12/10/1977 (game played there after crowd trouble at the usual Ninian Park, Cardiff at Wales vs Yugoslavia 1976 and Liverpool was chosen over Wrexham due to the extra revenue from a bigger ground):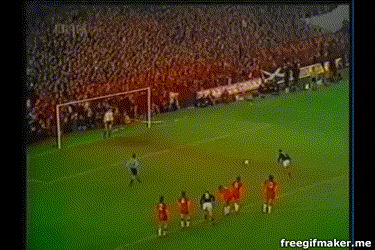 Gif of the Day #17: Goalscorer Renato gets far too familiar for his cig' holding manager Valdir Espinoa's liking, or the ref's. Grêmio vs Hamburger SV, Intercontinental Cup, 11/12/1983: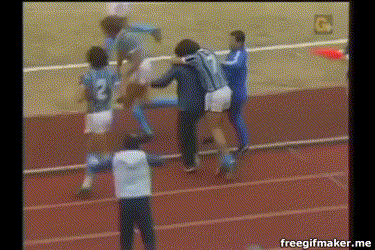 Gif of the Day #18: Spectacular fireworks display at USSR vs Italy, Euro '92 qualifier, 12/10/1991: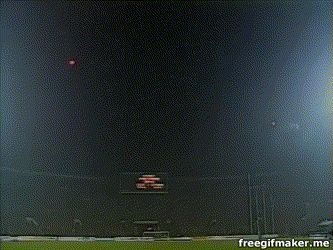 Gif of the Day #19: University College Dublin AFC's mascot Henry having a ball, Shamrock Rovers vs UCD, FAI Cup Final 1984: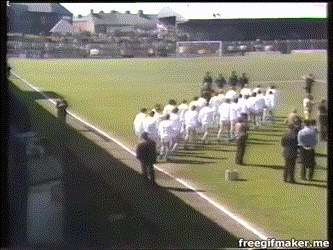 Gif of the Day #20: Supporters of Sporting Clube de Portugal vs FC Porto, 16/01/1983:

Gif of the Day #21: Crazy stand behind the goal at Antwerp's Bosuilstadion, Royal Antwerp FC vs Club Brugge KV, 07/10/1992: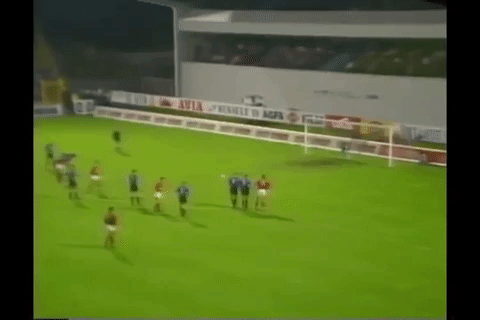 Gif of the Day #22: Ravanelli celebration and pyro, Italy vs Slovenia, 06/09/1995: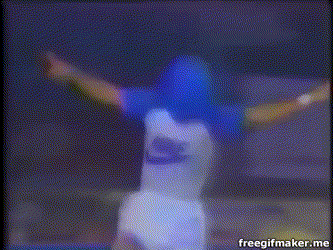 Gif of the day #23: Streamer – goal – terrace chaos. Sligo Rovers vs Limerick City, FAI Cup Semi-Final 1994: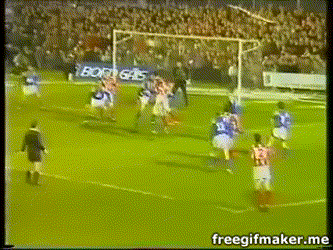 Gif of the Day #24: English hooligan daily arrest record, Euro 88 news report, 1988: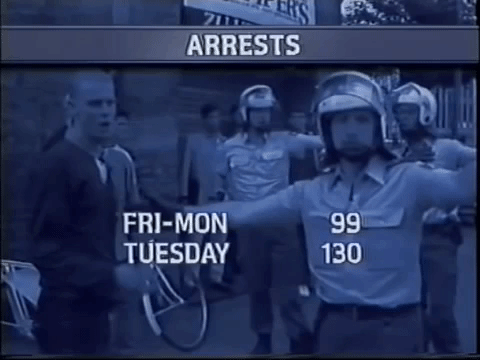 Gif Of The Day #25: Demolition job, FC Utrecht vs PSV Eindhoven, 19/04/1981. Taken from People On The Pitch #6: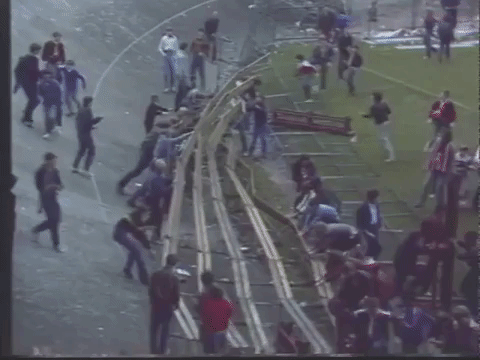 *****