Last time in Supporter Snap Back, we spent a little longer than usual on on the background of featured club Leeds United. Since we have a tendency to ramble on as it is, the series returns to it's ideals now with a briefer look at the last day of the 1987/88 Italian domestic season, and a fan invasion at the game that would decide the title.
By the 87/88 season AC Milan could boast an impressive eleven scudettos to their name, even if the last had been won back in the previous decade. The club's on-the-field success over the years was mirrored in the stands with the creation of one the country's first ultras groups in Fossa Dei Leoni (Lions' Den, named after a former training ground), followed by Brigate Rossonere (Red-black Brigades, named after the the left-wing Italian terrorist group Brigate Rosse) and many others.
The 1980s had so far been dominated by Juventus, with a couple of shock championship wins for the likes of Verona and Maradona's Napoli, but with Milan's addition of Dutch stars Ruud Gullit and Marco van Basten in 1987 – along with a weakened Juve – the club looked poised to present a renewed challenge. Napoli again lead the pack for much of the year, but a 3-2 win for the Rossonere over the champions on May 1st, 1988, propelled them into first and set up a title race-finale that would go down to the wire two weeks later, when Milan were to travel 50km north to Como.
Match File:
Como vs AC Milan

Serie A, 87/88
15/05/1988
Stadio Giuseppe Sinigaglia (Como)
26,036 spectators
The team had followed up their victory over Napoli with only a draw the next week, but the side from Naples also slipped up and lost, giving Milan more breathing room and leaving the championship in their own hands. Masses of Milan fans make the short journey up the road to occupy most of Como's Giuseppe Sinigaglia (with beautiful scenic background), in the hopes of witnessing a new generation of players win their club a 12th league title: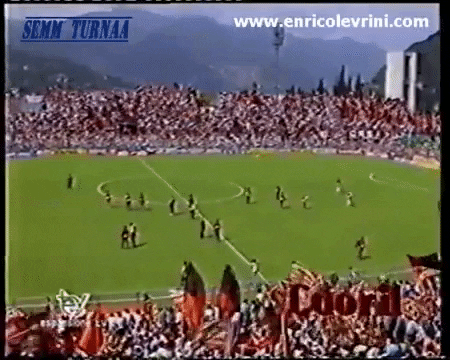 As seen above, the majority of the two main side-stands are filled by the invading army. Continuing down to the curva, we see how Como's own ultras, led by Fossa Lariana – evidentially named after the Lariana breed of goat previously found in the region (extinct since 2007) – have basically been relegated to the status of away-team in their own stadium by the Milanese giants, but admirably have prepared a choreography in their section: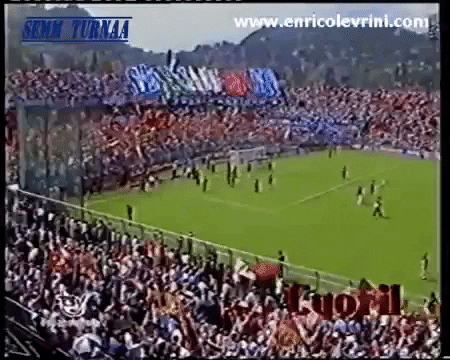 In the stands beneath them, a mesmorising black, red and white dance is played out as many Milan flags are expertly twirled: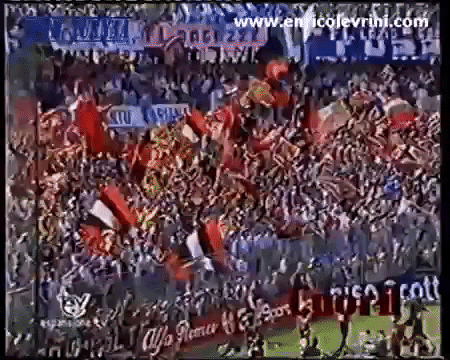 More professional flag wavers (among other abilities) are to be found at the far corner of the ground as well, as this is where the groups banner of Fossa Dei Leoni and Brigate Rossonere are located: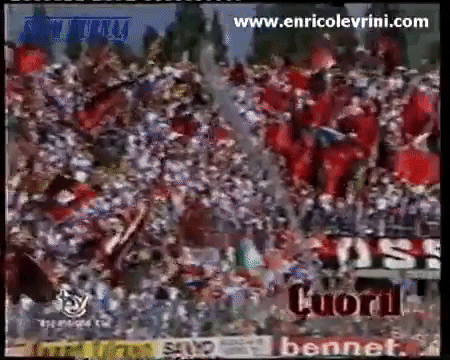 In fact the entire end is also completely full of Milan tifosi, with another (after Como's) Italian flag-themed display prepared and more seas of pleasing flags: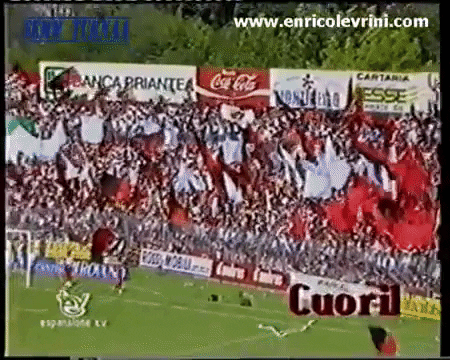 As the teams finally emerge from the the tunnel, flares and smokes are seen in the home section:
At the other end is an awe-inspiring sight as the away fans unleash their own huge smoke-show, on front of the epic backdrop of the mountains: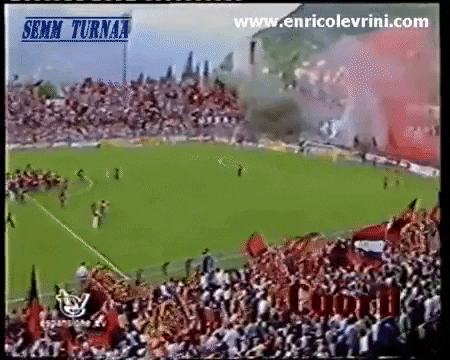 The visitors start perfectly with a goal after just two mins before Como equalise even earlier in the second half, but as Napoli are again on their way to defeat in the other important game, the scudetto ultimately belongs to Milan. Queue great graphics – which would fit in well in our What Football Is Supposed To Look Like series – explaining such: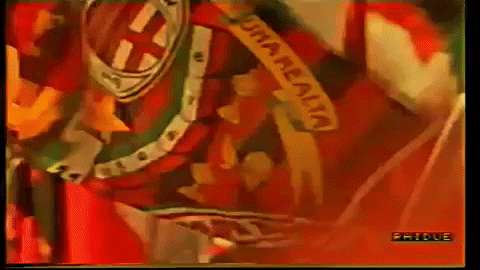 Scenes of jubilation from around the stadium ensue: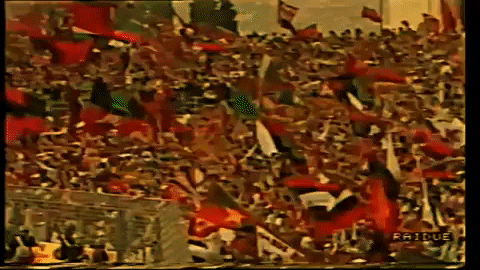 The players follow suit by commandeering flags for themselves and parading them on a victory lap, while a reporter tries to catch a literal dash interview with the new champions: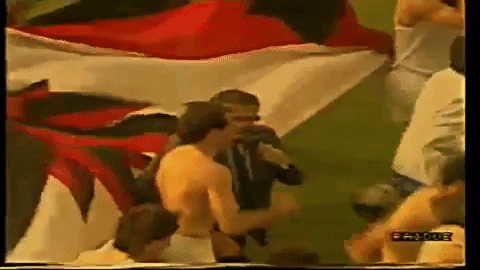 *
YouTube Links:
Como vs AC Milan, 1988
Como vs AC Milan, 1988
*****