The last time we featured Blackburn Rovers it was for a match against Blackpool in 1978, also a People On The Pitch episode. In that installment it was their hosts' fans that made it onto the grass, but for the most innocent invasion reason of all: pure joy, and it is to this theme that we once again turn. Sort of.
Background:
Going into the early 80s, Blackburn had just made it out of the Third Division, with the likes of Howard Kendall in his final playing years contributing both to promotion in 79/80 and a mid-table finish in the Second Division in 80/81.

Ewood Park celebrates a Kendall goal in the Second Division, Blackburn Rovers vs Sheffield Wednesday, March 1981.
Off the pitch, Blackburn had a hooligan presence since the mid-60, with a fan running on at Ewood Park and attacked the goalkeeper of hated rivals Burnley in 65/66. Preston North End were another fierce enemy. Local Hell's Angels led the main mob in the late 60s, replaced by skinheads in the 70s, both contributing to the town and ground's growing fearsome reputation.
At its height there were firms in the Darwen End, Blackburn End AND Riverside Terrace of the stadium, but by the late 70s Blackburn's credit had cooled a bit. By this stage the casual culture was about to kick-off, however, including at Blackburn, and a new generation of hooligan in the 80s with the group "Youth."
Swindon Town in the Fourth Division were further down the pecking order in both football and "lads", but also had an active group in the "Swindon Town Aggro Boys" – STAB – since the 1970s. STAB and other Swindon supporters had been responsible for pelting a Wrexham goalkeeper with darts, concrete, golf balls and other missiles in 1978, while Oxford United was considered the hot local derby.

Home fans are searched outside Swindon's County Ground and its glamorous environs, Swindon Town vs Rochdale, Division Four, January 1983.
In January 1984 Swindon and Blackburn were paired together in that season's FA Cup fourth round, to be held at the County Ground. The former had progressed thanks to a defeat of Carlisle, with letter claiming the slightly bigger scalp of Chelsea in the last stage.
The Match:
28/01/1984, Swindon: Before going to the stadium, we get a great graphic featuring the two teams' badges. Notable is Swindon's amazing "traffic sign" crest, which presumably is infamous within the club:
From that to the action, with 11,143 in attendance at the County Ground in England's southwest: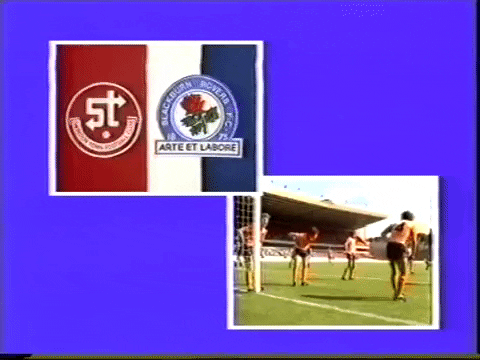 At one end is an open terrace with home supporters:
At the other is a smaller, but more densely packed and roofed terrace, housing the club's "hardcore" support:
Along the main side, the stand is supported by a brick structure that encompasses a small dwelling with a window:
Beside this, and behind the four policemen, is a scene which suggests the stand is currently a building site also:
But from the Swindon-Rochdale game (referenced above) over a year earlier, we can see that nothing has changed since then:
Opposite this is the sizeable Blackburn support, crammed into a section at the corner of the other grandstand:
Of course the pitch is in a satisfyingly bad state, as you would hope for: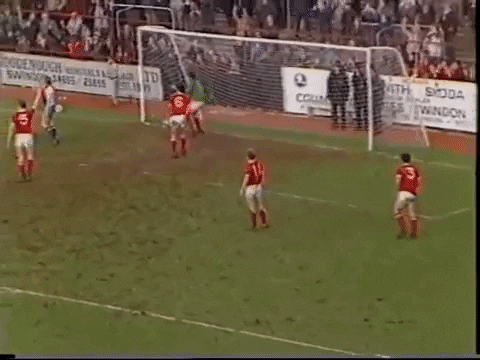 And there are substitutions, early 80s style: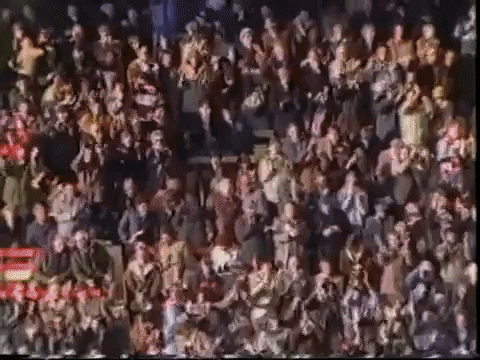 In the first half the home side score, to send open terrace behind into elation: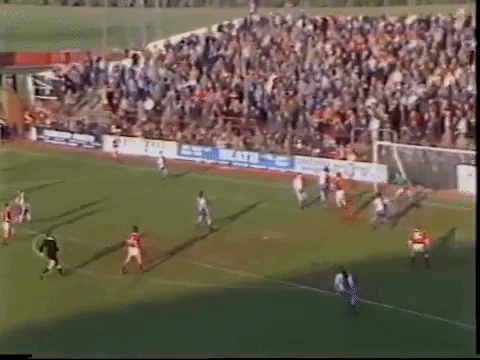 The lead is almost doubled after the break, triggering vintage crown heaves all over the enclosure: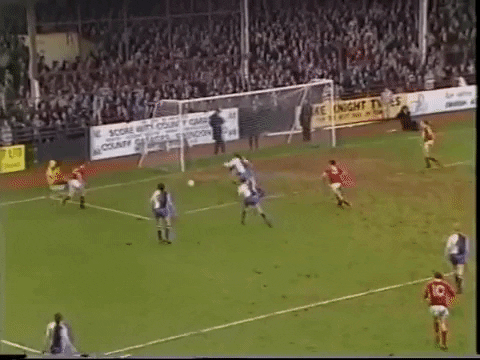 But it is the visitors who score next, electrifying the traveling fans from the north:
Now we come to the reason for the inclusion of this match in People On The Pitch. As Blackburn play in a corner, keep your eyes peeled to the left for the individuals that casually appear, walking up the touchline: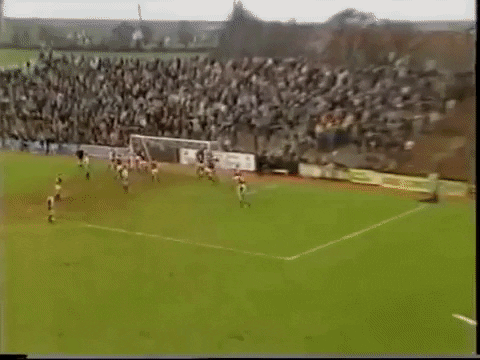 Breaking Swindon hearts, the ball is headed into the goal to give Blackburn what would turn out to be the win. From the celebrations that follow around the goal, it becomes clear that the walkers are young away fans who have evidentially not been in the correct section for the game: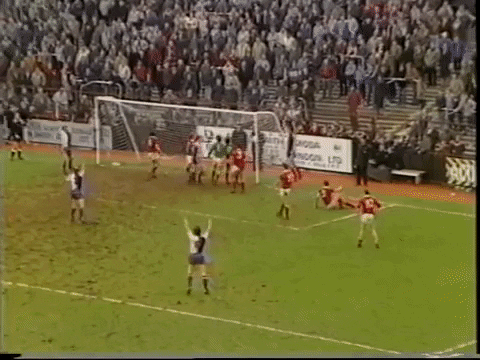 No doubt members of the "Youth", some joyously make their way past the line, onto the playing surface and around the goal, as the players congratulate each other: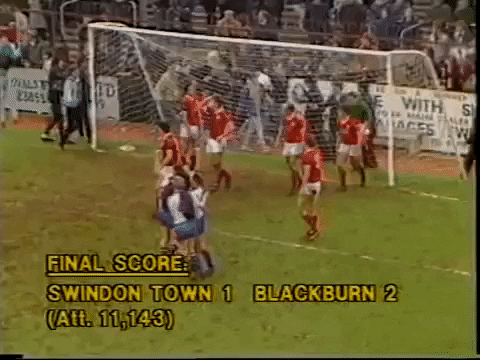 Keeping your eyes on the left again, ones last lad who had been left behind appears at the last second to catch up with his mates: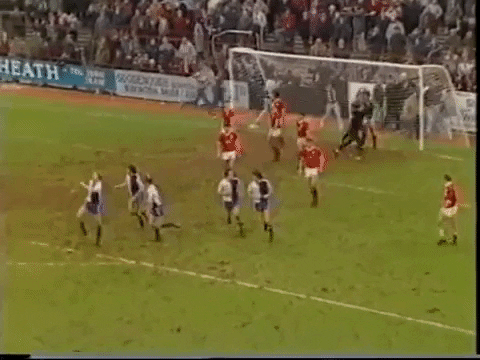 With a range of classic jumpers, jeans and trainers in show, the casuals frolic off into the night, and into the Fifth Round of the FA Cup: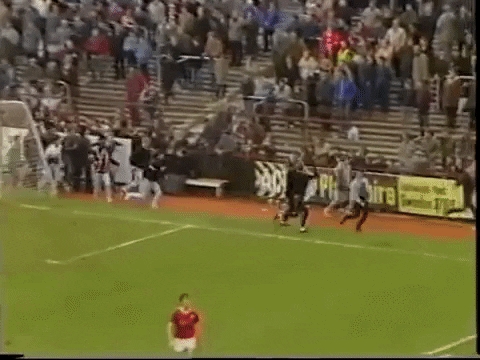 *
YouTube link:

Blackburn Rovers vs Sheffield Wednesday, 1981
Swindon Town vs Rochdale, 1983
Swindon Town vs Blackburn Rovers, 1984
*****