Last time in APMFVGFH we looked at a beautifully vivid arcade game from the dawn of the 1990s, that ticked several boxes for us. Now we go back to the previous decade and the dawn of the modern football game itself with one of the genre's early pioneers.
The game was simply called Soccer, released in Japan in 1985 for Nintendo Famicom (the name for NES in Japan, short for Family Computer). In 1986 it was also one of the debut titles for the Famicom Disc System add-on:
This modest but charming game was one of the first of it's kind and was regarded highly at the time, with Computer and Video Games Magazine giving it an impressive grade of 83%. The intro screen simply highlights each letter in the word "SOCCER" repeatedly and asks if it's going to be a one or two player affair: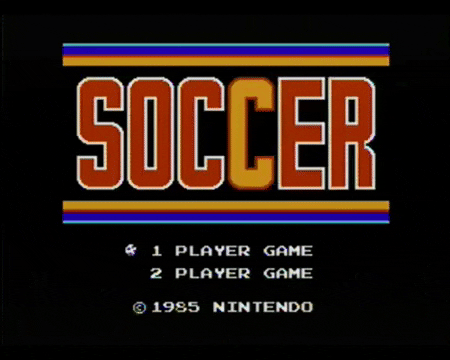 There are six teams to choose from as seen below, including "FRG" for "Federal Republic of Germany". Whether the "GBR" team refers specifically to the Great British landmass of England, Scotland and Wales, or if Northern Ireland is also included remains unclear:
Once the teams are selected, it's straight to the pitch, which we have put together in a full length view:
Although there is no stadium or fans, the simple joy of playing in an open field is more than enough for us. Five players on each team proceed to the centre circle for a Westside Story-style face-off before the match starts: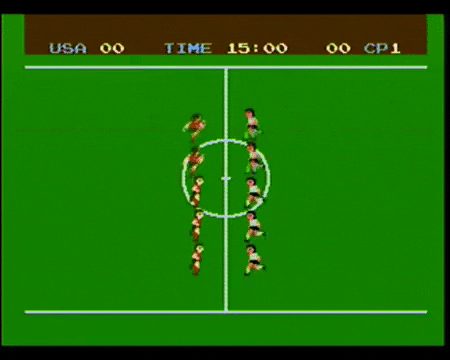 Then, the action:
Here we watch on as a class strike from outside the box beats the 'keeper: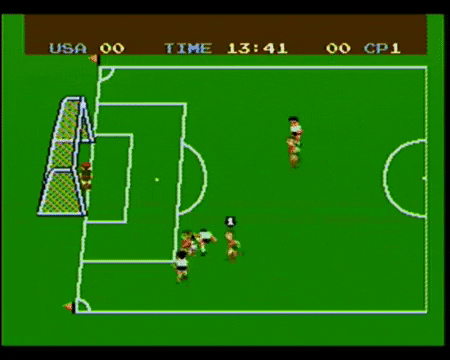 The gleeful players run back to their own half celebrating, where the joy continues for a moment as the other team waits to kick off:
Some of the players on different teams have slightly different features. The Japanese, in fetching pink, have more sallow skin than their European counterparts and possess massive black holes for eyes:
The goalkeeper is given a cap and what looks like a pink belt, making him an adorable little man:
But the real treat is yet to come.
Cheerleaders in a football game is something that we once derided for their inclusion in Tecmo's European Championships 1992, only later to be informed that there were actually cheerleaders at the tournament in real life. Here Nintendo were way ahead of the, as at half-time the cheerleaders come running out from both ends of the pitch: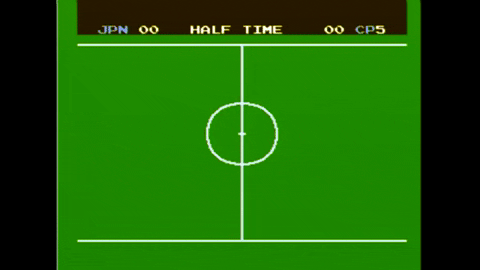 Their routine includes an impressive vertical leap maneuver. Just check out that hang time!: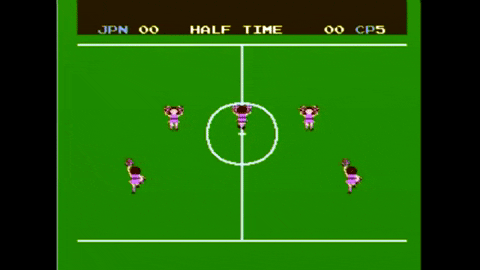 It continues for a surprisingly long amount of time before they run off again:
Although cheerleaders as a concept in general is something we're not exactly thrilled about, the effort of including them is a nice touch.
Also a nice and somewhat unexpected feature is a penalty shoot-out in the case of a draw. Here the goalie is sent to the shops for a packet of Toffee Pops: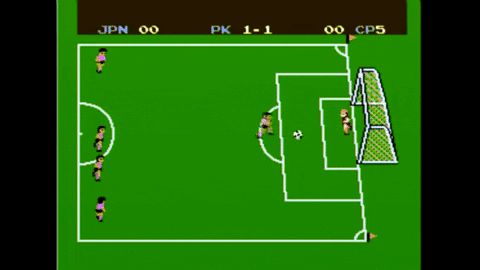 Like with all shoot-outs, both ends of the pitch are used. The Japanese 'keeper pulls of an amazing save, having first rotated rapidly during the taker's run up to prepare himself mentally: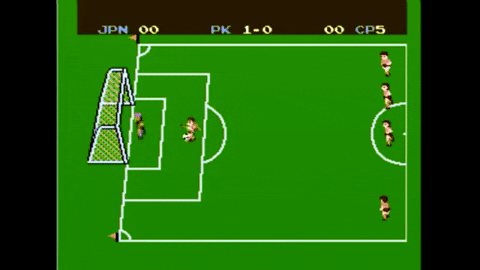 A job well done, the victorious team gesticulate in ecstasy in the middle of the park while the opposition run on the spot and stare at them in awe: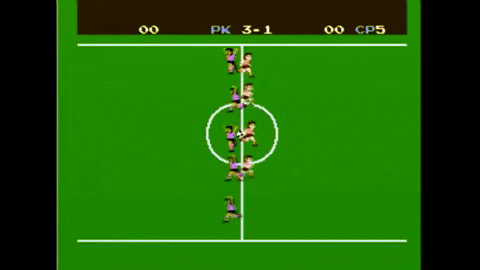 An enjoyable afternoon visiting Soccer had come to an end. But first, the staff had one last message for us to see us off:
*
YouTube links:
*****