We last covered Albania via our Cold War Classic guest-slot over on MuseumOfJerseyes.com last year, with quite an in-depth look at their football-political history and some interesting kits worn by the country's national team when coming to the end of their communist era. Now we fast-forward to the new century, a new Albania, and one of their biggest wins to date at the time against an opponent with whom there was also historical baggage (click above for more info on that, plus here for all in the Supporter Snap Back catagory).
Match File:
Albania vs Greece

World Cup 2006 qualifier

UEFA Group 2
04/09/2004
Stadiumi Qemal Stafa (Tirana)
25,800 spectators
Greece come "fresh" from their shock championship win at Euro 2004 (so more like hungover) to regional-rivals Albania and a hostile atmosphere to kick-off their World Cup qualifying campaign. The last time the fixture had taken place here during the previous World Cup qualifiers, the home side had won 1-0 and were in fact unbeaten against the Greeks on Albanian soil.
More than 25,000 are in the Qemal Stafa Stadium, named after a martyred World  War 2 hero who was also a founding member of the Albanian communist party, as a sea of red greets the teams:
Curiously, Albania's Umbro shirt template is based on the same design on Ireland's World Cup 2002 jersey, which had been thought as bespoke at the time but pleasingly recycled here:

In the stands, crowd covers…: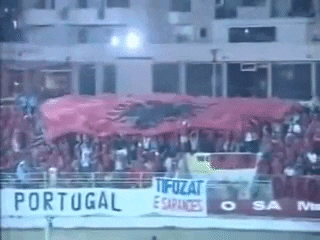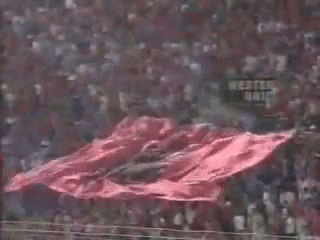 …and pyro accompany the Albanian anthem: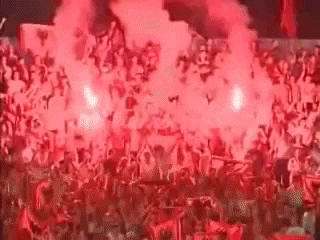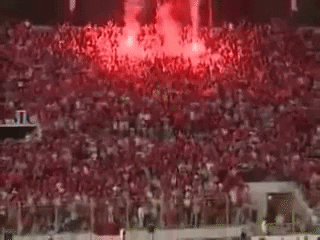 As partially seen above there is a large banner letting the Greeks know that "This Is Not Portugal", which had of course been the scene of their Euro success a couple of months earlier:
The smaller banner beside it reads "Tifozat E Earandes" – fans from the southern sea-side town of Sarandë:

There is another reference to Portugal along the side, and using Google it seems to say "About Portugal Durrës" (another nearby city, west of the capital Tirana) so something is probably lost in translation:
And, after just two minutes, Greece are indeed swiftly awoken from any lingering Portuguese dreams, as the Greek-employed Iraklis player Edvin Murati puts the home team 1-0 up, doubtlessly to the rage of  his club side's supporters. But he and his countrymen celebrate wildly, including photojournalists: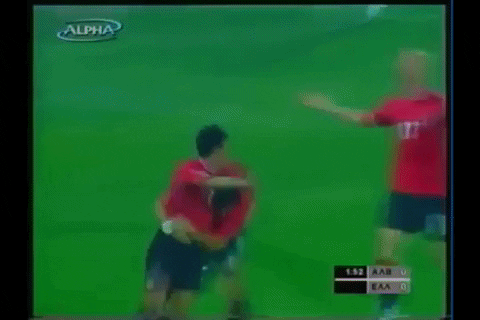 Bless that group of lads who clearly are the only ones who have brought flares: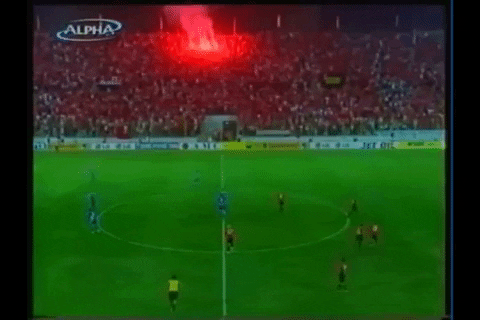 For the shell-shocked Hellenic Heroes of the summer it seems the Qemal Stafa Curse is striking again, then confirmed less than ten minutes later when Albania's Adrian Aliaj channels his inner Robert Carlos and does this…: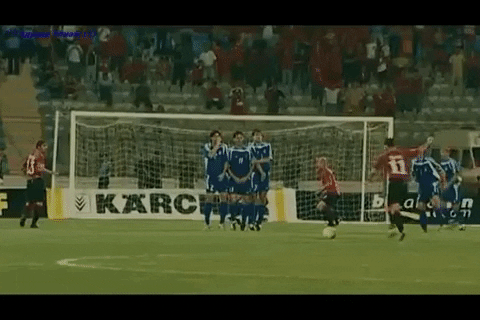 …cueing more of this:
Greece pull one back, but the two goals are enough for the most famous Albanian international win to date:

The players celebrate with their people in some heartwarming scenes to close out the day: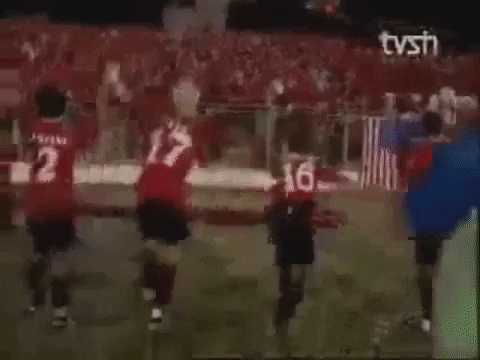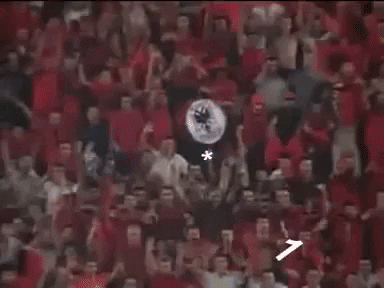 ***
YouTube links:
Albania vs Greece, 2004 A
Albania vs Greece, 2004 B
Albania vs Greece, 2004 C
Albania vs Greece, 2004 D
*****