This time in APMFVGFH we're looking at a game that, for us, was definitely always one to rent rather than buy, but it's name alone triggers feelings of nostalgia for a more innocent 90s. For that reason solely it deserves an entry, while for the rest in the series click here.
***Credit to the original game-player and uploader of the video, which can be found here***
Yes, 1995's Actua Soccer is the nostalgia-tingling title in question, the first in the Actua series by Gremlin Interactive and the first football game made with a full 3D graphics engine. The game begins, after the Actua and Gremlin signature, with this modest but nice opening (we're always suckers for flags):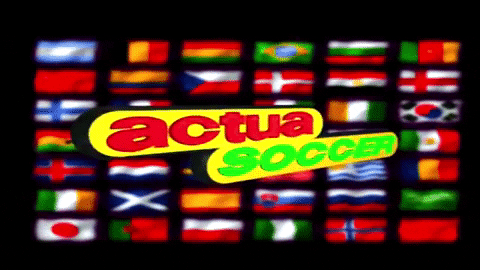 The menu-screens are actually quite FIFA 98-ish, until the team-select which is great because it gives us jersey icons with some delightful detail. As a 1995 game, several World Cup 94 designs are portrayed, as seen here with USA and Russia:
As well as Adidas' bespoke American stars, the tournament's worshiped templates are also of course on show, first with the "rib-bars" of Bulgaria…:

…and Sweden:

Plus the Romanian (alternating bar colours)…:
…and Norwegian (navy sleeves) versions:
There's Spain's diamond-column template…:
…also worn by non-World Cup qualifiers France:
The style made famous by Germany is present…
…as well as Nigeria, in their more niche upper-chest focused effort:

Another non-qualifying Adidas side were Portugal, who, unlike a couple regional neighbours, hadn't received an updated kit and were still in a trefoil/Equipment hybrid design until switching brands going in '95:

The most interesting anomaly is Finland, also surprisingly appearing with the old Adidas equipment shoulder-bar design first worn in 1991:
This is because the Finns, having adopted it in 1992 like most countries, were brilliantly still wearing the template possibly as late as a friendly tournament in February, 1996, against Thailand, Romania and Denmark (we can't find video or photographical evidence of any of these), certainly having worn it up until the last game of 1995 away to Russia.
Speaking of Russia, as we saw with them earlier in bespoke Reebok, it's not just Adidas gear here, with Puma's Poland..:

…Morocco…:

…Czech Republic (looking more like some sort of Umbro concept)…:

… and Japan, although this shirt went through Adidas, Asics, and Puma versions in real life:

Slovakia's coincidentally looks like one of their later Nike tops perhaps, but is seemingly based on their obscure Le Coq Sportif period in 94/95:

Denmark are also in a Hummel shirt that is not remembered well due to their absence from USA 94, but worn in the 1995 Confederations Cup:

Any other nation that we haven't mentioned of the 44 in the game is because their shirts were too plain to warrant an exciting icon. But there's also Northern Ireland, with their nice shadow-striped (in real life pin-striped) Umbro jersey and hilarious lack of flag, with the English developers clearly not being bothered to include it in favour of their own (a Nordic cross positioned version anyway):

Lastly for the team-select, it's worth mentioning the neat touch of the away side's shirt automatically changing if the case of a clash:

Coming to an actual Actua match, this zoom shot to the referee opens proceedings with the players standing and staring at each other intensely while slightly swiveling:
Although everything is blocky as you'd expect, there's something lush and satisfying about that grass: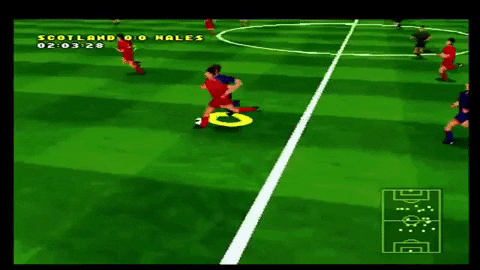 The goalposts appear to be like the old, "square" style seen commonly in the 1970s…:

…and here's a goal scored into one from an acute angle: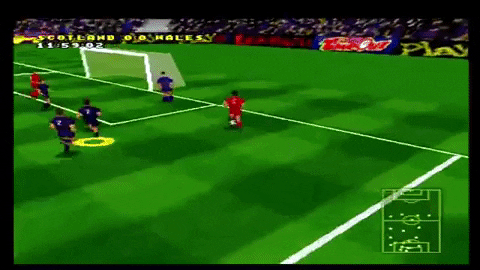 As seen above, this match is taking place in a giant, three-tiered arena that is vaguely dystopian looking for some reason…: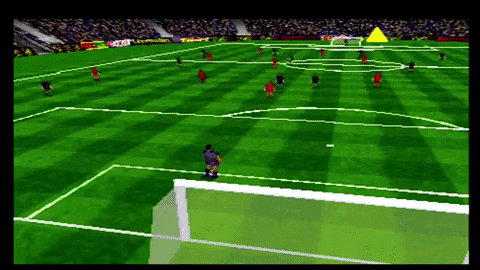 …with ads for Time-Out bars (not our faves) and Twirls (better) surrounding the pitch:

But to end on a sour note, slightly upsetting is the sudden and dramatic swing of the camera when a half is blown: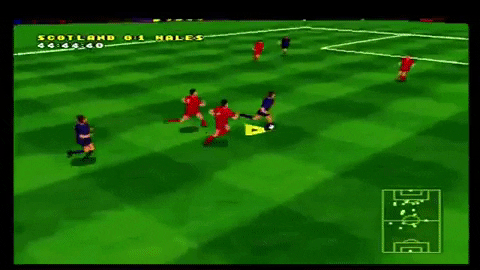 *****