Last time in Politics On The Pitch, we went through a brief history of Eastern European-Iron Curtain club names and looked at the epic 1986 Cold War, Cup Winners Cup clash between Dynamo Dresden of East Germany and Bayer 05 Uerdingen of West Germany. Click here for that post or the rest in the series, including the 4-part "Groups of Death" sub-series, but now we take things away from states, clubs and and competitions and move on to those who really make the game – the fans, and their own outward ideologies.
In most places these days, the act of displaying a banner at a match featuring, say, a hammer and sickle, or the flag of East Germany, would be seen at as a fairly emphatic statement at least regarding the owner's political leanings, and at worst a controversial and provocative gesture to others in the stands. Political messages are of course banned by FIFA and UEFA, but at one time both Soviet and East German flags were flown officially together during World Cup qualifiers in 1989, as well as by regular folk in the tribune:
As part of FIFA's mission for world peace, and domination, regimes of all inclinations such as the USSR, Nazi Germany, apartheid South Africa, and still North Korea and the USA, have held membership. Such admirable colour-blindness to crimes against humanity (although who isn't guilty at the end of the day) in the name of sport does not extend to the fans, but this is after decades of the terraces already serving as billboards for locals to inform those watching of their world views.
Another surreal display of socialist symbolism had come the year before at Euro 1988 vs Italy, besides just the the sight of USSR flags amidst Italian colours in the crowd making it look like a left-wing Italian uprising:

The banner which must have been most upsetting to some of the Italians and host West Germans in the crowd, however, portrayed communist luminaries Karl Marx, Friedrich Engels, Vladimir Lenin, Joseph Stalin, and Mao Zedong (1988):
At one of the USSR's matches against the Netherlands at the same competition, a Soviet flag with Lenin's face on it is also held up by what  appears to a Dutchman, again making it appear like a far-left revolution in Amsterdam (1988):
Talking of upset right-wing Italians a moment ago, their anger will have been ten-fold several months later when the national team took on Scotland in a friendly in Perugia, thanks to the Italian FA's tradition of rotating stadium. As you know from our International Duty series, it was common for the local ultras groups to display their colours and banners at these games, and Perugia just so happened to be hard-left (1988):

Behind the goal into which Italy scored in a 2-0 win, viewers watching at home on RaiUno could see their nation represented in the stands by a hammer and sickle (above), "CCCP" flag, and a large Che Guevara (1988):
The situation was mirrored by another friendly against a Celtic nation, Wales, in 1996 in Ternana. Although fierce rivals of Perugia, Ternana were also brazenly left-wing, again doubtlessly enraging many nationalistic Italians watching at home with Che Guevaras and hammer and sickles again broadcast to the public:

Che appeared in many more Italian stadiums, with notable clubs of left-wing repute such as Atalanta (1991)…:

...Brescia (1990/91)…:
…Taranto (1991/92)…:

…and Livorno (1998):

Livorno have also demonstrated their support for Palestinian independence (1998)…:

…and most other left-leaning causes and symbols (c. early 2000s):
A more obscure example of overt left symbolism comes from Shelbourne FC and their Alternative Reds Club (ARC) group in the late 1980s and early 90s. At a time when Ireland was institutionally a very conservative country, the Alternative Reds lived up their name with a hammer and sickle on their group banner which was often seen along side a USSR flag both home and away (1992):

The groups fanzine, "From Home to Home", also conveyed the ARC ethos to other fans at the club in a way that had been impossible before. In 1993 an Irish tricolour was placed on the lower section of the banner nodding to the intricacies of Irish nationalism's combination with left-wing politics, interwoven via the struggle against British colonialism, unlike right-wing nationalism in other countries:
We'll be coming back to Irish nationalism later, but seen above is also a flag used by many across Europe as a symbol of white nationalism, the Confederate Battle Flag. But in the context of Shelbourne, it's use can be most likely attributed to a misguided appropriation of the colourscheme rather than a political message, especially considering it's positioning a meter away form a hammer and sickle (a company called Union Sport, who's logo was the Confederate flag, even made kits for several League of Ireland clubs in the late 1980s, including Shels).
Elsewhere, such as Germany, the Confederate colours were on display more deliberately. Here it can be seen used by FC Schalke 04 supporters vs Borussia Dortmund in 1991…:

…and by Hannover 96 fans away to the mostly-left St. Pauli (1993)…:

Across the border in Poland it's visible here at Lech Poznan, (1992/93)…:

and south to Hungary, as seen at Ujpest (1991)…:

…and Hungarian national team fans vs Israel in 2000:

Of course this is just a hand-full of examples among many, but back in Italy, Pescara's Bad Boys group went a step-further by adding a Confederate soldier to the centre of a Battle Flag in the middle of their group banner. Once more highlighting the complexities of these supporter cultures, here it is seen at another Italian national team match vs Norway in 1988, placed beside the banner of Park Kaos which features the polar opposite centerpiece: a Jamaican flag with Bob Marley's likeness:

Since we've naturally swung to the right now (well, not "us"), we may as well continue in that direction, and from American historical symbolism to European. Keeping the traditions and heritage of ancient "pure" Europe alive is a common theme for the more conservative ultra, as demonstrated by the use of the Germanic "Odal" rune symbol on the banner of FC Porto's "Vikings" (1990)…:
…and on this black flag held by an Atlético Madrid fan in 1996:

Along similar lines is the Ferencváros group "Aryan Army" (1995), even though Hungary is arguably about as Aryan as Iberia is Germanic:
The most common of the ancient symbols seen across continental Europe is the Celtic Cross. In Ireland it is still innocuously used by schools, businesses and other public institutions, but the "national socialist" red, white and black version can be seen hung here in Italy by Arezzo (1986)…:

…Como (1998)…:

…Juventus (1985)…:

…and Lazio (1999):

Outside of Italy, it can be see at Lech Poznan again (1992/93)…:

…Ferencváros (1991)…:

…Hungarian national team (2000)…:

…one which might surprise some people in Switzerland (1991, left of picture), since a neutral country doesn't mean the citizens have to be…:

…and Real Madrid (1990):

Popular variants include the black and white Celtic Cross, used here also by Real Madrid (1991)…:

…and across town at Atlético Madrid (1992, also seen earlier in the second Lazio pic):

Away to Bayern Munich in 1985, AS Roma fans provided the inverse with a straight white and black cross…:

…and Steaua București display one here in white and red (1998):

There is also the obvious placement in the centre of national flag, as employed by fans of Inter (1991)…:

…Juventus (1985)…:

…and PSG (1990s):

Ferencváros, quite ironically, used the CELTIC Cross on the centre of a Union Jack (1992), the latter also heavily seen across Europe as a sign of respect for British punk and hooligan culture and often in right-leaning sectors:

The next type is a Celtic Cross used stylistically on a group banner. Staying with Ferencváros, the ominous "Patriot Franky's" hools feature a large one in between the two words of their name (1993)…:
…while Hajduk Split's "White Boys" (1994) do similar with an initial-flag of their's:
This mysterious "Fossa" (Den) banner appeared at Italy vs Croatia in 1994 featuring the Cross, but we're not sure if this was from club supporters like earlier, or some sort of national team group:

A Lechia Gdansk banner, seen here at Netherlands vs Poland in 1993, features a thick Celtic Cross beside what appears to be a version of the "Wolfsangel" – a Viking rune also used by several Nazi Germany SS Battalions:

The FC Porto "Ultra Super Dragões" group banner was adorned by a slimmer, more subtle model (1990):

Another "natural" application is incorporating the Cross into a  letter O. This was popular at Ferencváros, as demonstrated by "Front" (1992)…:

And Green Monsters (1995):
Slovenian national team fans used it on a banner seen against Italy in 1994 (does it say "Violent?")…:

…and Croatian Hajduk Split fans, away to Slovenia in 1997, can be identified via a Torcida flag that uses both a Celtic Cross and the the U symbol of the Ustaše, the WW2-era ultra-nationalist, fascist terrorist organisation:
Moving to the last category of Celtic Crosses, and transitioning nicely from above with these examples, we have those seen on hastily made text-banners like Como (1998)…:

…Portugal national fans (1995)…:
…and Real Madrid, all as letters in these cases (1990):

Of course they weren't obligated to using it in this way on crude or text-banners, as it appeared more regularly with Atlético Madrid (1992)…:
…Ferencváros (1991)…
…Italy x2 at Euro 1988, seen on one with the letters "SPQR" which we'll come to soon:

…and Portugal (1995):
Combining several themes, this image shows Sporting Clube supporters with both a Union Jack and a banner with a swastika and Celtic Crosses on it; quite confusing for the uninformed (1990):
And yes, at last we come to the the swastika, which is one of the lesser-seen symbols due to it's illegality in most countries. However it does make appearances at the usual suspects, such as Lazio (1999, again with SPQR)…:

…and Real Madrid (1990):
From the same game as above, the 1990 Supercopa de Espana vs Barcelona, Real Madrid's Ultras Sur also display a swastika in the centre of a Spanish flag, hilariously above an ad for the 92 Olympics, as riot police watch on:

Continuing with the overt Nazi themes, although this symbol had been used by generations of Germanic regimes beforehand, is the Totenkopf of the SS. Like above, here it is seen in Madrid with an armed guard standing nearby – this time on the centre of Atlético's "Frente Atlético" group banner (1992):
More famously the symbol was adopted by AC Milan's historic "Brigate Rossonere" (1991/92), starkly contrasting the left-wing terrorist "Brigate Rosse" (Red Brigades) from which the group name was derived:

In Romania, Steaua București fans also used this Germanic symbol for impending death (1997):

The initials of the last official, state adopters of the Totenkopf, the Schutzstaffel – SS, themselves became iconic far-right insignia, their likeness seen here on a Borrusia Dortmund banner at Euro 1998…
…and used by ADO Den Haag fans on a sheet-banner (1987):

While not a full "SS", Legia Warszawa's "Wild Boys" group banners also features a very SS-esque S at the end (1996):
In Germany, another way to get around the banishment of Nazi symbols is by use of the old German Empire flag, the colours of which just so happening to be the same as the Nazi's, seen with Hannover 96 away in St. Pauli again (1993)…:

…and at Euro 1984 in France during West Germany vs Portugal…:

At a troublesome friendly away to Poland in 1996, another German Empire flag was seen..:

…followed by a text banner that reads "Greetings to Schindler Jews" (1996):
Alternatively, the Nordic cross "Reichskriegsflagge", or German Empire war flag, can be used, worn here by 1.FC Union Berlin fans entering a game against the Berlin Turkish-diaspora club Turkiyemspor in the early 1990s:
Reliably, also seen at Ferencváros (1995)…:

…and at England vs Ireland at Euro 1988 in West Germany, either by right-wing English or Hannover locals:
At the 1986 Bayer 05 Uerdingen vs  Dynamo Dresden match referenced in the intro, an interesting version with a Uerdingen-red and blue background instead of white is visible, and the Iron Cross, usually positioned in the upper left, is placed in the intersection where an eagle would usually be:

And while not confirmed, this Feyenoord Rotterdam flag (1996) looked suspiciously similar enough to a Reichskriegsflagge to warrant an inclusion:

We've finally come to the end of white nationalist-fascist-far-right symbolism on flags and banners. But wait, there's more! In clothes form, as demonstrated by this Hansa Rostock  hool's Hitler t-shirt (1995, worn against St. Pauli as well)…:
…these FC Porto "Super Dragões" Celtic Cross scarves (1991)…:
…and really taking the cake, this Leeds United fan's Ku Klux Klan outfit as part of the traditional end of season fancy dress, on the pitch after securing promotion away to Bournemouth (1990):
Leeds had topped the English supporter racism "leagues" in the 1980s according the National Front youth wing magazine Bulldog, sold outside Elland Road. A campaign to tackle the issue, which included chants and monkey noises aimed black players during games (as happened all around the country really), helped to reduce the presence of this culture, although evidentially not completely:
Of course it doesn't have to be clothes or material either, as these captured (by police) Lazio weapons show (1992)…:
…and when all else fails the body itself can be a symbol, as demonstrated by "Sieg Heil" (hail victory) saluting fans from PSG (1990s)…
…FC Barcelona (1991)…:

…and England at the World Cup (1990):
Well, after all that right-wingery it's surely time for some nice, wholesome religion, starting with one of the most famous "Jewish clubs" in the world – AFC Ajax. But wait, what's this (1980s):
An Ajax supporter giving a Nazi salute certainly seems peculiar, but these skinheads' actions were more than likely in the vein of British punk shock-value. Again providing very odd imagery for an outsider, the very next scene in that video shows Ajax flags in Feyenoord's De Kuip stadium with an Israeli Star of David flag front and centre (1980s):
While not actually supported by a particularly high number of Jews, Ajax's connection with the religion dates back to 1930s when their stadium was situated next to some heavily Jewish neighbourhoods. Antagonistic fans from other clubs began to abuse the Amsterdam club with Jewish slurs and chants, which they took in their stride by adopting "De Joden" nickname for themselves and displaying the Israeli flag at games (1985)…:

…(1991, star of David on the flag on the left also)…:
…and in cap form (1999):
Similarly in England, Tottenham Hotspur's links to Judaism resulted in antisemitic chants and gas-chamber "hissing" sounds from rival fans (also aimed at Ajax). Again though, this only led to both Jewish and non-Jewish Tottenham supporters uniting as self-proclaimed "Yids", with more flags occasional present (1986):

Moving away from Judaism to it's estranged son Christianity, the "John 3:16" bible verse – "For God so loved the world, that he gave his…"… ah it's too long – has been a fixture of sporting events for years and usually displayed by neutrals (well, not when it comes to God). Our earliest example on file was seen at the 1986 World Cup game between Argentina and Italy…:

…followed by another banner at Ireland vs USSR, Euro 1988:

The Irish seemed to be constantly performing under God's gaze, as a few months later a "John 3:16" was on display in the home end during the Northern Ireland vs Ireland World Cup qualifier (1988):

The above may have simply been another religious zealot intent on saving man's soul by going to matches, but in 1994 we get an example of a definite Christian-football fan with this black and red Bohemian FC John 3:16 flag:

Staying in Ireland (as mentioned earlier it was very conservative at the time) a yellow "John 3:7" sign had been a fixture of Gaelic Games stadiums for years, brought by an evangelical neutral who was quite revolutionary in his variation from the traditional 3:16. The sign was known to most sports people in the country from it's yearly TV time and even made an appearance (probably several) at football among St. Patrick's Athletic fans during the 1996 FAI Cup final against Shelbourne:

Another unique Irish variation came at World Cup 1990 with this large "Jack 3:16" flag, referencing the "miracles" that English Manager Jack Charlton had worked since taking over the national team in 1986…:

…which was quite the departure from the anti-English "Go Home Union Jack" banner that had greeted him from the terraces at his first game in charge.
Speaking of Anglo-Irish relations, one not-insignificant factor amid the centuries of conflict was the Catholicism of "traditional Ireland" vs the Protestantism forced on the British by Henry VIII. At the Euro 1988 match against England, one Ireland supporter displays which God he prays to with an "Éire" Vatican City flag:


(Credit to the "In League With Gaddafi" documentary for the above find)
Away to Lithuania in 1993 another Vatican flag can be seen, this time stitched into the centre of an Irish tricolour:

A club we've referenced earlier who are recognised as one of Europe's most left, or at least "punk-left", FC St. Pauli, is probably one of the last places you'd expect to see the flag of the ultra-conservative Vatican (featuring Pope John Paul II himself for that matter). But when considering St. Pauli's links to "Catholic" Celtic, and hence Ireland, and the counter-relationship between their rivals Hamburger SV and "Protestant" Glasgow Rangers, it does make a little more sense (1995):

Indeed from the same match as above, an Irish-tricolour is waved nearby (1995):
More peculiar is an Ireland flag that turned up in the tribune of Hansa Rostoc, who's hard-right element we've already referenced, against St. Pauli in 1995. We can't really explain this one so answers on a postcard please:

Getting to Celtic FC themselves, their Irish origins and links to Irish nationalism goes without saying. But specifically, here a blue and white "Starry Plough" flag, originally used by the socialist Irish-republican "Irish Citizen Army", can be seen hung in their section at European game in Switzerland (1991):

The Plough flag is also with Irish fans at that same Euro 1988 game against the English:

(Credit to the "In League With Gaddafi" documentary for the above find)
The Irish Citizen Army had ceased activity in 1947, with their flag living on to represent the ethos, but by the 1980s a more contemporary political issue intertwined itself in sport and Irish society in general, with the treatment of Irish republican – in their eyes political – prisoners in British Northern Ireland. The notorious H-Blocks at Maze Prison, where many Irish nationalists went on hunger strike and died in 1981, was called out by Ireland fans away in Belgium that year (along with Armagh women's prison)…
…and during the 1981 All-Ireland Gaelic football final between Kerry and Offaly, with a  huge "H" on display on Hill 16:

The political situation on the Ireland of island, with many of those "trapped" behind the British border in the north identifying as Irish rather than British, results in "Northern" Irish places and clubs represented at Irish national team games. Here, away to Andorra, a Cliftonville FC Belfast tricolour sits meters away from a flag for Fagans Bar, Drumcondra – "Berties Local", the genuine watering hole of Irish taoiseach (prime minister) at the time Bertie Ahern (2001):

On the other side of this coin are the Northrn Irish who do identify as British. This is the case for most clubs, apart from Cliftonville of course, but Belfast's Linfield lead the charge. In 1979, Linfield were drawn to take on Irish champions Dundalk in the preliminary of the Europan Cup, resulting in the worst rioting an Irish ground had ever seen up to that point at the first leg in Dundalk: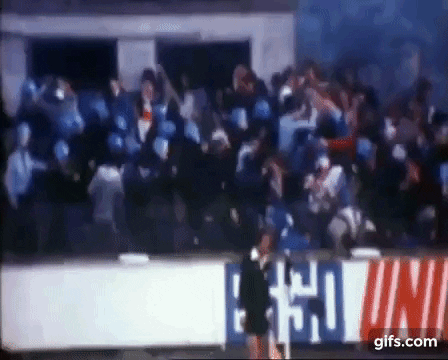 With bloody terrace warfare first between away fans and home fans, then away fans and police, at one stage a Linfield fan had gotten managed to remove the Irish flag flying in the ground amid a hail of rocks (1979):

Perhaps with the same flag or a different one, a Dundalk supporter – again under fire of rocks – managed to re-hoist the tricolour and rip apart the Union Jack that had replaced it (1979):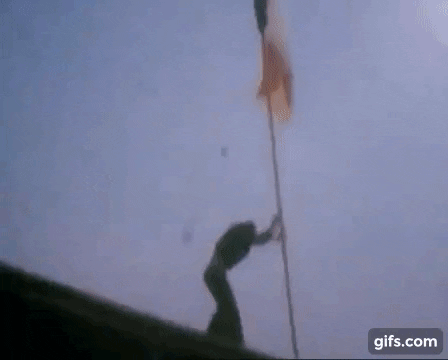 Moving forward in time to 2013 and a visit to Shamrock Rovers for the Setanta Cup (defunct competition between clubs from Republic of Ireland and Northern Ireland), Linfield fans display an interesting flag featuring the Red Hand of Ulster and a shamrock – both symbols of Irish culture and heritage but appropriated for a cause that wished to wipe out said culture and on a flag that reads "British and Proud":

Similarly, a flag featuring a red "Irish shamrock" can be seen among banners of the mostly "British unionist" Portadown FC (1991):
At national level, the Republic of Ireland and Northern Ireland had first met in a 1978 Euro 80 qualifier with minor flag-waving confrontations on the streets of Dublin before the game, but no outbreaks of mass violence:

The complexities of religion and national identity we referenced earlier can be summed up nicely by Dinamo Zagreb fans in Atalanta in 1990. In one section of the away terrace, a Union Jack – representing the Dinamo fans right-wing British-inspired hooligan ethos…:
…and in another a supporter in a Celtic shirt, the near antithesis of a British flag, mostly likely a nod to the Catholicism shared by most Croats and Celtic fans at the time (1990):
If the Irish-English-Scottish-Catholic-Protestant situation is complex maths, then the Balkans are brain surgery combined with rocket science. But the rapidly changing situation there from the 1980s to the 1990s, with the brutal breakup of Yugoslavia, are demonstrated nicely by Hajduk Split fans at two European ties against Tottenham Hotpsur: Yugoslavia flags were on display in the crowd in 1984…:
…but by 1991, they were Croatian:

Similarly in Sarajevo, a city devastated by Serb-Yugoslav force a decade later, Yugoslav flags were waved with pride by FK Željezničar fans during the likes of 1985 UEFA Cup:

One man responsible for the murder of countless Bosniak (Bosnian Muslim) civilians in the 1990s was Željko Ražnatović, better known as Arkan the Tiger. Arkan had actually started the decade as the leader of Red Star Belgrades' Delije ultras and had been present for the infamous Maksimir Stadium riot against Dinamo Zagreb in 1990 that helped usher in the war: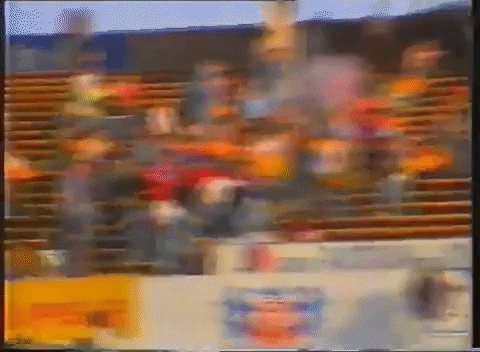 Following his assassination in early 2000, Lazio fans paid tribute to the warlord with a banner reading "Honour to the Tiger Arkan":
Sticking with the Italians, the act of displaying a national flag in itself is often considered a right-wing/nationalistic (naturally) gesture (note the lack of them in the Perugia and Ternana pictures earlier). A historic reference thrown in is even better, as shown by an Arezzo fan with the flag of the Kingdom of Italyl which covered the fascist years (1996):

A similar flag was on display at Italy vs Argentina in 1987, but this is actually the country's naval ensign – adopted in 1947 following the rebirth of the nation as a republic:

Going back a lot further in Italian history to ancient times, the "SPQR" mentioned earlier – "Senātus Populusque Rōmānus" (The Senate and People of Rome) – can still be seen to this day on the Roman coat of arms, but is also used by extreme-right supporters as a symbol of the militaristic power and purity of ancient Rome (1988):

Lazio in particular are keen admirers of the letters, showing up a lot in their Curva Nord (1992)…:

…with one banner also depicting the ruins of the Colosseum (1994):

After Roma, the region's long and storied history eventually led to political unification in the 1800s, but reminders of the "non-Italian" past remain. The flag of the island of Sardinia for example, which was ruled at various times by the Carthaginians, Romans, Vandals, Byzantines, Aragonese and Spanish, before coming under the Italian House of Savoy, features the heads of African Moors, present at an Italy-Argentina friendly via the Cagliari locals (Sardinia's capital) (1989):

In Spain we've already the referenced the political tendencies of some Real Madrid and Barcelona fans, but another of the most well known right-wing Spanish clubs is RCD Espanyol, Barca's neighbours. We couldn't find any overt-right symbols at Espanyol matches we looked at, but there was this tribute of theirs to "European purity" featuring the EU colours and stars encircling around a Crusader (1996):
From European Latins to Latin America and Argentina at the 1986 World Cup in Mexico. With the Falklands War against the British only a few years old, many flags and banners referencing the conflict were on show for the quarter-final clash with England. Here the Argentine "Las Malvinas" name for the islands are used…:
…and Margaret Thatcher is called England's "12th player" (1986):
On the English side there was plenty of pride in their victory in said war, and messages of their own (1986)…:

…plus one notorious West Ham United banner featuring the logo of the far-right National Front (1986):
Four years later in Italy, another political banner was on show from an England fan that perhaps more people could get behind, in protesting Margaret Thatcher's hugely unpopular "poll tax" (according to Wiki " a tax levied as a fixed sum on every liable individual") (1990):
The following year a "Birmingham Anti-Poll Tax" banner turned up in an unusual place, beside Irish flags at Poland and Ireland's Euro 92 qualifier (1991):
The practice of protesting one's own government like this may actually be the oldest type of political action seen at games, with Chile supporters interrupting their country's 1974 World Cup match against Australia to draw attention to the crimes being committed back home by the regime of General Pinochet (a later friend of Thatcher's coincidentally):

At the 1982 World Cup, Poland's second round draw against the USSR gave political activists the perfect chance to protest both the Polish government and their Soviet enforcers in Moscow. During the national anthems, a large Polish flag-banner featuring the logo of the Solidarity trade-union, which would go on to play a large roll in the collapse of communism in the country, was raised:

For the second-half the banner switched ends, with another smaller Solidarity flag appearing in several places (1982)…:
…until, under protest from Soviet officials to Spanish TV, police moved in to force the banner's removal (1982):
Having covered left-wing and right-wing extensively now, what about those that claim to be neither, in Anarchists? Actually there's not that many examples in football, but the A symbol of Anarchy can be seen used by Arezzo (1996, probably just cause of their name though)…:

…and Olympique Marseille, who's use is possibly more deliberate, situated near an Algerian flag indicating the city's large immigrant population (1999):

The most punk-anarchist club of all though, as well as left, is FC St. Pauli, who were the first club to ban right-wing nationalist activities in Germany. Represented well by the Jolly Roger skull and crossbones (very differencet to the Totenkopf), here it is seen behind the flag of Zimbabwe at St. Pauli's Millerntor-Stadion, one of any number of interesting flags you are liable to encounter when watching their games (1993):
It's been a long journey, but we're coming to the end. And after all those extremists, nationalists, anti-nationalists, and religious madmen, how about a little God-damn peace?? These guys agree – what appears to be something initialed "UISP" – with a banner reading "Yes to the Olympics, no to war" at an Italy vs Uruguay friendly in 1980:
A second banner is also present: "With the Azurri and the Celestes, against the dictatorship in Uruguay" (1980, thanks to @Gonza1990 for this information):
And finally, to leave on a truly heartwarming note, bitter rivals  Rapid Vienna and Austria Vienna come together in 1995 with a "Rapid + Austria fans against fascism and racism" banner:
Peace, love and POTP.
*****