Click here for this series in which we break down different memorable pitch-invasion episodes, this time witnessed in one of the unlikeliest of locations.
Background
As we have seen occasionally from our What Football Is Supposed to Look Like series, the retro world of English-speaking countries where football isn't the most popular sport (that sounds familiar) is an utter delight. Considering our love and patronage of ultras culture, you mightn't have expected this view, but the quirks and aesthetics of 70s and 80s "soccer" in venues which clearly haven't been designed with that particular sport in mind, plus the general otherworldly vibe, give us quite the historical treasure trove.
There's even some classic hooliganism at times to boot, as we'll see from our our highlighted match between New Zealand and Kuwait in a World Cup 82 qualifier. Somewhat related, we're also planning a general look at unexpected flashes of trouble at sports other than football at some stage in the near future.
New Zealand's qualification campaign got underway on April 25th, 1981, hosting Australia in the first match of the first round in Group 1 of FIFA's Asian and Oceanian zone. After a thrilling 3-3 in Mount Smart Stadium, Auklund (currently a rugby league ground), the "All-Whites" surprisingly dropped another point on May 7th by drawing 0-0 away to Chinese Taipei (Taiwan, who later also held Australia to the same scoreline).

SCG hosts Australia vs New Zealand, 25/04/1981.
On May 16th, the NZ team rectified things with a satisfying 0-2 defeat of Australia – the only county in the region to have made it to a World Cup at this point – in Sydney Cricket Ground. The rest of the games were won comfortably, including 5-0 against Indonesia and a 13-0 demolition of Fiji, to allow New Zealand to top the group and take the sole spot up for grabs in the final round.
This stage pitted the All-Whites against other three group winners from Round One – Kuwait, China PR, and Saudi Arabia – on a home and away basis from September-December 81, with the top two placed sides automatically qualifying for Spain 82. A tricky trip to Beijing's Worker's Stadium for a game on front of 63,000 on September 24th kicked things off, resulting in yet another 0-0 on Chinese-claimed land.
In the return game back in Mt. Smart on October 3rd, Ricki Herbert scored the only goal of the game triggering celebrations for the squad, staff, and 15,000 Aucklanders in attendance. A week later Kuwait were to be the visitors, with hopes now tentatively rising of a first ever qualification.

New Zealand go 1-0 up against China in Auckland, 03/10/1981.
The Match
New Zealand vs Kuwait, Mt. Smart Stadium, Auckland, Att: 21,101, 10/10/1981
On a beautiful Southern Hemisphere Spring afternoon the All-Whites kick off against an all-blue Kuwait, and the win over China has clearly buoyed the locals as an extra 6000 have shown up taking the attendance to over 21,000. The multi-purpose Mount Smart is instantly recognisible for its grassy knolls (you're not a real football fan if you don't appreciate a good grass knoll), dog racing (fuck that shit) and track and field facilities:
There is also a small contingent of Kuwaiti fans in attendance who are making some noise. The partly-obscured "Adidas supports…" banner on front of them is very curious as it seems to imply that Adidas are publicly supporting some sort of Middle Eastern political or religious figure, made even more bizarre by the fact that Puma not Adidas are Kuwait's kit partners:

Said kit can be seen here – as well as segment of supporters chilling on the grass – featuring extra-large Puma logo and stripy sleeves, plus NZ's own Adidas strip in all it's white glory:
In goal for the home side and later centre of the action, Richard Wilson adds a red cap for the sun to his green jersey:
The man in the middle here, Indonesia's Hardjowasito Sudarso (Hard Joe to his friends) also plays an important role in the afternoon's events so we should meet him early:
First, English-born Steve Wooddin opens the scoring on the 24th minute with a slightly fortunate volley that you could just watch over and over again: (note the great "Rothmans World Cup soccer series" hoarding also):

While not quite as raucous as you might see in Europe, joy exudes from those on the grass with their boys on the right track:

Come the second-half and the mood suddenly changes as Sudarso gives a penalty for hand ball. See if you can spot it:
GK Wilson and his teammates are not happy…: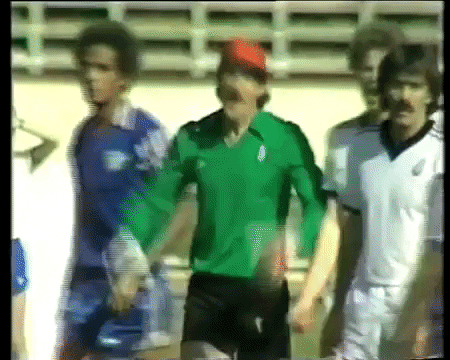 …but, with cap removed, he saves it!:
The crowd go just as wild as they did for the goal:
However, just after the hour mark amazingly another penalty against the hosts is given for a dubious handball: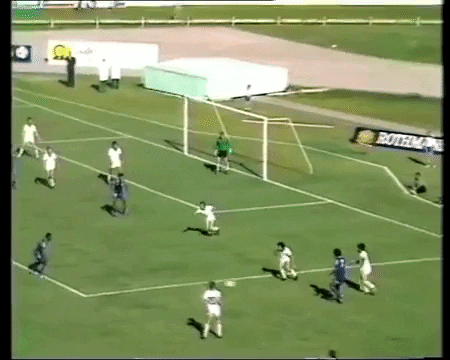 For one fan, the apparent injustice is too much. As the kicker and 'keeper prepare, a male in white t-shirt and jeans suddenly dashes on, making an alarming beeline for the ref before throwing something at him and veering off:

Hilariously, one steward in a white jacket appears to make a very half-hearted attempt at catching the hooligan, casually continuing his course when it becomes clear that he cannot match the young man physically:
With a leap worthy of the running track he's coming from, the fan makes his escape onto the grass. Boos are coming from much of the stadium, with a can (or something) visible below having been thrown his way now, but many of the waiting audience are giving him a hero's reception: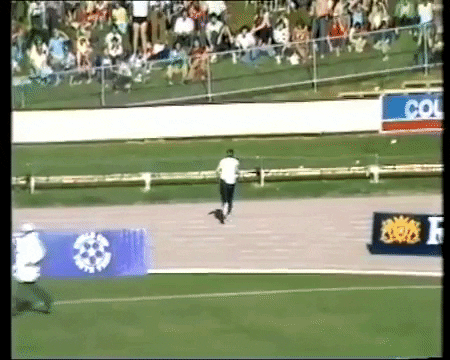 A couple even come over to make sure of his integration back into the crowd:

The officials of course walk off, with poor old Hardjowasito doubtlessly traumtised from the incident:

Despite his escape, the culprit is in fact found pretty quickly by police and led away to probably receive a brutal thrashing: (also unfortunately timed with a man blowing his nose into a hanky)

Eventually the game resumes and the penalty can be taken by Faisal Al-Dakhil – it's good:

With the toxic energy growing, an extra bite among the players is also now evident as hard exchanges like this take place:

Fast-forwarding to the 89th minute and the score is still at 1-1. Then, disaster for the home country as Jasem Yaqoub's sublime diving header beats Wilson and silences the Kiwis in Mount Smart (save for expletives):

The Kuwaiti bench counts down the seconds, while plenty of movement can be seen from the unhappy home fans in the background:

The final-whistle is soon blown as the away staff and squad rush on the pitch to celebrate a famous win. But they're not the only ones, as both angry fans and concerned coppers are sprinting for the ref:

Watch out for another man in a white t-shirt who forcibly pushed away a couple times:

The victorious team wisely ignore the commotion and enjoy their moment of triumph:

Meanwhile the police form a human chain around Sudarso as more fuming fans steam in:

As the officials are led away to safety, some more thrown objects can be seen:

We leave the sour day for the New Zealand soccer with this amazing wide shot, featuring at least one thing to be proud of – those excellent Fujifilm huts:
Aftermath
Amazingly, this wouldn't be the end of last minute All-White heartbreak against the same opposition.  At the return game on December 14th, with Kuwait by now already qualified, 20,000 passionate Kuwaitis in Al-Qadisiyyah Stadium, Kuwait City, awaited a NZ side with their own qualification within touching distance:

Heading toward the final moments, New Zealand led 1-2. But in the 89th minute, the excellently named Sami Al-Hashash scored an equalising goal that secured his country's position as group winners and sent ground bonkers: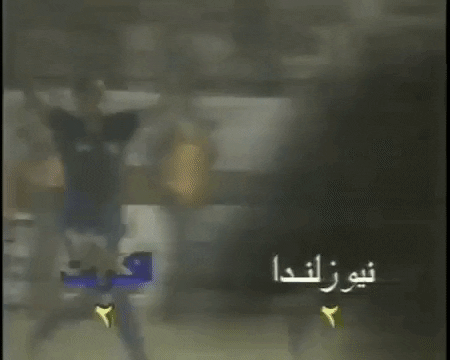 With one last game to go and one qualifying spot still up for grabs, New Zealand had to pick themselves up for Saudi Arabia away in Riyadh five days later. A 0-5 win on the night left the conundrum of NZ and China finishing level with both 7 points each and a goal difference of +5 each.
Even though the All-Whites had scored more, "goals for" was not being used as a tie-break and so an extra play-off on neutral soil was arranged to once and for all see who would qualify, with the only thing guaranteed being another debutante country in Spain. On front of 60,000 in National Stadium, Singapore, on January 10th, 1981, goals from Woodin and Wynton Rufer were enough to finally send New Zealand to their first, but not last, World Cup:

***
YouTube Links:
New Zealand vs Australia, 1981
Australia vs New Zealand, 1981
New Zealand vs Kuwait, 1981
Kuwait vs New Zealand, 1981
New Zealand vs China, 1982
*****