Click here for our look at 1995's Actua Soccer last time out in Aesthetically Pleasing Moments, or here for the full series. But now we're heading way back to the early 80s and an arcade game very much ahead of it's day.
***Credit to the original gamer SalaGiochi1980 on YouTube, click here for the video***
Yep, it's exciting times here at POTP as we now examine Exciting Soccer by Japanese developers Alpha Denshi, released to arcades in 1983. The first thing to note is that absolutely amazing 3D font on the title scene above.
And there are the payers, with one team running on to display a standard featuring a cup with "ES" sitting in it, and the other performing a little dance:
The team-select screen displays the six playable nations. We appreciate the appearance of more players to indicate the colour of each teams' kits (as well as hair and skin tone), even if they couldn't be less accurate to real life:
As often happens in games like this, there is a general "GBR" Great Britain team with Union Jack flag instead of England, while Brazil are the only non-European and "non-white" country available. For West Germany you may have noticed the rarely seen "FRG" abbreviation, as in Federal Republic of Germany – the state's official name to this day:
A nice touch is how the selected teams' players drop down onto their flag when chosen:
We head next to the narrow pitch for the match. Note the Austrian players in blue prancing freely:
And it's a goal for Great Britain! What a strike, but 'keeper what are you at mate:
The celebrations that follow are simply adorable, while the cheerleaders (of course there are cheerleaders) dance: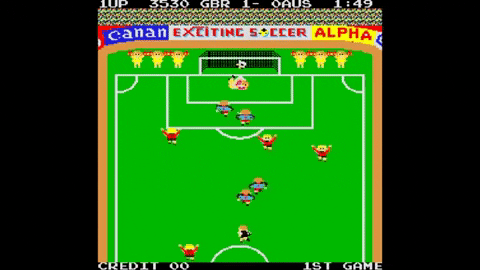 The joy continues as the brave, blonde, British lions run back for kick-off, with the goalscorer particularly enthused, naturally:
Taking a closer look at the goal area, we need to check out that incredibly crushed terrace behind and the cold dead eyes of the cheerleaders. But mostly appreciate the "IN GOAL" graphic to confirm that the ball is indeed in the goal, as well as the"Canan" photography ad hoarding:
The hoardings are even more outstanding at the other end. Normally you wouldn't really be able to make them out while playing, as the camera stays facing the other way, but we've flipped the screen around to reveal such illustrious brands as "Mallbaoro" smooth cigarettes, refreshing "Pepusi" soda, and, best of all, the quality sportswear of "Adedos", complete in lower-case font style:
Keeping with our now-tradition for these sort of games, we end with a combined image the whole pitch which now contains eight Austrians, twelve Brits, and two referees:
***
YouTube Link:
*****