Last time in Supporter Snap Back we looked at a Spanish-Italian Euro club clash that included darts, swastikas and other trouble. Now we take a long-overdue trip to South America and the Brazilian domestic scene.
Background
The setting for our game is the final of the 1990 Campeonato Estadual do Rio de Janeiro – "Port., State Championship of Rio de Janeiro", aka Campeonato Carioca – "Championship From Rio". The competition was divided into three stages: The Taça Guanabara, with the twelve teams playing each other once to form a league table; Taça Rio, with the teams playing other again to form another league table: and the final phase, where the two league winners facing each other in a semi-final before the winner of that match play against the team with the best record from the two Taca's combined in the final.
The Taça Guanabara champions, Vasco da Gama, had faced the Taça Rio champions, Fluminense, and won 1-0, progressing to take on the defending current reigning champions of Botafogo who had finished runner-up in both. Every game in the competition was a Rio Derby by default, but this tie was particularly close with just 10km in between the neighbourhoods of Vasco da Gama and Botafogo, although the latter were playing their home games across the water in Niterói at the time.
Match File
Club de Regatas Vasco da Gama vs Botafogo de Futebol e Regatas
1990 Campeonato Carioca
Final

 29/07/1990
 Maracanã (Rio de Janeiro)
  35,083 spectators
Of course taking place on the neutral soil of the massive and sacred Maracanã…:

…both sides have brought their hardcore support. For Vasco, this includes an actual replica ship of their namesake Vasco da Gama, the Portuguese explorer and the first European to reach India by sea:

Others have brought percussion instruments and good vibes to create that vintage Brazilian ambience:

As the teams emerge, there are most classic scenes from the terraces with a sea of huge flags and streamers:

With the colours of white and black being used by both, it is difficult at times to distinguish who is who in the stands. But the above is definitely Botafogo, and this appears to be Vasco:

Along the upper-tier throughout the match can be seen the flags and banners of the Torcidas:
During the first half, some fans closer to the pitch take the opportunity of a corner to display a message:

In the same corner later, supporters are enjoying themselves:
Moving to the other end, another corner-kick causes a rush of Vasco youths across the barren waste lands of the Maracanã:

The cherish their chance to be on camera:
As for the match itself, there are some tasty tackles by today's standards, but note the "victim's" lack of fuss:

We see some singing and jumping in the crowd high above:
At one stage, a random fire appears in the stands opposite the camera. No big deal:

With the score still 0-0, the Vasco supporters are in fine spirits…:
…but not to be outdone by their Botafoga counterparts:
As the game goes on, there are more great scenes throughout from the upper-deck:

Later, a missed chance for Vasco is treated nearly as a goal by the hordes of wild youth:

It's Botafogo, however, who break the deadlock towards the end, with the scorer heading straight towards the fans:

The 90 mins is nearly up and it's time to celebrate:
For some, the euphoria is a near-religious experience:
In the lower section, a dance party has broke out:
Those above also bounce and wave in delight:
As the clock ticks down, the ginormous gold trophy is prepared:
And there it is, the full-time whistle: Botafogo are Rio champions for the 16th time, and second in a row:

Pandemonium in the stands…:
…and on the pitch:
With pyro in the background, the winning manager is held aloft:
The champs from Botafogo parade their trophy and celebrate with their people:

But Vasco aren't done yet either. With no trophy of their own, the players instead run to the crowd and ask to the take the model ship earlier, nearly breaking it:
The ultimate essence of Vasco da Gama is carried on a lap of honour, to symbolise the defeated side's spirit perhaps: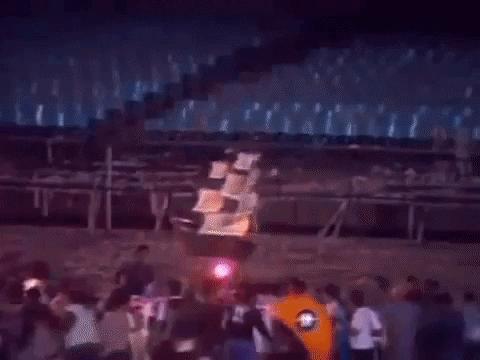 No trophy, no problem:

***
YouTube Links:
Vasco vs Botafogo, 1990, FULL
Vasco vs Botafogo, 1990, HIGHLIGHTS
*****