Click here for all in this series where we examine different types of pitch invasions, including a strange piece of New Zealand hooliganism last time and a recent look at a 1990s German league game. Again we're in Germany now, but for the magical West Germany of the 1970s and the equal magic of the DFB cup.
Background:
The DFB-Pokal of the early 1970s was a five-round 32 team affair, with two-legged stages until final. FC Schalke 04's last and only triumph at the tournament had come two years after its creation in 1937 (with nearly twice as many competitors before Nazi Germany broke up), surprisingly not winning more in the period considering their six league championships from 1934 to 1942 (and one more in 1958).
Taking on and beating Hertha Berlin, Fortuna Düsseldorf and Borussia Mönchengladbach, Die Knappen (The Miners) found themselves one tie away from another shot at the cup in 1972, having most recently competed in the final as runners-up against Bayern Munich in 69. Their opponents would be fellow North Rhine-Westphalians, and runners-up from the two intervening finals, 1.FC Köln, who had won their own sole league to date in 1964 and sole cup in 1965.
At the first-leg in in Köln on 30 May 1972, the home side took a commanding 4-1 lead. A huge Schalke performance was needed for the return game in 11 days time, and the passionate football supporters of Gelsenkirchen expected it.
The Match:
FC Schalke 04 vs 1.FC Köln
Glückauf-Kampfbahn, Gelsenkirchen
Attnd: 35,000
DFB-Pokal Semi-Final 2nd-leg, 10/06/1972
It's a packed house on a nice summer's day at the arena (Kampfbahn) named after an old German miner's greeting (Glückauf), with Schalke's own nickname of The Miner's originating from so many of the club's early players and supporters being Gelsenkirchen coalmine workers. As you can see above and below, it is a modest "local stadium" with no roof (perhaps one on the camera side) but at least 35,000 are squeezed in to this sell-out:
Beautiful "square" goalposts are on show also (more can be found here), into which the home side score the first to send the crowd popping:
Another headed goal comes soon after, before the angle of the post helps Schalke to a third below to make it 4-4 on agg. Note the many young supporters not in the stand but sitting on front of the advertisement hoardings, with the strike bringing them to their feet:
Köln then pull one back before the break, putting them into the lead in the tie. It is to be a game of many penalties and early in the second-half the away side get a chance to increase their lead with the first of them, a lot more supporters now visibly not in the terraces in the background:
The spot-kick is converted to make it 3-2 Schalke on the day, 4-6 to Köln overall. We get a glimpse of at least a few away supporters in the crowd here celebrating:
Next comes one of the most bizarre incidents of the afternoon: perhaps already pissed-off after the penalty awarded against his side, one home fan is made absolutely incensed thanks to another refereeing decision (we don't get to see what) and rushes on to take direct umbrage, with several players holding him back. Notice how the Schalke no.6 being booked is watching and cautious of the man, while the referee, professional to the end, pretends not to noticed the commotion:
Stewards soon come from all sides of the ground, plus a police-dog handler (yeah it cuts off right before we see if he gets bit):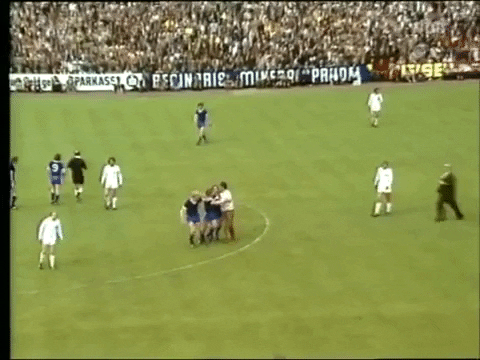 Back to the game, the next penalty is issued to Schalke. As it's put over the bar to the dismay of most, we can see a large contingent standing behind the goal at this end too:
Soon they do have something to cheer as yet another penalty is given to The Miner's and this time scored:
Now seeking an equaliser, an attack up the right provides a nice view of the multitudes now standing on the grass behind the goal:
From the above play amazingly another penalty is rewarded, after which many folk who had no business being on the pitch were suddenly all around. We're not sure if the man with the yellow armband is a fan or some sort of official, but he tries to get some arguing Köln fans away from the ref' as an authority figure rushes on to get he himself away, plus in the background the police-dog nearly attacks someone coming on to kick the ball back:
The penalty is scored to level the aggregate at 6-6, making one steward behind the goal very happy:
Of course, more pitch invasions follow with some great 70s fashion on show::
The best part of this bit is how both the old steward on the left and the long haired fan beside him have their cigarettes in mouth throughout. Got to love the 70s:
The game goes to extra-time, during the first-half of which we get our fifth penalty of the game. Köln is due one by now and it does go to them…but it's a save from goalkeeper Norbert Nigbur! More pitch invasions: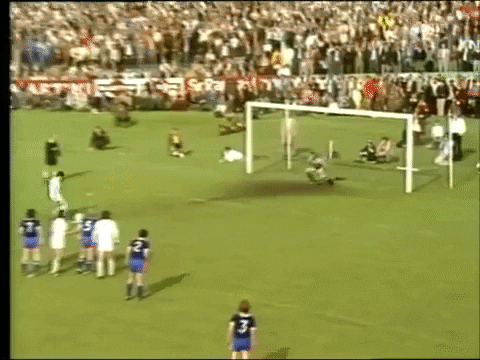 After 120 mins, the score is still level and the game goes to to what we've seen a lot of already – penalties:
To be taken back at the other end, of course now even more fans have abandoned the stands and are closer then ever to the boundaries of the pitch:
Pen one is to the home side, and it's good: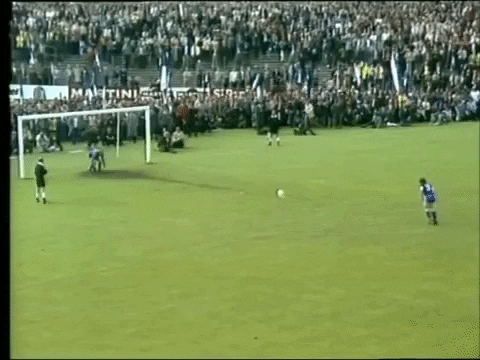 Köln reply in kind, before Schalke miss their second. But for Köln's second, it's another great save from the home 'keeper to keep it level:
The same goalie Nigbur steps up next, which everyone always likes to see, and scores a beauty to send the blue and white flags waving:
The next seven kicks are also converted, bringing the penos up to 6-6 after six rounds. Now in sudden death therefore, the tension ramps up as Schalke miss their seventh…but so do Köln:
Schalke score their eighth, to muted celebrations as nothing can be sure here. But within moments it's over as those angular posts come into play again and the ball bounces straight back at the away-side taker – Schalke are in the cup final:
Of course now the floodgates open and the royal blue faithful come on the pitch from all sides:
The many flags make for an iconic sight, as some stewards and dog-handlers also run on to protect players and officials:
The police swiftly give up on stopping people though, as the celebrations begin in earnest:
With 21 penalties in all throughout the 90 mins, extra-time and shoot-out, Nigbur is one of the main heroes after his several saves and one goal:
Aftermath
Schalke went on to face Kaiserslautern in the final. In Hanover on 1 July 1972 they repeated the five goal tally from the home-leg of the semi without response, easily winning the game 5-0 to take the Pokal back to Gelsenkirchen: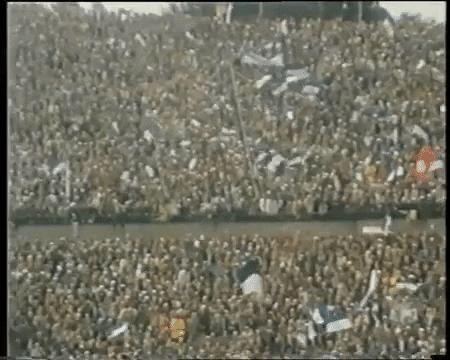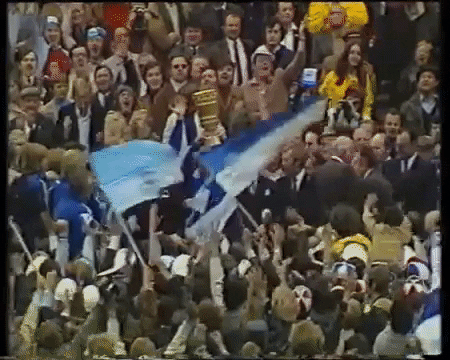 ***
YouTube Links:
Schalke vs Koln, 1972
Schalke vs Kaiserslautern, 1972
*****