The game featured in this edition of Pyro On The Pitch is noteworthy for the fact that this writer completed his very first full orbit around Earth's sun on the day the match was played. I.e., first birthday. But this entry might have been more appropriate last week on Halloween, as this is somewhat of a ghost pyro on the pitch.
Here we have a very similar situation to that featured in Pyro On The Pitch #4, when Denmark showed their supporter pedigree against the highly feared English in 1982. This time it's their Scandinavian brothers in Sweden welcoming another of Europe's premier supporting class, Italy. The pyro for both games revolved around a possible foul by a goalkeeper on an attacker and whether it should have been a penalty.
Just over 40,000 were in attendance at the Råsunda Stadium, Stockholm, which was the home of the Swedish national team until it's demolition in 2012. Anticipation was high for the big game with the crowd perhaps particularly buoyed on by the reputation of the visitors in the football supporting world and smoke can be seen rising from the terraces before kick off in pictures.
Early in the first half, Roberto Tricella breaks free down the left for Italy and into the Swedish box. Famous Swdeish goalkeeper Thomas Ravelli comes out to challenge and his outstretched right leg appears to take down Tricella:
Immediately after the foul we can just about see a dangerous/exciting crowd heave (or avalanche) in the terrace behind the incident, typical of the time: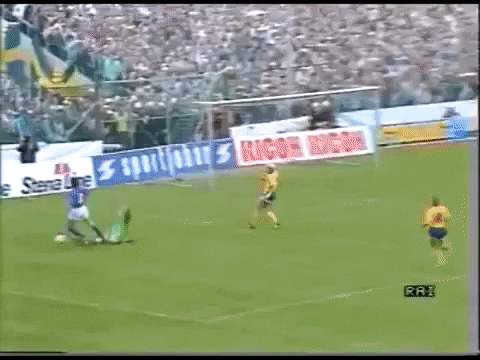 The penalty is given much to chagrin of the home supporters triggering a wave of protests in the form of projectiles on the pitch (Note to self: Possible future series "Projectiles On The Pitch"), and of course booing and jeering. Initially ticker tape/til roll is thrown into the box: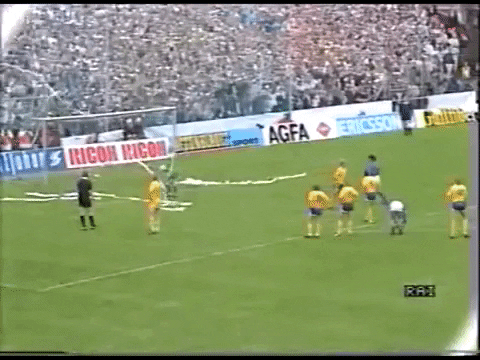 As paper rains down from the surly Swedish supporters, who can be seen packed to the fence in the background, referee Dieter Pauly notices and picks up an altogether more serious foreign object: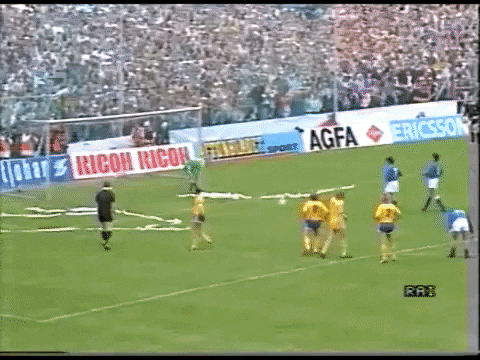 Pauly, in nice Ermia ref shirt it must be said, sternly displays a golf ball which has just come from the packed terrace behind the goal. Now, either the golf ball was brought preemptively with a view for malicious activity at such an occasion in the match, or one supporter had simply come straight from the golf course and had merely let one of his/her balls slip from his/her pocket on to the pitch:
Pauly is not impressed at all and tosses the golf ball to a Swedish official with somewhat of a disgusted sneer, but with form as to suggest that this is not the first golf ball that he has had to remove from a field of play that wasn't a golf course: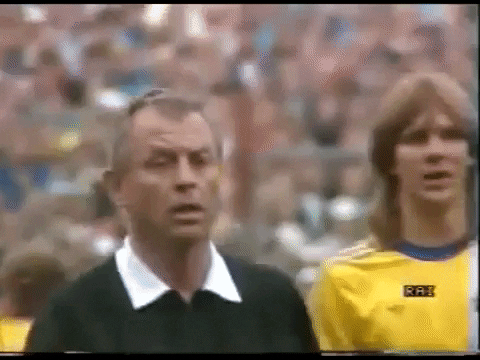 What happens next is extremely unfortunate for the interests of this website as another replay of the foul/maybe dive is played in slow motion and when we return to live-time it is clear we have JUST missed some pyro being thrown on the pitch. What remains is a plume of smoke from a flare which has just gone out, or else the smoke is from it's own weak smoke bomb: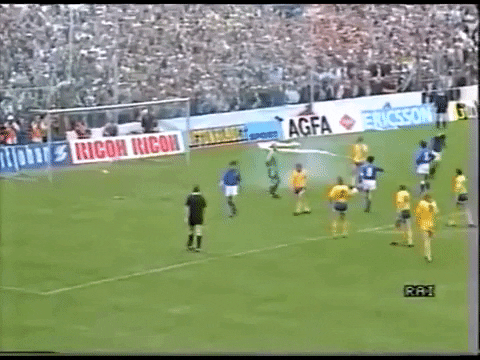 As the players pick up more objects from the ground, a large cloud can be see coming from more pyro out of view to the left of the goal and a steward removes what may or may not have once been the flare. Unfortunately this is as close as we come to seeing any real pyro, but a bit of smoke, eh? Not bad. Or is it a cop out to include this?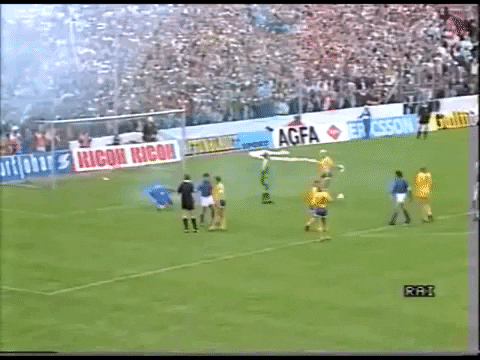 All this combined to create quite a beautifully chaotic scene to be fair. But wait, that's not all! Just when it seemed order is restored, more projectiles come hailing down including something that is a direct shot on the head of poor, young 27 year old Ravelli, basically exploding off his crown and rolling to another Swedish player: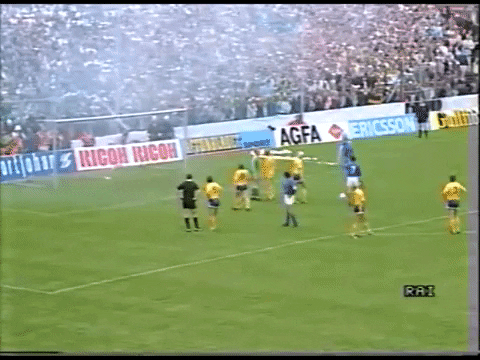 The keeper reels in shock at this apparent betrayal by his countrymen, although also comically puts out his hand in a sort of "is it raining here or what guys, eh??" gesture: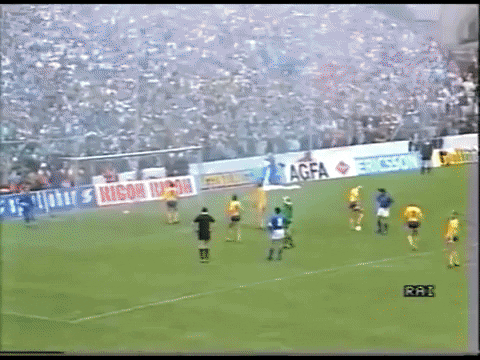 The fans behind the goal watch on, with the younger, more rebellious sorts no doubt caught up in the exhilarating, tense atmosphere. One quick Nazi salute appears to be thrown also:
Although more than a bit miffed, Ravelli in his beautiful green kit is fine and returns to his goal ready for the penalty, removing another projectile from the goalmouth as he goes: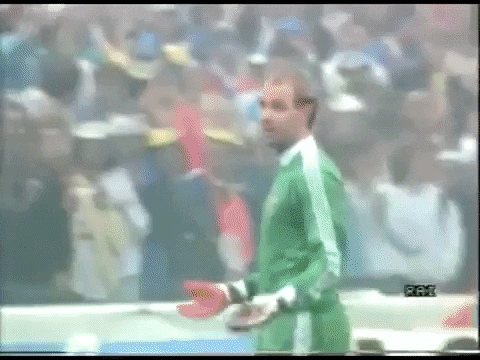 But the supporters have one last laugh, as one more roll is thrown into the box delaying things slightly longer: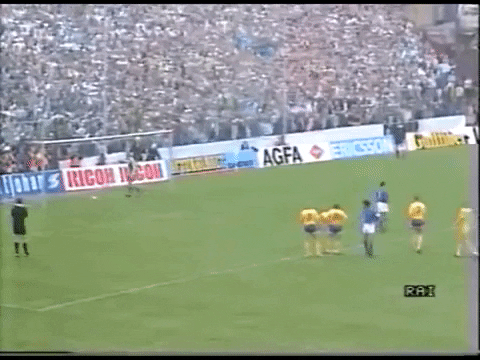 Pauly makes a hilariously slow and deliberate walk over which just screams "…sigh" and takes so long to remove the paper that it has to be divided in to two gifs:
After all this, Ravelli saves the penalty with a nice one handed save to the left onto the post and the rebound is driven over the bar. Cue ecstatic jubilation from the terraces as the entire previous five minutes is forgotten: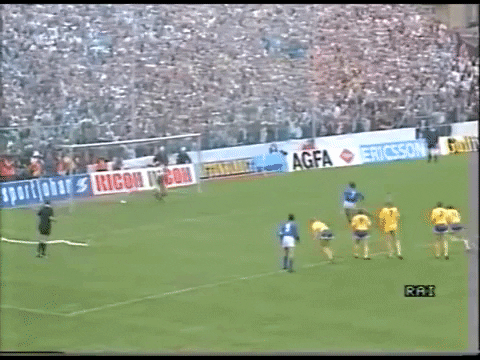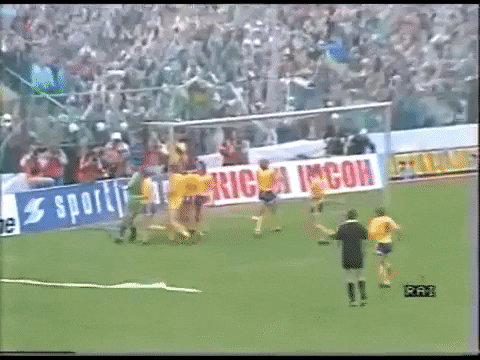 Sweden would go on to win 1-0 for a famous victory, but Italy would ultimate pip the Swedes for top spot and qualification (not that that part is relevant but just thought I'd throw it in there to sound professional).
Bonus: Greece vs Cyprus, European Championships Qualifier, 14/01/1987:
Even though we think the incidents covered above are a stellar example of a classic 80's atmosphere, we do hold our heads out for the chopping block for not being able to produce any physical pyro on the pitch in this edition. So for this sin, here is a special extra bonus…where unfortunately once again we cannot actually see pyro on the pitch. Sorry about this.
Unlike with Sweden-Italy though, here we actually do see some flames. As Greece go 1-0 up en route to a 3-1 win against their Mediterranean rivals Cyrpus, what some would call an orgy of joy can be seen erupting in the crowd. Among this nearly cinematic scene of gay abandon, we catch a flare ignition, which is no sooner let off before the handler is launching it pitch-ward. It is nearly in his/her blood to do so: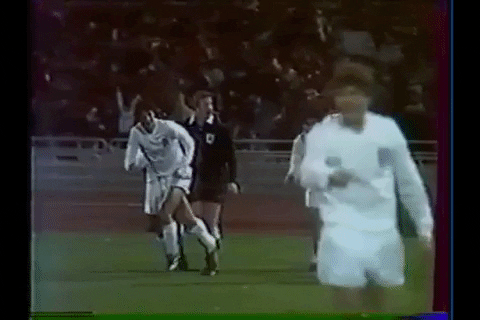 Unfortunately, in an inverse to the Sweden incident, the director cuts off to a replay just before we get to see if the flare actually reaches the pitch or just lands on the running track. We would like to say that we will make it our mission for the next several years to gain a categorical confirmation of this. But instead, we will just say that yes, it did reach the pitch.
___________