Last time in the Football Special Report, we debuted the series with a look at a peculiar all-West African affair from 1973. We will continue to examine unique or interesting situations that don't fit in our other categories, this time with a visit to Ireland in 1994.
While most of the country was focused on the national team and the upcoming 1994 World Cup, the long suffering League of Ireland ticked away as always in the background with it's relatively small, but fiercely loyal, fan-base. The country tried to boast "the best fans in the world" at international level, but at home a League of Ireland game had yet to even be shown live on TV. A hardcore supporter of a local side was an increasingly mythical creature, and had somewhat become seen as a figure of ridicule. But this had not always been the case.
Background:
Domestic football in Ireland achieved it's popularity heyday back in the 1950s, with respectable attendances such as 11,000+ for Shelbourne FC vs Shamrock Rovers in 1954 and an FAI Cup semi-final crowd of 28,504 to watch Drumcondra FC and Waterford FC (later United) in 1955.
Dublin sides Rovers and Drumcondra were the top two teams of the late 50s and their game in January 1958 was to be the first all-ticket affair in League of Ireland history. A capacity 19,503 filled Drumcondra's Tolka Park with thousands locked outside, but after 25 minutes the mass of ticket-less supporters broke through the gates and into the ground. With the terraces already full, hordes of desperate Dubliners spilled onto the pitch and the match was abandoned.

Another packed house watch Drumcronda and Shamrock Rovers, FAI Cup Semi-Final, 1964.
Over the coming decades, attendances would gradually decline. This was in part due to mis-managment at home, along with the eventual marketing domination of the neighboring British clubs to who many would turn. Ireland is also in the unique position in Europe in having it's own native competition to the sport in the form of Gaelic football.
Gaelic had it's own fan scene that at times looked far more similar to continental football terraces. In the 1970s and '80s you wouldn't have been hard pressed to find crowd disturbances in the Gaelic football stadium of Croke Park (specifically the Hill 16 end of the Dublin GAA Supporters) as well as other supporter culture tropes such as flags and banners, swaying terrace masses, fighting with police, and people/projectiles/pyro making it's way onto the pitch.

Dublin score a point as Hill 16 erupts, Dublin vs Kerry, GAA All-Ireland Football Final 1975.
Even though crowd figures at big GAA games dwarfed their League of Ireland counterparts, the League still maintained it's own supporter culture identity. More tifo-centric features like oceans of big flags (apart from cup finals) and pyro would take a while longer to translate over, but clashes between supporters were a reasonably common occurrence for certain clubs, even since the late 60s. A St. Patrick's Athletic vs Waterford game in 1968, for example, received media coverage for it's terrace trouble.
As society itself "hardened" in the '70s, along with the rise of youth subcultures, incidents and tension at games naturally increased. Like abroad, sinisterly-named groups now attached themselves to some clubs, such as "Black Dragons" of Limerick FC (Aka Limerick United/City), the "Red Alert" bootboys of Sligo Rovers, and "SRFC Mob" of Shamrock Rovers. A 1975 cup game between Limerick and Sligo was a particularly violent affair with hundreds involved, reported at the time as the Battle of Market's Field, Limerick's stadium.

Limerick fans invade the pitch as their team secure the league title, Athlone Town vs Limerick United, League of Ireland 1980.
The blossoming casual culture that was about to spring up in Britain would not yet spread to Ireland, but the '70s and early '80s did see the intermixing of the anarchy-driven punk/skin head/boot-boy scene into the football supporting population, which added to the potential for chaos (by 1973 they were already a problem in Limerick, as reported in another "Battle of Markets Field").
One infamous situation even occurred when Waterford's "Freewheelers" motorcycle gang traveled with supporters for a 1987 FAI Cup game between St.Pat's and Waterford in Dublin with the intention of causing trouble. The resulting projectile throwing and general ructions caused the referee to stop the game after 19 minutes and lead the players back into the dressing room.
Coinciding with the birth of the English Premier League, the League of Ireland as a whole slumped further by the 90's. But the same media access to big foreign leagues that hurt the League of Ireland would also provide a window for a generation of youths becoming familiar with continental supporting styles that would go on to strongly influence and inspire the birth of the Irish ultras scene in the early 2000s.

Features such as "tifo flags" became common in some Irish grounds by the early 2000's, as seen at Shelbourne vs Drogheda United, League of Ireland 2003.
Until then, the Irish hardcore domestic supporter would remain largely ignored and underground in a sort of twilight era. But while the likes of Black Dragon and Red Alert were no more, supporter groups possessing a new mentality such as Shelbourne's politically minded Alternative Reds Club had sprang up in the 80s, along with Bohemians' Bohs Soccer Casuals on the pronounced hooligan side of things in 1992, and the era did see it's own moments of mayhem that hearkened back to the chaotic days of the '70s.
The Match:
After all that background, our featured incident is a relatively short affair that followed a league game pitting candystripes against hoops, Derry City vs Shamrock Rovers; a fixture that had seen trouble go down when last previously played. The footage comes from an Ulster Television (UTV) sports-news broadcast that couldn't look more 1994:
UTV, being a station from Northern Ireland, were covering the game since Derry lies within the borders of the UK. The Derry team competes in the Republic of Ireland based League of Ireland, but this had not always been the case. As we do not have time to go into why here, check out People On The Pitch #4 fore more information on Northern Ireland's footballing ethno-complexities (as well as a literal pitch battle between Linfield and Glentoran), and for the general split between Irish and Northern Irish football, check out Politics On The Pitch #2.
The game was in Derry's Brandywell ground (now redeveloped), who's fences, small terraces, tall walls and barbed wire gave a classic, rustic look (so "shit" to your modern barstool fan, which can only be a good thing).
The lack of crowds demonstrate the dwindling numbers of the League, although in saying that most supporters would have been underneath the camera side. Of course some also watch from outside the ground:
As mentioned, Shamrock Rovers were (and continued to be) one of Ireland's most prominent clubs sides, both in terms of numbers as well as reputation for "troublesome" fans. Their visit to Derry, therefore, may have seen a larger traveling support than usual in the Brandywell, and after a long, no doubt thirsty journey from the capital to what is a traditionally "belligerent area", and considering the existing history, it was not out of the realms of possibility that something might kick off.
And after a 1-0 win for Rovers, that is of course exactly what happened. All we know is that two groups of grown men from opposing sides come face to face at the away section, and following some sort of confrontation, a punch is thrown triggering the melee:
(Note the supporter, wrapped in Irish tri-colour, stood still as a statue in the seats, quite possibly experiencing a heroin comatose.)
Clearly this was a far cry from the mob warfare of the '70s, or indeed the stylised, organised casual culture that was seeping in. Yes, just a good, old fashioned, spontaneous outbreak of violence between otherwise regular civilians, perhaps sparked by some sort of passing slight. Meanwhile in the back the of the stand, bodies scamper hither and tither as in any good donnybrook:
Ok, that part wasn't very exciting. But the highlight of the whole fuss comes next, in the form of a Rovers fan who pretty much looks and acts exactly as Alan Partridge did at the time. "Alan", obviously thinking enough is enough, has managed to find himself the corner flag, and after breaking free from his mates comes out swinging like a man possessed: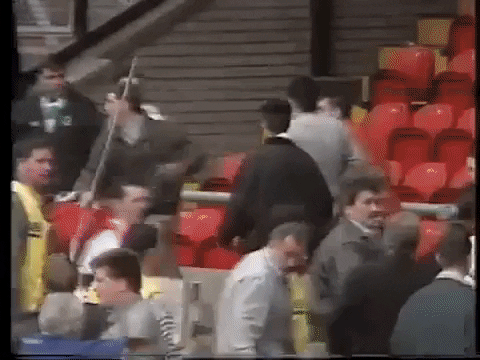 As you can see, the connection of the appropriated weapon with it's initial northern target is followed by a shake of the poll and few little hops (clear body language suggesting "Come on then, who else wants it??" in angry, flustered Alan Partridge voice), as an innocent, bewildered, jersey clad by-stander attempts to take down his banner from the fence. A young child in a goalkeeper shirt also looks on attentively from a fine vantage point atop the greyhound boxes, as the Brandywell is also a greyhound racing stadium:
The footage concludes with another Rovers fan approaching and engaging in some seriously menacing finger pointing, along with a few more threatening shakes of the poll for good measure. A kind-hearted lady attempts to interject and cool things down, rightly concerned that another vicious "polling" is coming somebody's way.
Very humorously, the perspective gives the impression that the pointing and threatening is directed straight at the kid in the goalkeeper top, who is also now the size of a man:
As we leave the scene, the UTV reporter informs us that Derry were considering banning Shamrock Rovers fans from the Brandywell for future games. Whether this was ever enacted or not, we do not know. But regardless, that is enough League of Ireland for today. We shall of course revisit the heroicness of Ireland's little-known but fascinating fan culture soon, but for now, this is POTP signing-off on another Football Special Report.
*
Sources for some of the background info:
These Footballing Times: 1950's Attendances
Come Here To Me (Dublin culture blog): Some media coverage of Dublin GAA fans and Hill 16 in the 1970s.
Come Here To Me: "Some examples of football violence in Richmond Park, Inchicore (1972- 1986)"
Rabble.ie: "Bootboys, Casuals and the Beautiful Game"

***