Longtime POTP supporters may remember that once before – back in 2017 – we briefly ventured away from football with  a gentile post on a French rugby final and the pitch invasion that followed. Now, for the first installment in this new series, we switch codes again from association football to Gaelic football and you'll see why below (it's far less gentile).
Background
The inspiration for a "Crazy Crowds" series comes from watching Manchester United supporters in the 70s, and English football in general at the time, where catching glimpses of the swaying, heaving masses in the terraces induces several emotions such as terror, excitement, claustrophobia, etc. These instances of densely packed crowd movements need to be documented, but for a treat we're not starting with United or England at all, nor in fact football for that matter.
Well, it is "football" to some, but to the world at large "Gaelic football" is what we're talking about – played in Ireland (the whole island) at both club and inter-county level, and headed by the governing Gaelic Athletic Association (GAA) since 1884. We're not going to go into the rules and such, but teams representing the 32 counties of Ireland, plus guests London and New York (made up of Irish ex-pats), compete each summer in the most prestigious competition, the All-Ireland, with the semi-finals and final held in Dublin City's Croke Park stadium.
It is to Croke Park we go with their local tenants Dublin (who also play in nearby Parnell Park for smaller games) and a particularly fearsome exposed-terrace behind one of the goals home to the Dublin singing section – those with what we might call "ultras mentality", hooligans and other hardcore fans – known as Hill 16 (named after the 1916 Easter Rising in the city). The Hill had originally been a literal hill of turf and mud, before become concrete terracing in 1936.

Hill 16 in the background, at the conclusion of the 1977 All-Ireland final, starting behind the goal and reaching around to the right, Dublin vs Armagh, 25/09/77.
This incarnation of Hill 16 lasted until 1988, when it was redeveloped following bad crushing at the 1983 final. Sometime after this, one particularly rambunctious section of the terrace was christened "Crazy Corner" by it's occupiers, and that name was part of the inspiration for the title of the series – even though we'll be looking at the period directly before, but that is perhaps when things were at their craziest.

An alarmingly packed Hill 16 for the 1983 All-Ireland final - the game that would prompt the terrace's redevelopment in 1988, Dublin vs Galway, 18/09/83.
*
Prior to the 70s, Dublin's last All-Ireland win had come in 1963 against Galway. While the demography of Hill 16 wasn't quite as rowdy as it would become, given that this was pre-youth culture revolution, there was still some nice colour from the support:
Yet barbed wire was already present to prevent way-ward supporters getting pitch-side…(here a young Galway fan):

…plus spiked fencing on-front of the Hill (sitting on the wall behind the terrace was a viable option however):
*
The 1970s
We should at least point out that in Gaelic games a ball kicked over the bar is a score of one point and a goal scored is equivalent to three points. So a team a who scored 1 goal and 10 points would have 13 points overall. Thankfully for our needs Dublin were one of the most dominant teams of the 1970s and 80s, starting with a 1974 championship win.
Dublin vs Galway, All-Ireland Senior Football  Championship (SFC) final, 22/091974:

The opposite Canal End was also often alarmingly packed around this time, and we will check in on it too: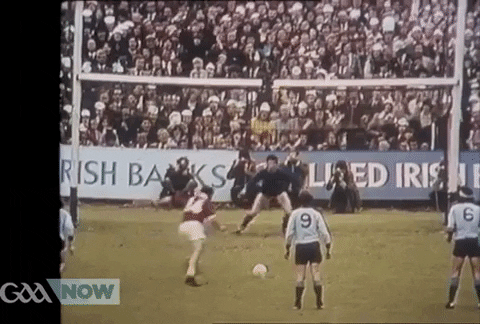 Dublin vs Kerry, All-Ireland SFC final, 28/09/1975: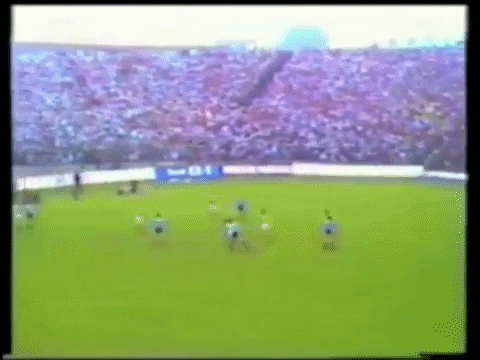 The "sway of defeat", we'll be seeing a few of these: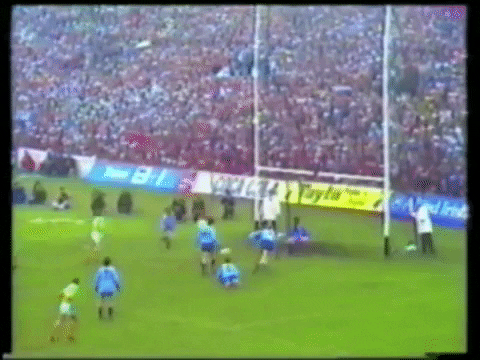 Dublin vs Kerry, All-Ireland SFC final, 26/09/1976: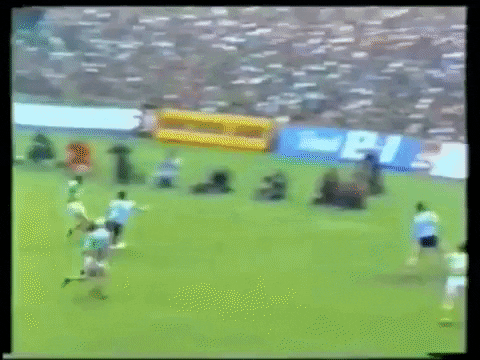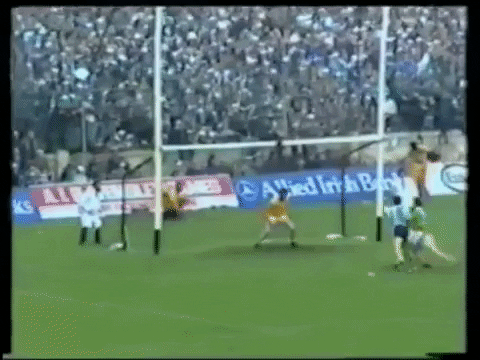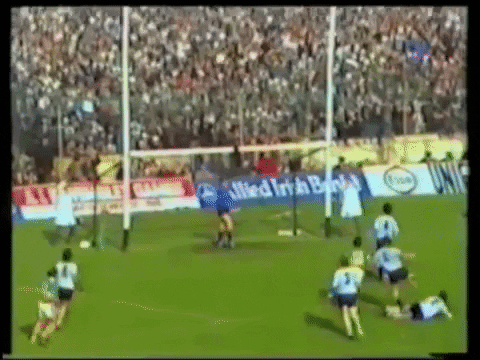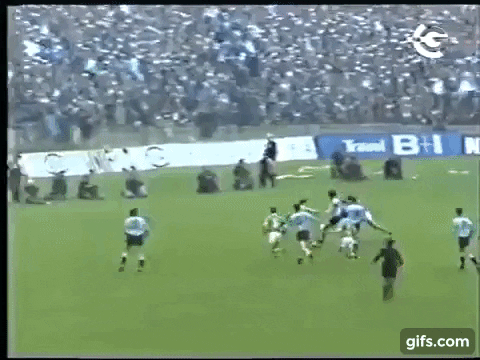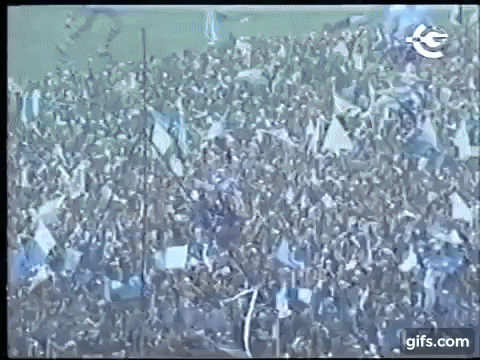 Dublin vs Kerry, All-Ireland SFC semi-final, 21/08/1977: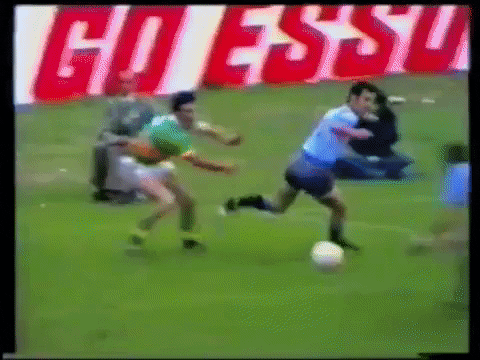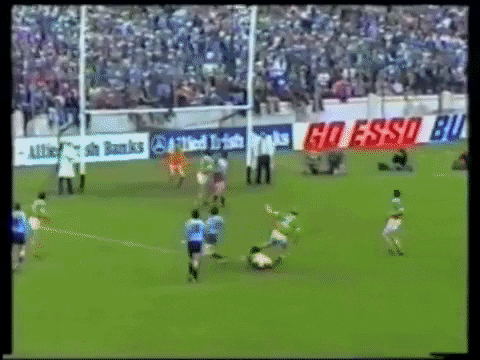 Dublin vs Armagh, All-Ireland SFC final, 25/09/1977: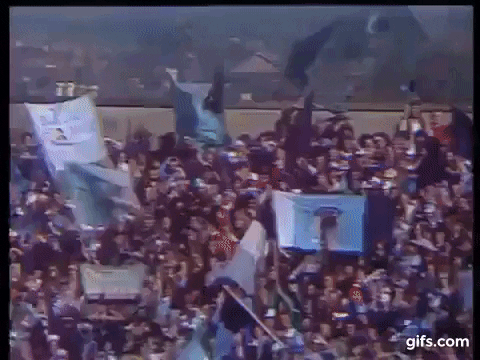 This time the Canal End was filled with a large away contingent: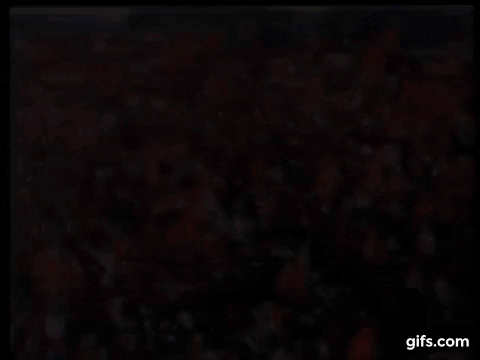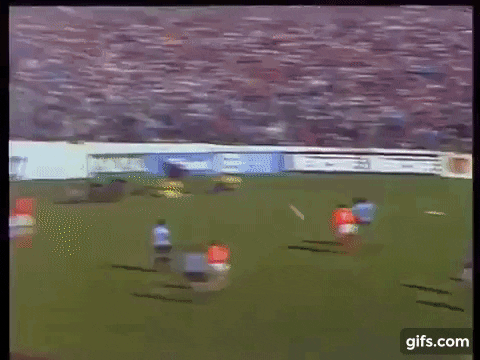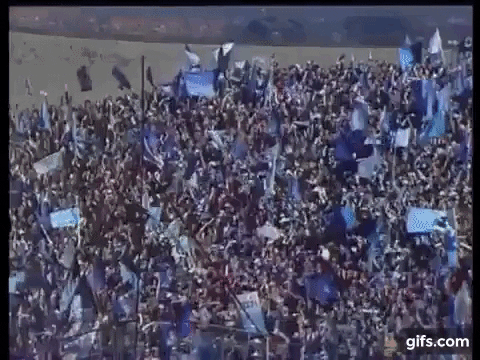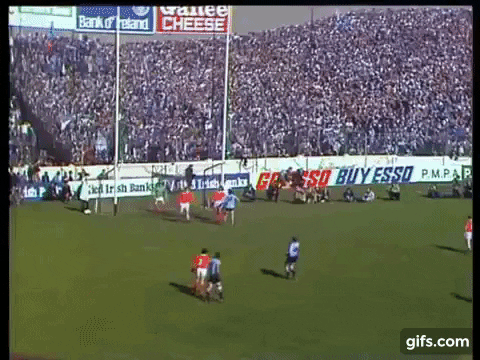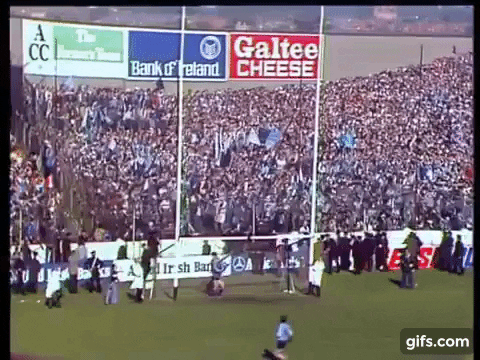 Fans attempt to pull down/break through the fence: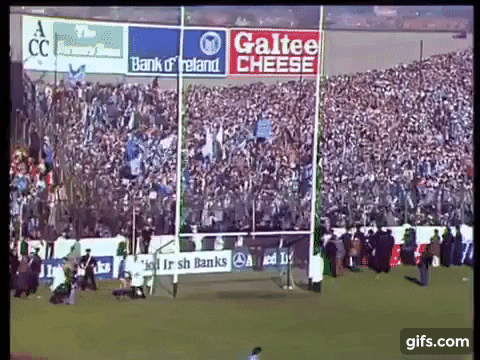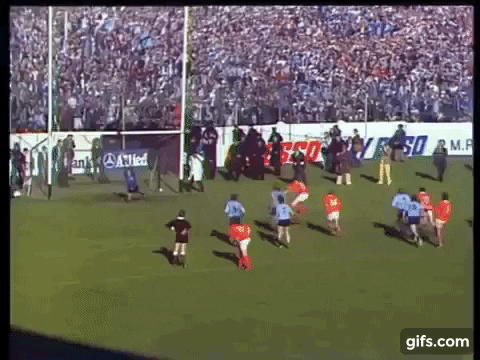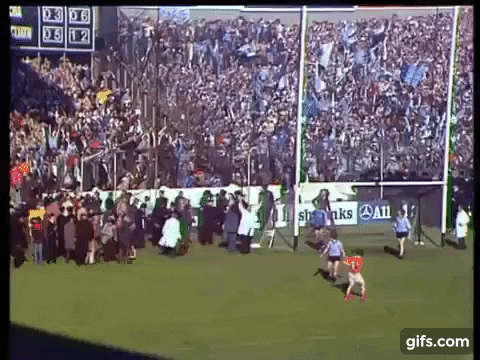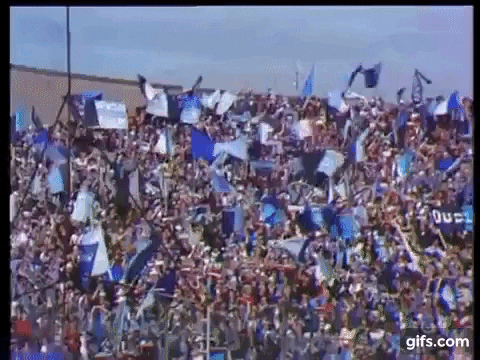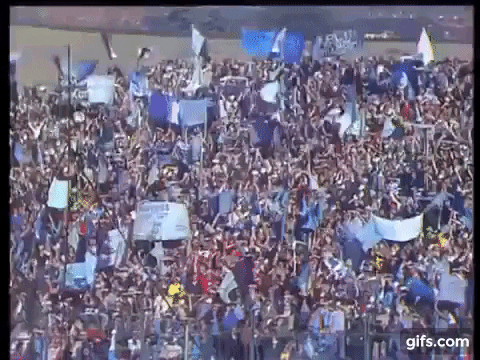 Dublin vs Down, All-Ireland SFC semi-final, 21/08/1978: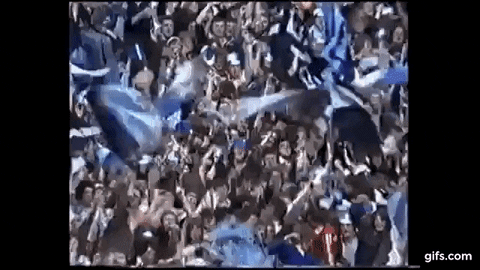 Large amounts of barbed-wire visible behind the goal on front of Hill 16: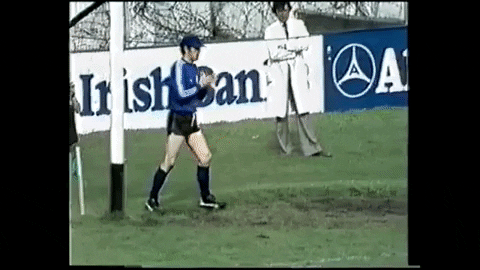 Dublin vs Kerry, All-Ireland SFC final, 24/09/1978: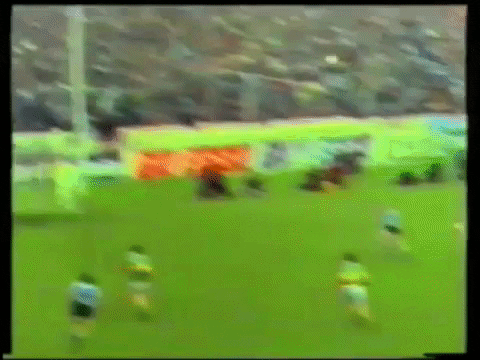 Dublin vs Kerry, All-Ireland SFC final, 16/09/1979: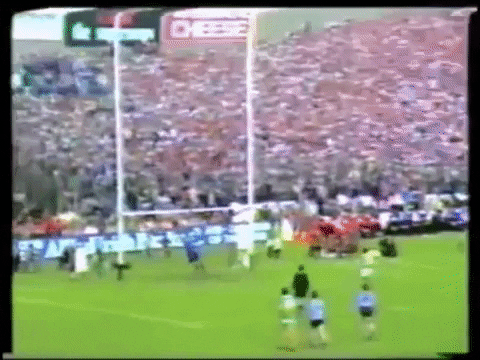 The 1980s
Dublin vs Cork, All-Ireland SFC semi-final, 21/08/1983: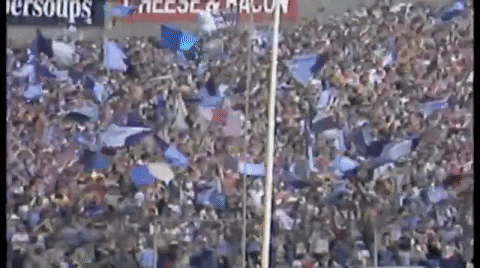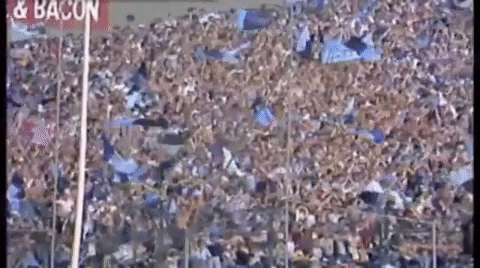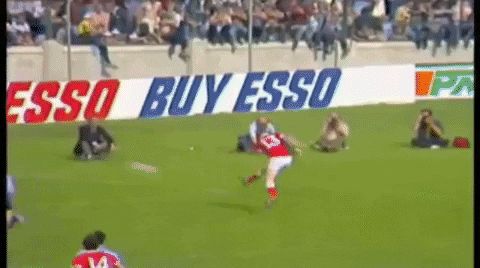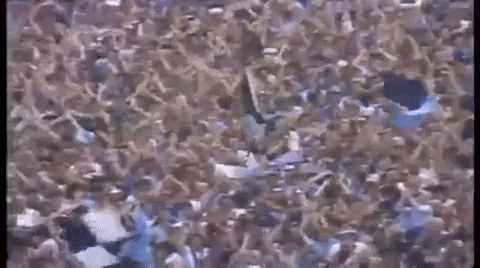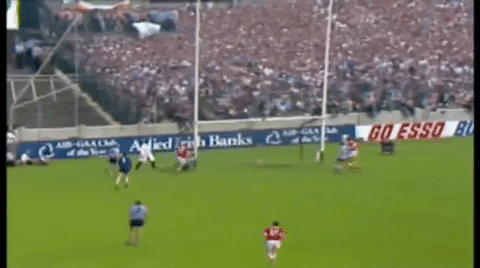 Fight breaking out on Hill 16 during the first half (on Twitter so can't gif)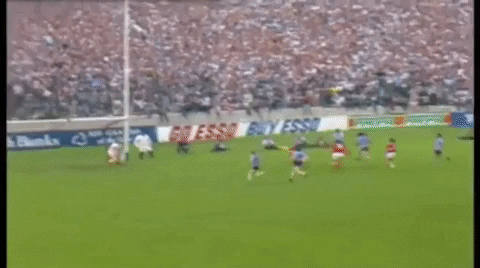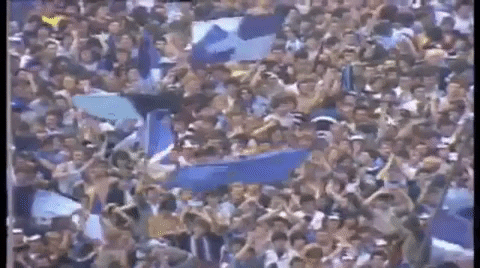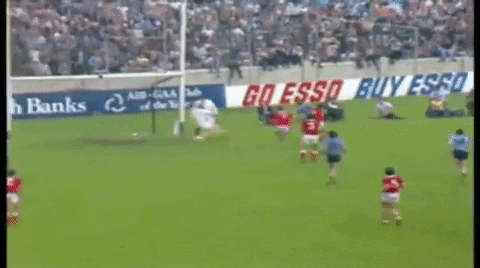 Cork vs Dublin, All-Ireland SFC semi-final replay, 28/08/1983:
A drawn semi-final meant the replay gave a rare chance to see the Dubs at a high-profile away game (an event that would become impossible later as replays were moved to Croke Park too).
Some Cork fans on the pitch: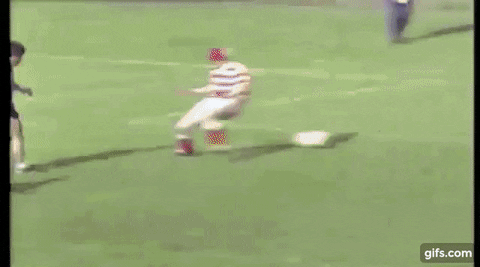 Dublin vs Galway, All-Ireland SFC final, 18/09/1983:
As mentioned in the intro, the 1983 final was the scene of bad overcrowding on the Hill, the trauma of which led to it's redevelopment in 1988.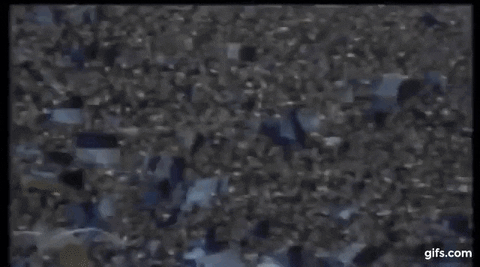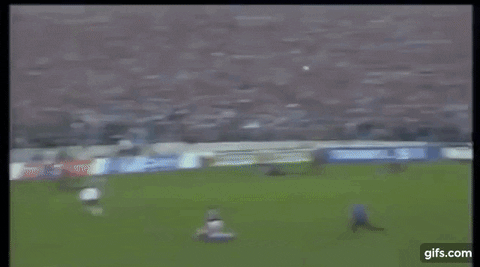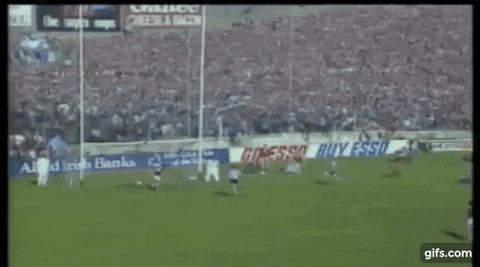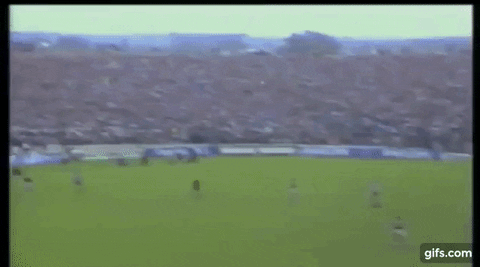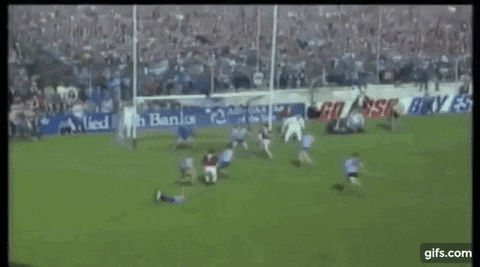 Supporter being dragged away by police: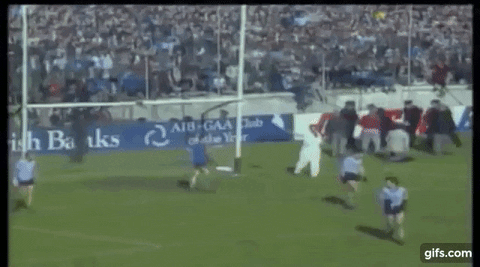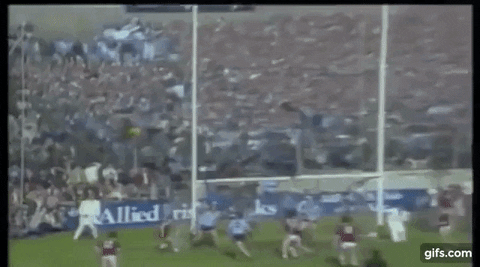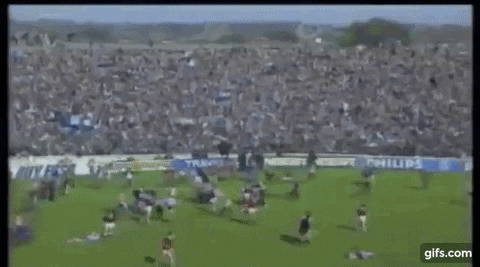 Dublin vs Tyrone, All-Ireland SFC semi-final, 22/08/1984:
This game was controversial before it had even started as the Tyrone players broke tradition by going to the Hill end to warm up, which the Dublin squad also did upon their entry creating one chaotic half of pitch. On Hill 16 itself at the same time, in-fighting would create a far more chaotic environment, with aggressive attention soon turned on an intervening – then retreating – Garda Síochána (Irish police).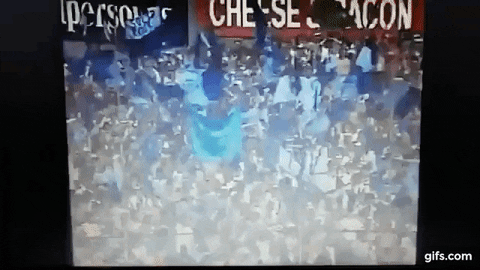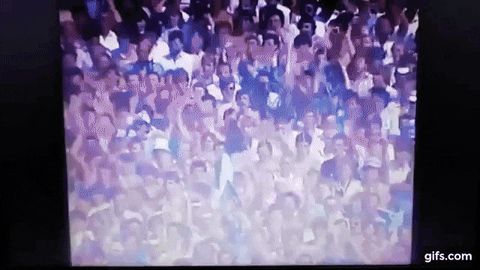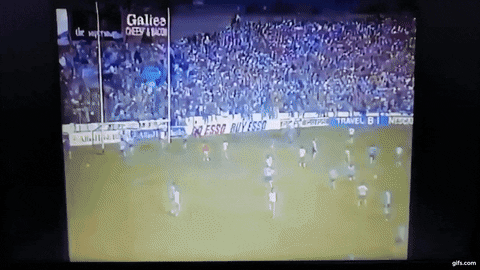 A: That's actually a Munster flag (Dublin is three castles rather than three crowns); B: He's going for a piss isn't he: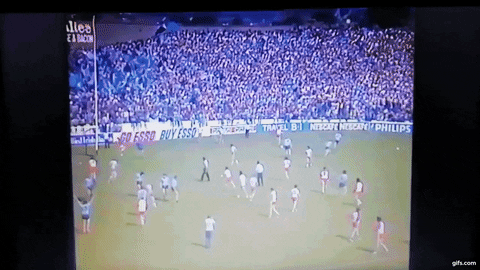 Some lads running in the terrace: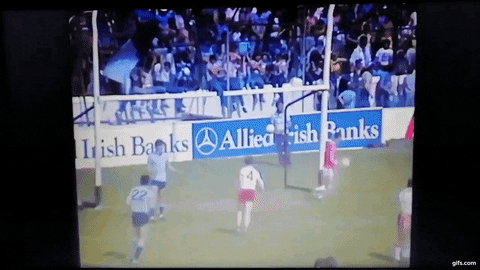 Police remove a troublemaker amid an increasingly hostile Hill: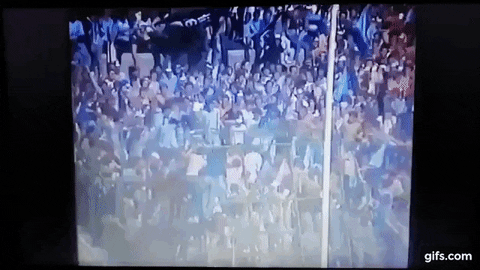 Then a major disturbance, with some running for safety: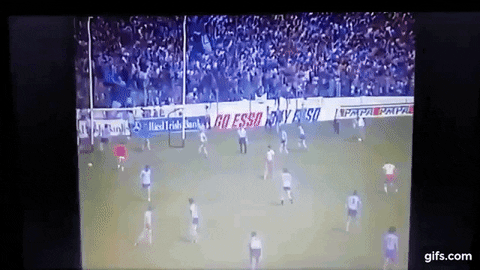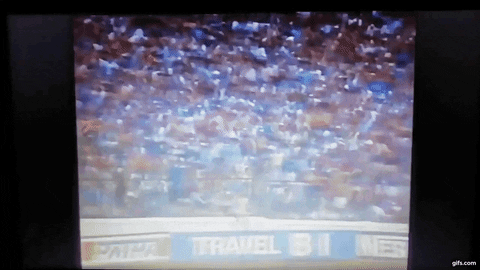 The Gardaí are then literally chased out of the section with poles and stones: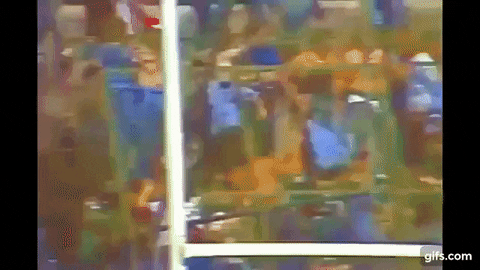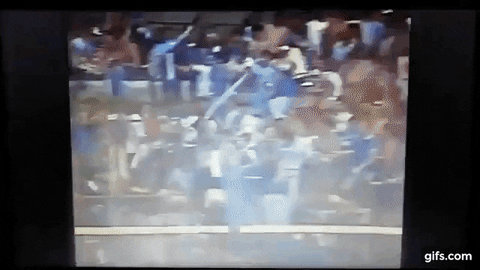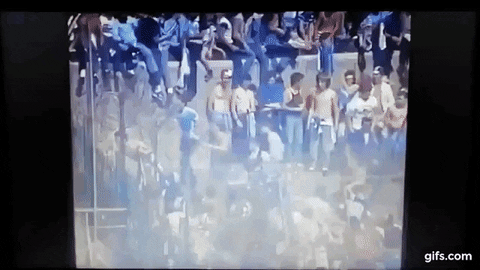 Dublin vs Kerry, All-Ireland SFC final, 22/08/1984:
A new reinforced fence is up around Hill 16 after what happened at the semi: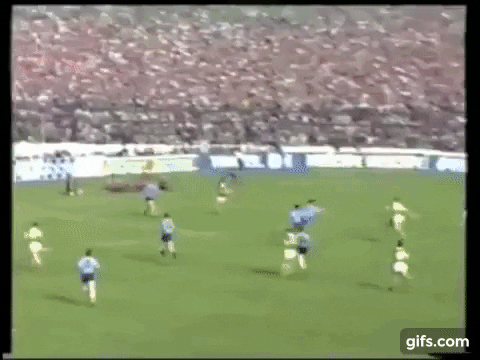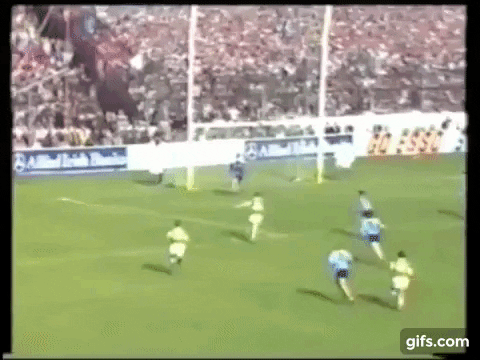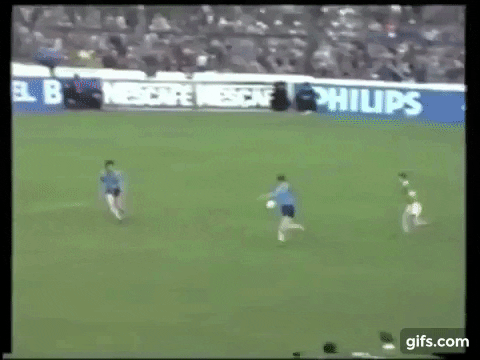 Dublin vs Kerry, All-Ireland SFC final, 22/09/1985: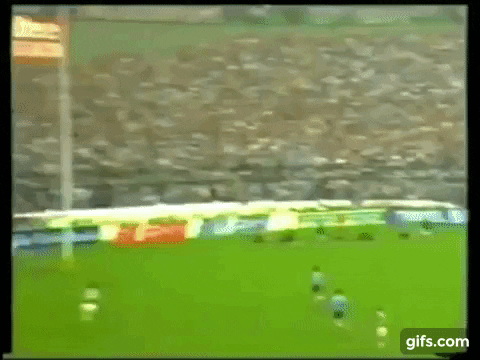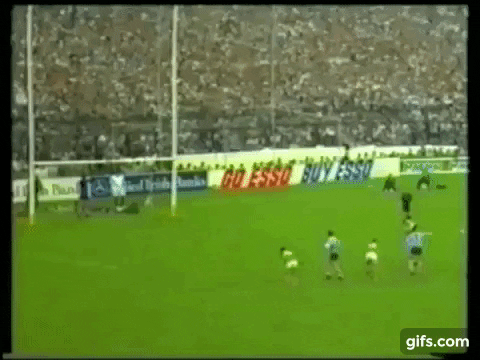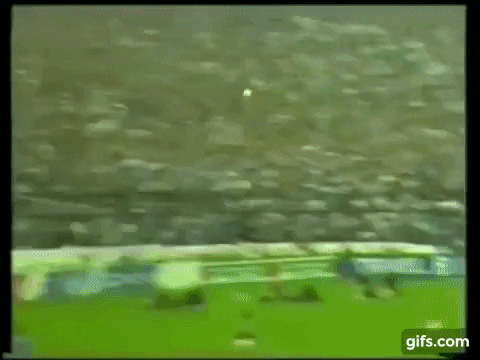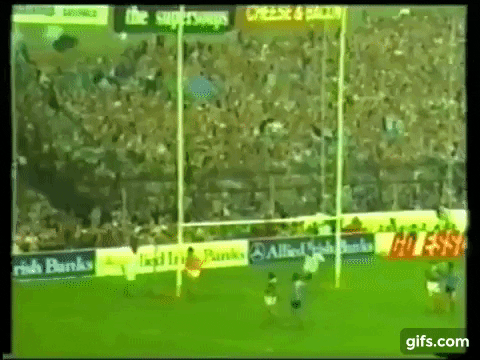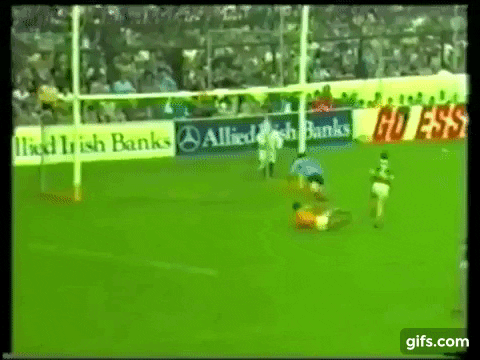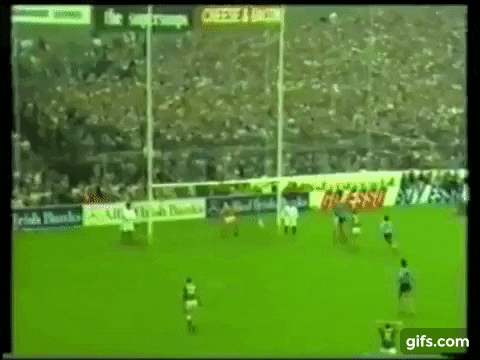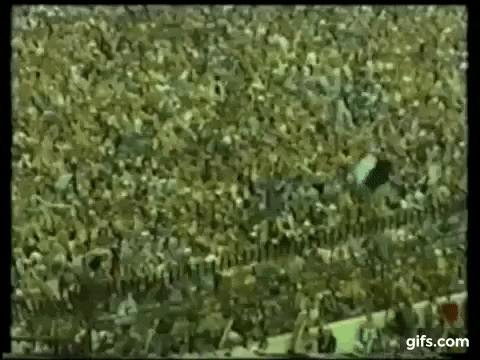 ***
YouTube Links:
Dublin vs Galway, 1963
Dublin vs Galway, 1974
Dublin vs Kerry, 1975
Dublin vs Kerry, 1975
Dublin vs Kerry, 1976
Dublin vs Armagh, 1977
Dublin vs Down, 1978
Dublin vs Kerry, 1978
Dublin vs Cork 1983
Dublin vs Cork, 1983 replay
Dublin vs Galway, 1983
Dublin vs Tyrone, 1984 RTE website
Dublin vs Kerry, 1984
Dublin vs Kerry, 1985
*****