Occasionally, going right back to our early days, we break form and switch codes to a different field-sport, and for a second time it's to Gaelic Games we now venture. If you're not aware of the rules of Gaelic football then Google can help you with that, but supporter culture is a universal language. Click here for all entries in this original flagship series on PyroOnThePitch.com, and follow our friends @DublinOnly and @Fallonist/@ThreeCastlesBurning for more Dublinia.

Background:
We're not going to spend too long on this Background section in terms of GAA in general, and instead direct any uninformed readers to our Crazy Crowds #1 post from last year when we first looked at Dublin GAA fans and their mythical Hill 16 terrace of Croke Park's Railway End. There you will find a lot of what you need to know, but even better would be to just watch this accompanying video of the beautiful crushed chaos seen on "the Hill" in the 1970s and 80s:
In 1974, Dublin won their first All-Ireland football championship in eleven years kicking off a new era for both the team and it's (many new) fans. A loss to Kerry followed in the 1975 final, but two more title wins in 76 and 77 over Kerry and Armagh respectively but the Dubs back on top. Influence from the terraces of English football were clear on their younger supporters, with "You'll Never Walk Alone" becoming an anthem among those on Hill 16.
1978 saw another Dublin-Kerry final in the officially-neutral, but Dublin-located, Croke Park, by which time the hardcore support of "Heffo's Army" had been gaining a sinister hooligan reputation for several years (named after Dublin's manager from 1973 to 86 Kevin Heffernan, although he left briefly in 77 and 78). What we'd now call tifo elements such as home-made flags, banners, scarves and pyro were also becoming popular. As seen from a photo in the Irish Independent the next day, a smoke bomb (or "bombs") from Hill 16 landed on the pitch before the game on 24 September:
(Pic thanks to aforementioned top Dubliner and POTP supporter Donal Fallon from this excellent piece of his on Come Here To Me a few years back, be sure to follow Donal's Three Castles Burning and specifically check out this also-great relevant episode of the TCB podcast in which the Dublin-supporting youth of the day are compared to Italian ultras).
After having amassed a score of 5-12 in the 1977 victory over Armagh, Dublin were hammered by Kerry in 78 conceding almost the same amount (5-11). A chance for revenge was to come soon enough though, as the another Dublin-Kerry final was the result of the 1979 tournament. Let's go.
The Match:
Dublin GAA vs Kerry GAA
Croke Park, Dublin
Attnd: 72,185
All-Ireland Senior Football Final, 16/09/1979
It is of course a full house at Croke Park for the last All-Ireland final of the 1970s between the decade's two most successful sides. During the preceding ceremonies, a battalion of youths form a pleasing human "D" to represent the home-town Dubs, with presumably a corresponding Kerry "K" on the other side:
Behind them is the imposing Cusack Stand with it's amazingly steep upper-tier, sitting opposite the camera-side Hogan Stand which we unfortunately never get a look at:
To the right of the Cusack is the packed Canal End terrace, with some classic Dublin skyline visible in the background of the second pic:
To the left of the Cusack is the even more packed – as always for these big Dublin games – Hill 16, which curls around the corner into the Railway End until near the goal. Full of both the most passionate fans and "local nutters" who some would say couldn't have cared less about the sport, gifs are needed to give the iconic section it's full scope: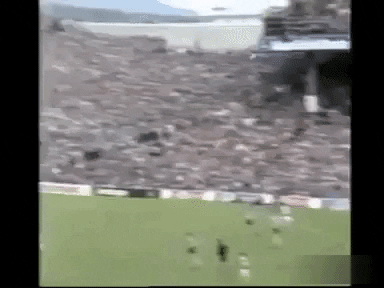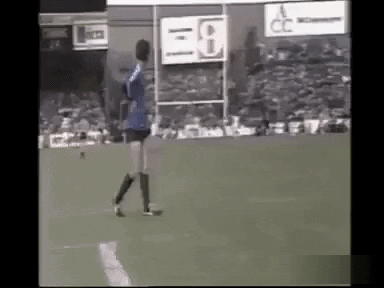 In stark contrast to the unruly mobs above, a small group of black-clad Gardaí (Irish police) sit jauntily at the hoardings on front:
The rest of this unusual but marvelous End is taken up the Nally Stand to the left of the Hill, which also houses the scoreboard:
Among more fascinating architecture is this barbed wire fence-tunnel next to the dugouts, which looks like something from a concentration camp:
Barbed wire is also on top of the dugouts themselves, in case anyone in the crowd had the bright idea to try and hop on:
As with much of the ground, the wire is obviously prevalent at the Hill as well to contain the rogue-ish hordes (this actually pre-dated the hooliganism going back at least to the early 60s, seen better here during the 1974 final). This shot does a good job at showing the mass of humanity within: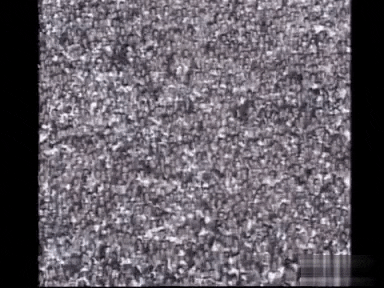 After an early Dublin score, we get a nice close-up of a small portion of the jubilant rolling sea of Irish humans: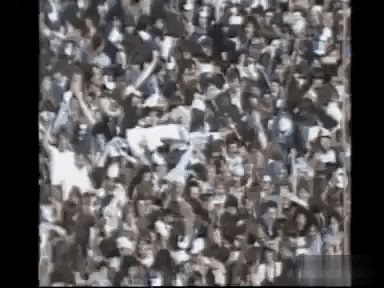 With a near miss soon after, we can just about catch a crowd collapse above as the Hill collectively strains forward: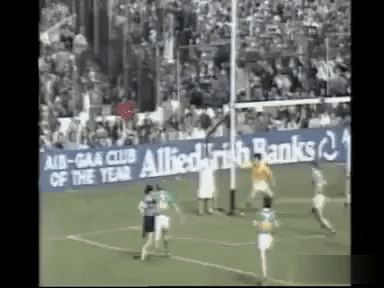 One group of fans not contained behind barbed wire are those in wheelchairs, situated on front of the Nally. Other supporters, at least some of whom we assume are their family members, plus photographers, sit watching from the grass beside the touchline: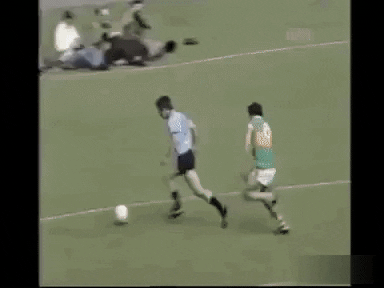 It proves to be a potentially perilous position to be in, as demonstrated by this run of play: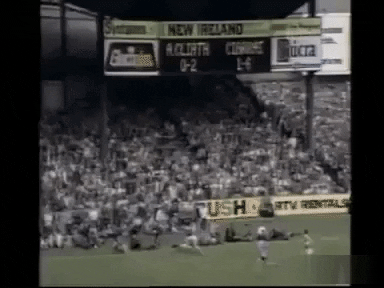 With not many more Dublin scores at their end to celebrate, a Kerry miss later in the game is at least enjoyed by the Hill: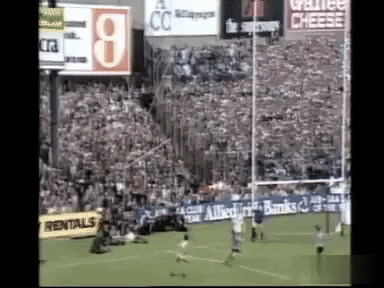 With "The Kingdom" starting to pull away, Dublin score a point 11 minutes into the second-half to make it 1-4 to 1-9 and give some hope of a comeback. It's after this that finally we come to why we're here, as a bright red smoke bomb lands on the pitch back at the other end – of course thrown from Hill 16. We get a quick shot from the footage as an official casually strolls over to remove it: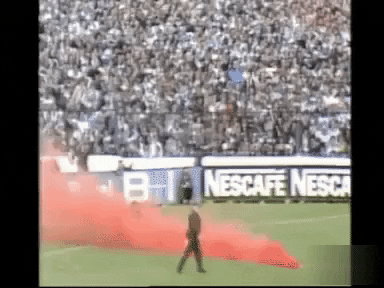 The comeback was not to be as Dublin could only manage another four points, which alone wouldn't have been enough but Kerry also continued to score eventually racking-up 3-13. With all hope evaporated, a couple more close misses for Kerry no longer bring cheers, only massive crowd heaves:
As a relative who was present at similar occasions recently explained, smart fans would arrive early and take up positions on front of crush barriers on the terrace, rather than end up behind one to be pinned against it at moments like these: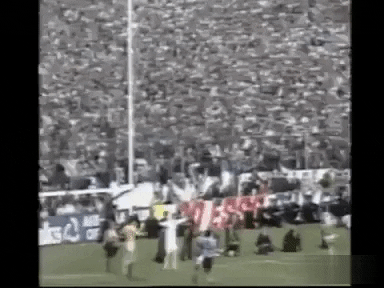 As the final seconds tick down to Kerry winning their record 25th All-Ireland, five ahead of Dublin (at the time of writing Kerry are now at 36, Dublin at 30), the small number of Gardaí laxly position themselves on front of the Dublinese hardcore in anticipation of any attempted trouble:
A number of fans do make it onto the pitch at the end, but they are mostly Kerry supporters there to innocently celebrate with their players. They will be back for another three successive finals (five in total, winning the first two to make it four-in-a-row before finally succumbing to Offaly in 1982). But when the dust settles on this day and Hill 16 is eventually evacuated for the birds to pick at whatever is left, a sole figure remains as an appropriate beacon of the occasion.
***
YouTube Links:
Dublin vs Kerry, 1979
Dublin vs Kerry, 1979 B
*****